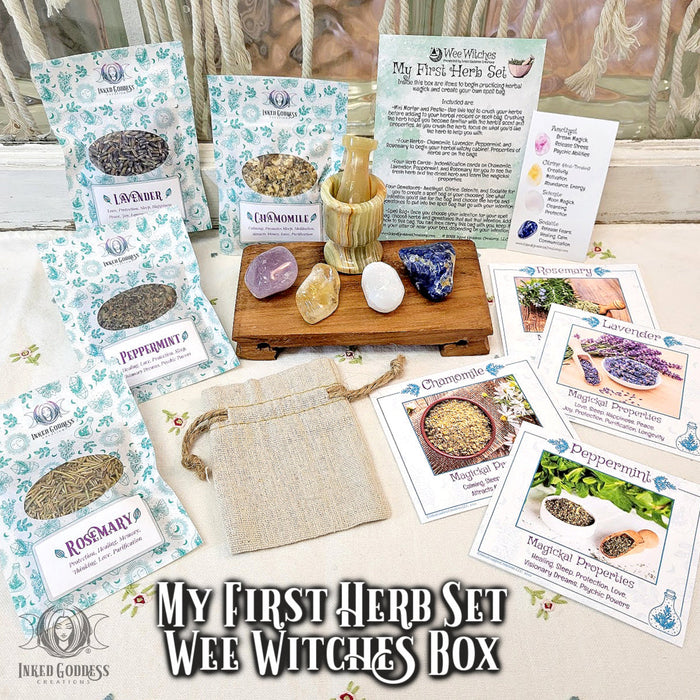 My First Herb Set Wee Witches Box
Save

Liquid error (snippets/product-badge line 32): Computation results in '-Infinity'

%
Introduce your kids to the world of magick and witchcraft with their very own Wee Witches Box from Inked Goddess Creations.
Geared for ages about 6-14*, the Wee Witches Box will introduce your child to different aspects of magick and witchcraft that they can practice with the help of loving magickal adults. Each box will come with tools for them to use based on the theme of the box, informational cards to help them understand the magickal practice being taught, and comes in a box they will be delighted to open as each new theme releases!
The Wee Witches Box is designed to be ordered by adults for their child(ren), and we here at Inked Goddess Creations support families who provide a loving, nurturing, magickal environment for kids to learn the craft openly.
And beginner witches, regardless of age- there's no discrimination here! If you are just starting out in the craft, the Wee Witches Box can give you the tools to teach you beginning magickal concepts!
This is not a subscription service. A new box will be released approximately every 3 months and you will have to purchase each new box once it has been listed. Past boxes will always be for sale, though, so if you find us after a few boxes have been released, you can start with whichever box you feel best resonates with your child. We openly display pictures as well as the contents for each box in this listing, so you- the loving, magickal adult- can see exactly what you are ordering. Then, you can choose to keep it as a surprise for your child, so they receive their very own Magick Mail®!
My First Herb Set Box:
This box is designed for your child to become familiar with some common herbs and how to use them to make a spell bag.
Mini Soapstone Mortar & Pestle- Use this tool to crush your herbs before adding them to your herbal recipes or spell bag. Crushing the herb helps you become familiar with the herb's scent and properties.
Four Herbs in Bags- Chamomile, Lavender, Peppermint, and Rosemary are included to begin your herbal witchy cabinet. The properties of herbs are found on the bags.
Four Herb Cards- Identification cards on Chamomile, Lavender, Peppermint, and Rosemary for you to see the fresh herb and dried herb and learn the magickal properties.
Four Gemstones- Amethyst, Citrine, Selenite, and Sodalite for you to create a spell bag of your choosing. An informational card about the gemstones is included so you know what their magickal properties are.
Spell Bag- Once you choose your intention for your spell bag, choose herbs and gemstones that suit that intention. Add them to this bag. You can then carry this bag with you, keep it on your altar or near your bed, depending on your intention.
Contents Card
Each Wee Witches Box will be mailed inside one of our shipping envelopes that simply has our goddess logo on the outside. If you have any questions, please don't hesitate to email us before ordering!
*Age is approximate, based on our personal experiences here at Inked Goddess Creations with our children. You, the magickal adult, know your child(ren) better than we do, so if you feel this product would or would not fit them, use your best judgment and intuition!
Other items in the picture are for size reference only and are not included with the purchase.
Metaphysical properties of Inked Goddess Creations products are not guaranteed; I supply the tools, you supply the magick. Products should not be used in place of proper professional advice or treatment. If skin irritation occurs with body products, discontinue use immediately. Never leave a burning candle unattended. Internal use of herbs is not recommended, especially without having first consulted your doctor or a certified herbalist.