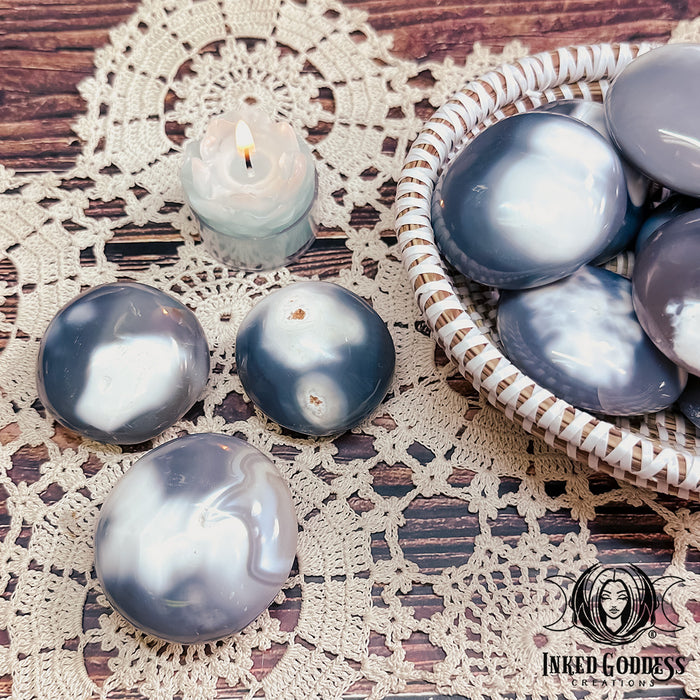 Orca Agate Gallet for Protection, Healing, and Grounding
Harness the massive power of the depths of the oceans with an Orca Agate  Gallet from Inked Goddess Creations.
Stay protected and grounded wherever you go with the Orca Agate Gallet! This powerful ocean-inspired gemstone is a perfect balance of land and sea, symbolizing an undying connection with the natural world and the creatures that inhabit it. Charming, practical, and just a bit magickal!
Orca Agate is a grounding stone, helping one to harness the power of Earth while shielding one from negativity. It is a healing stone, promoting the healing of body, mind, and spirit. Orca Agate resonates with the Throat Chakra to help with clear communication and speaking one's truth. When held, it also helps balance the entire chakra system during meditation. It is believed that the white areas of the stone represent purity and cleansing, while the other deeper colors of the stone represent past experiences. It is said the Orca Agate is named for the majestic orca whale and as the whale, its powers exceed all others in potential and magnitude.  
Gallet stones (the term used for the larger, oval-shaped, polished gemstones) are larger than palm stones or worry stones, and each one is shaped and polished. They are very smooth and fit perfectly into the palm of the hand.
Each purchase is for 1 Orca Agate Gallet, measuring at least 2" and weighing 5 oz. Please allow for natural variances in coloring and shape, as you may not get the exact one pictured above. Each gallet will be intuitively chosen for you at the time of purchase.
Other items in the picture are for size reference only and are not included with the purchase.
Metaphysical properties of Inked Goddess Creations products are not guaranteed; I supply the tools, you supply the magick. Products should not be used in place of proper professional advice or treatment. If skin irritation occurs with body products, discontinue use immediately. Never leave a burning candle unattended. Internal use of herbs is not recommended, especially without having first consulted your doctor or a certified herbalist.