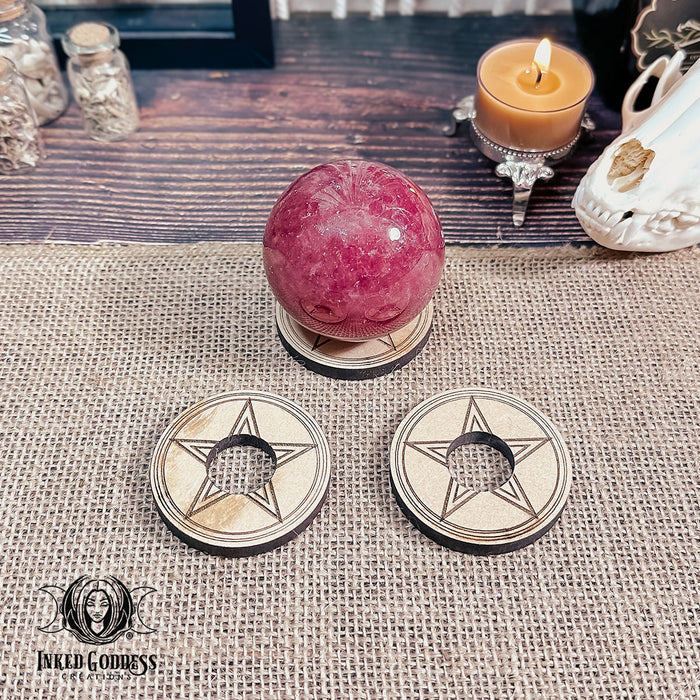 Create a protective aura around your gemstone spheres with a simple Pentacle Sphere Stand from Inked Goddess Creations.
The Pentacle (or Pentagram) is a powerful ancient symbol that has been used by many belief systems. The pentacle is a five-pointed star within a circle. In the Wiccan tradition, the points represent the four elements – earth, fire, air, and water, and the fifth point represents spirit. When using the pentagram or pentacle symbol in magick, it harnesses the power of the elements to strengthen one's spell work or intent. The pentacle also has a history of being a symbol used to ward off evil and to protect the wearer from evil.
This Pentacle Sphere Stand is made of wood and graphically enhanced with the sign of the Pentacle in which the sphere sits. 
Each order is for 1 Pentacle Sphere Stand, measuring approximately 2" in diameter. Sphere is NOT included.
Other items in the picture are for size reference only and are not included with the purchase.
Metaphysical properties of Inked Goddess Creations products are not guaranteed; I supply the tools, you supply the magick. Products should not be used in place of proper professional advice or treatment. If skin irritation occurs with body products, discontinue use immediately. Never leave a burning candle unattended. Internal use of herbs is not recommended, especially without having first consulted your doctor or a certified herbalist.