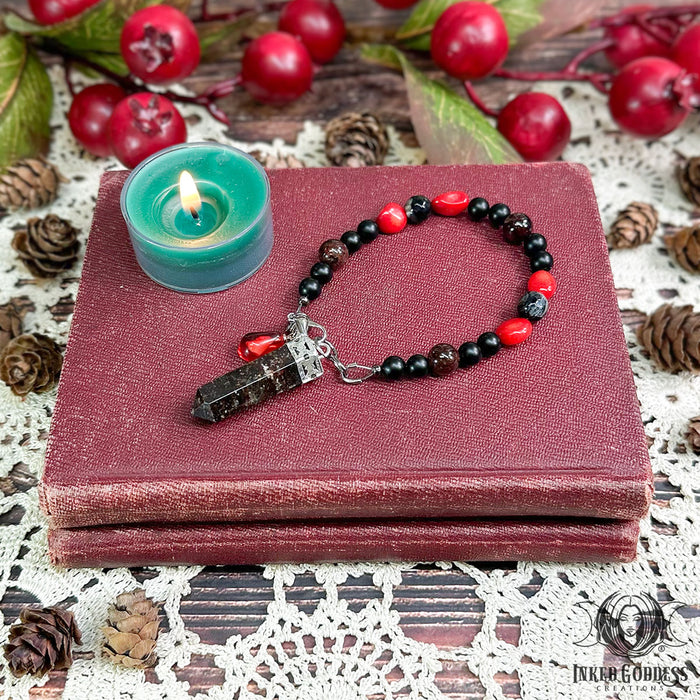 Persephone Pendulum Bracelet- Handmade by Morgan
Honor Persephone and seek her guidance with a Persephone Pendulum Bracelet, exclusive to Inked Goddess Creations.
Persephone, stolen to the underworld by Hades, embraced her role as Queen of the Underworld and made the most of a dismal situation. She returns each year for the spring and summer to her mother, Demeter, so the world can rejoice in her being back in the land of the living. For many women, Persephone has become an icon for women's strength and perseverance when in the face of adversity. Call upon Persephone's energy when you need a reminder of your feminine strength and ability to overcome even the harshest of environments.
This Persephone Pendulum Bracelet was created with gemstones and symbols that resonate with her energy. The Red Coral beads help one find stability and motivation to accomplish their dreams. Garnet helps to balance rocky emotions while shedding light on your hidden passions that brew deep within. Onyx is extremely protective and grounding. Black Fire Agate resonates with Underworld energy and helps ground your energy with fiery protection. The Garnet point helps activate your lower chakras for passion and motivation. The pomegranate seed charm helps you further connect with and honor Persephone's energy.
These are pendulum bracelets, measuring approximately 7.5" in diameter. Each one was handmade by Morgan, owner of Inked Goddess Creations, so please allow for natural variances in the gemstones. She created each bracelet after researching gemstones that resonate with the goddess and her energy.
To use them as a pendulum, simply unclasp them, straighten them out, hold the pendulum by the charm at the top and let the gemstone point hang downward. These can be worn as a bracelet to help infuse your own energy into it on a daily basis.
Other items in the picture are for size reference only and are not included with the purchase.
Metaphysical properties of Inked Goddess Creations products are not guaranteed; I supply the tools, you supply the magick. Products should not be used in place of proper professional advice or treatment. If skin irritation occurs with body products, discontinue use immediately. Never leave a burning candle unattended. Internal use of herbs is not recommended, especially without having first consulted your doctor or a certified herbalist.