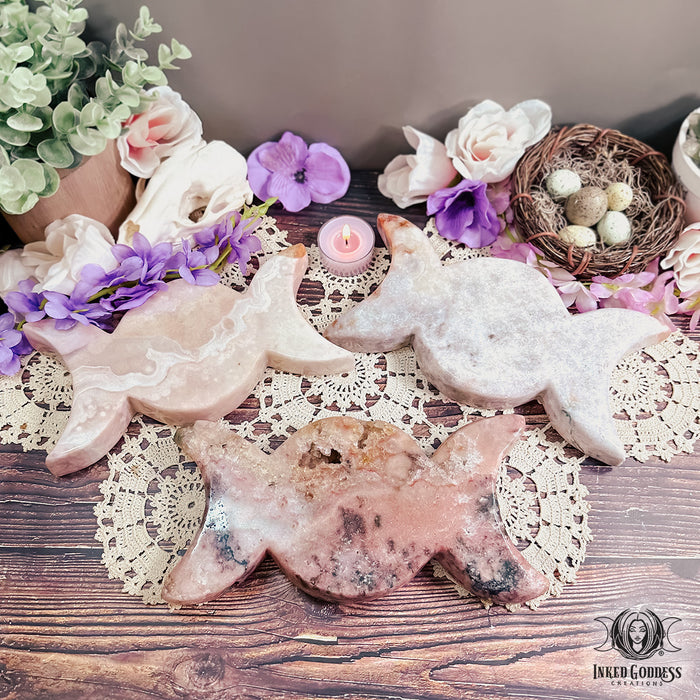 Pink Amethyst Triple Moon for Divine Feminine Energy
Add divine feminine energy to your sacred space with a Pink Amethyst Triple Moon from Inked Goddess Creations.
Connect with your divine feminine energy with this Pink Amethyst Triple Moon, an essential accessory for any goddess's self-care altar. Let its divine power charge you with strength and grace, so you can shine as radiantly as the moon!
Also known as Rose Amethyst, Pink Amethyst is a soft-hued version of purple amethyst. Pink Amethyst helps balance emotions and makes it easier to tap into feminine energies. It opens the Heart Chakra, allowing you to be more receptive to love and acceptance. Use Pink Amethyst in your practice to move forward from distress and embrace your own personal power.
The Triple Moon represents the Goddess in her 3 phases- Maiden, Mother, and Crone, but can also represent nature's cycles, Birth, Life, and Death; as well as the realms of the underworld, earth, and heaven. More often, the triple goddess model appears as a combination of three different goddesses working together. For instance, Persephone represents the Maiden, Demeter is the Mother, and Hecate is the Crone.
Each order is for 1 Pink Amethyst Triple Moon which measures 8" x 4" x 1". We will be intuitively choosing for you one of the specimens shown here at the time of order fulfillment.
Other items in the picture are for size reference only and are not included with the purchase.
Metaphysical properties of Inked Goddess Creations products are not guaranteed; I supply the tools, you supply the magick. Products should not be used in place of proper professional advice or treatment. If skin irritation occurs with body products, discontinue use immediately. Never leave a burning candle unattended. Internal use of herbs is not recommended, especially without having first consulted your doctor or a certified herbalist.