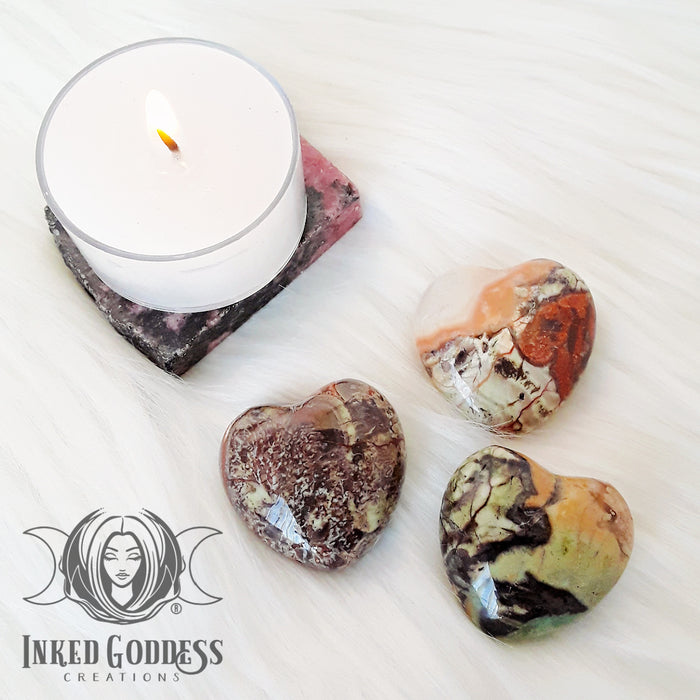 Rhyolite Gemstone Heart for Body, Mind, Soul Connection
Unite your body, mind, and soul with the help of a Rhyolite Gemstone Heart from Inked Goddess Creations.
Rhyolite gemstone weaves the past, present, and future together for you. This is important so that you can heal past traumas to live presently while ensuring your future is bright and clear. Rhyolite also unites your mind, body and spirit so that you can begin to live your authentic self and know what your divine path is. It helps you open to the positive energy of the Universe to facilitate a sacred transformation. Rhyolite is a perfect stone for witches to help you unlock your own divine energy.
A Gemstone Heart from Inked Goddess Creations is a great way to harness the metaphysical benefits of gemstones in a smooth, cute, easy-to-carry heart shape. These are perfect for your wire-wrapping projects, to add to mojo bags, to carry around with you, or to place on your altar or in your sacred space.
The heart is the ultimate symbol of love, bringing more positive, loving energy into your life.

Each purchase is for 1 Rhyolite Gemstone Heart, approximately 1" in size. Please allow for natural variances in coloring and striations from what is pictured here.
Other items in the picture are for size reference only and are not included with the purchase.
Metaphysical properties of Inked Goddess Creations products are not guaranteed; I supply the tools, you supply the magick. Products should not be used in place of proper professional advice or treatment. If skin irritation occurs with body products, discontinue use immediately. Never leave a burning candle unattended. Internal use of herbs is not recommended, especially without having first consulted your doctor or a certified herbalist.
Energy
Can't say enough about the energy that I felt just holding this heart! And I just noticed another review that said the same!! Love it!
Such a beauty
This was perfect in coloring and feel for me. My husband even enjoyed the energy coming off this stone even right out of the box. I loved it so much I ordered different items from here.
This stone has a great feel to it. It's perfect to put in my pocket or purse.