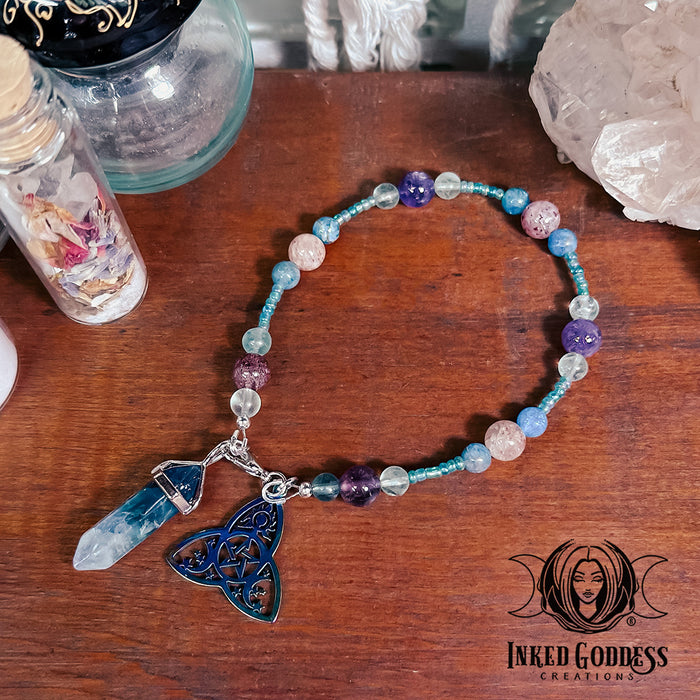 Spiritual Truth Pendulum Bracelet- Handmade by Morgan, One-of-a-Kind
Open yourself to receive clear, spiritual messages with a Spiritual Truth Pendulum Bracelet, exclusive to Inked Goddess Creations.
Explore your intuition and spiritual power with this handcrafted, one-of-a-kind Spiritual Truth Pendulum Bracelet. Unlock the power of focus and tap into your highest self. Embark on an adventure of personal discovery, and bravely trust your inner truth. 
This Spiritual Truth Pendulum Bracelet was created with Super 7, Apatite, and Fluorite gemstone beads to help tune into your spirit guides and higher self to receive clear, spiritual messages. Super 7 is a stone of psychic and spiritual awakenings. It raises the body's vibrational level to open the mind and spirit for communication and healing. Blue Apatite enhances communication and connects the user to a very high level of spiritual guidance. It stimulates the development of your psychic gifts and spiritual attunement, deepening meditation and aiding communication and self-expression on all levels. Fluorite increases mystic visions and aids spiritual balance. It helps you connect your intuition to your rational mind. The Fluorite and Rainbow Triquetra charm help amplify the overall energy of this pendulum, which is to help you receive clear messages that help you on your spiritual journey.
This is a pendulum bracelet, measuring approximately 8.5" in diameter, making it great for larger wrists. It was handmade by Morgan, owner of Inked Goddess Creations.
To use this as a pendulum, simply unclasp it, straighten it out, hold the pendulum by the charm at the top, and let the gemstone point hang downward. This can also be worn as a bracelet to help infuse your own energy into it on a daily basis.
Other items in the picture are for size reference only and are not included with the purchase.
Metaphysical properties of Inked Goddess Creations products are not guaranteed; I supply the tools, you supply the magick. Products should not be used in place of proper professional advice or treatment. If skin irritation occurs with body products, discontinue use immediately. Never leave a burning candle unattended. Internal use of herbs is not recommended, especially without having first consulted your doctor or a certified herbalist.