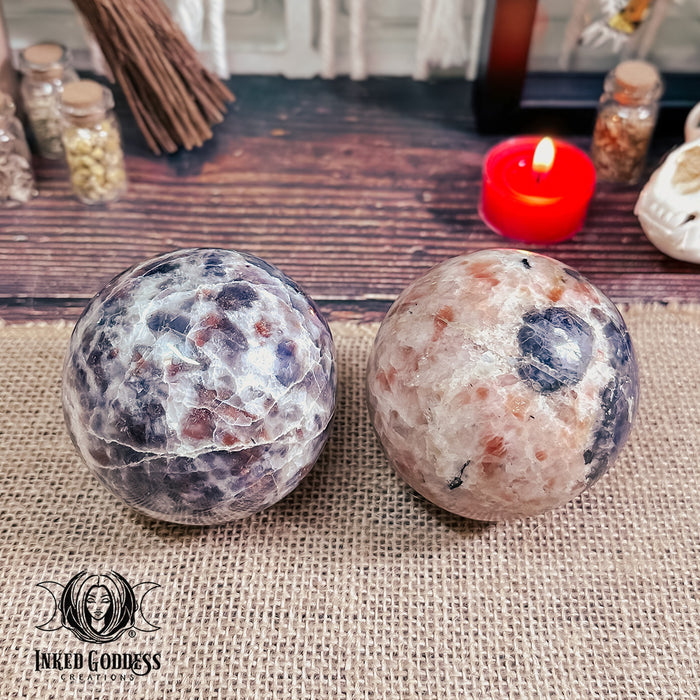 Sunstone and Iolite Sphere for Mind, Body, Soul Alignment
Align your mind, body, and soul with a Sunstone and Iolite Sphere from Inked Goddess Creations.
Sunstone is a crystal that has been used for centuries to carry the powerful energy of the sun and is often referred to as the Stone of Leadership. Reflecting the qualities of light, Sunstone embodies warmth and passion. It helps motivate you to achieve your goals and adds Divine Masculine energy to your sacred space. Working with Sunstone helps bring warm sun energy into your sacred space.
Iolite is a stone of vision that opens the Third Eye and helps you develop a deeper connection to the Divine. It stimulates imagination allowing your mind to open, fueling your intuition. Iolite is a wonderful stone to use during meditation and for astral projection. Because of its ability to nurture your intuition and psychic abilities, Iolite heavily resonates with Divine Feminine energy.
This rare combination of Sunstone and Iolite was introduced at this year's Tucson Gem Show. As Sunstone resonates with Divine Masculine energy and Iolite resonates with Divine Feminine energy, this powerful combination stone is one of the ultimate stones of divine balance. Sunstone and Iolite combined also unites the lower chakras (which resonate with Sunstone) with the upper chakras (which resonate with Iolite), helping to bring your mind, body, and soul into alignment with divine energy. 
This is truly one of the most amazing stones I, personally, have ever come into contact with and worked with. I was immediately drawn to it from the moment I just read about it in one of our vendor's emails, prior to the gem show. 
Each purchase is for 1 Sunstone and Iolite sphere, approximately 3" in size, perfect to hold while meditating. We will intuitively choose which of the spheres pictured here you will receive. 
Other items in the picture are for size reference only and are not included with the purchase.
Metaphysical properties of Inked Goddess Creations products are not guaranteed; I supply the tools, you supply the magick. Products should not be used in place of proper professional advice or treatment. If skin irritation occurs with body products, discontinue use immediately. Never leave a burning candle unattended. Internal use of herbs is not recommended, especially without having first consulted your doctor or a certified herbalist.