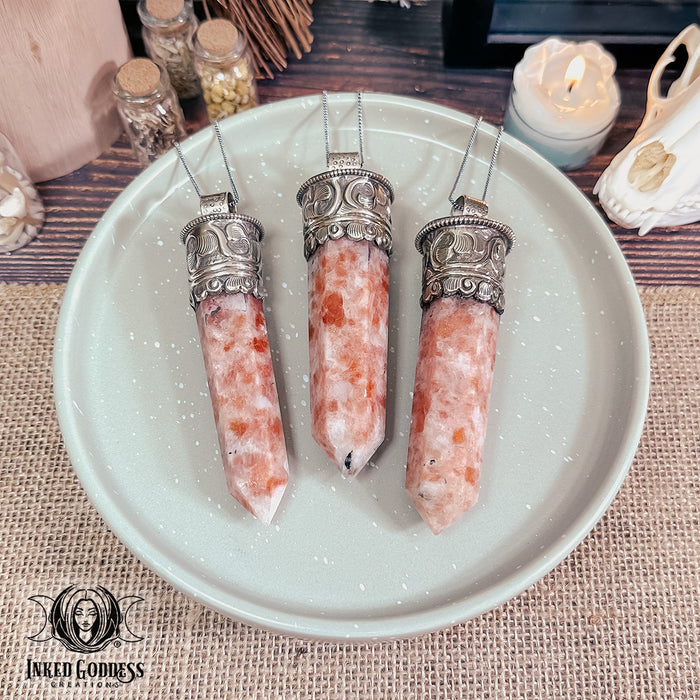 Sunstone Point Tibetan Necklace for Summer Energy
Bathe in the summer energy with a Sunstone Point Tibetan Necklace from Inked Goddess Creations.
Sunstone is a crystal that has been used for centuries to carry the powerful energy of the sun and is often referred to as the Stone of Leadership. Reflecting the qualities of light, Sunstone embodies warmth and passion. Sunstone helps motivate you to achieve your goals, and adds divine masculine energy to your sacred space.
These beautiful Tibetan necklaces are made from a metal alloy with designs carved into the metal.
Each Sunstone Point Necklace is unique, so please allow for natural variances in color, shape, and size. The Sunstone Point is huge- measuring about 1.25" x 4.25" and hangs from a very long 30" chain. Please allow for natural variances in the size and cut of gemstones, and one will be intuitively chosen for you at the time of purchase.
Other items in the picture are for size reference only and are not included with the purchase.
Metaphysical properties of Inked Goddess Creations products are not guaranteed; I supply the tools, you supply the magick. Products should not be used in place of proper professional advice or treatment. If skin irritation occurs with body products, discontinue use immediately. Never leave a burning candle unattended. Internal use of herbs is not recommended, especially without having first consulted your doctor or a certified herbalist.