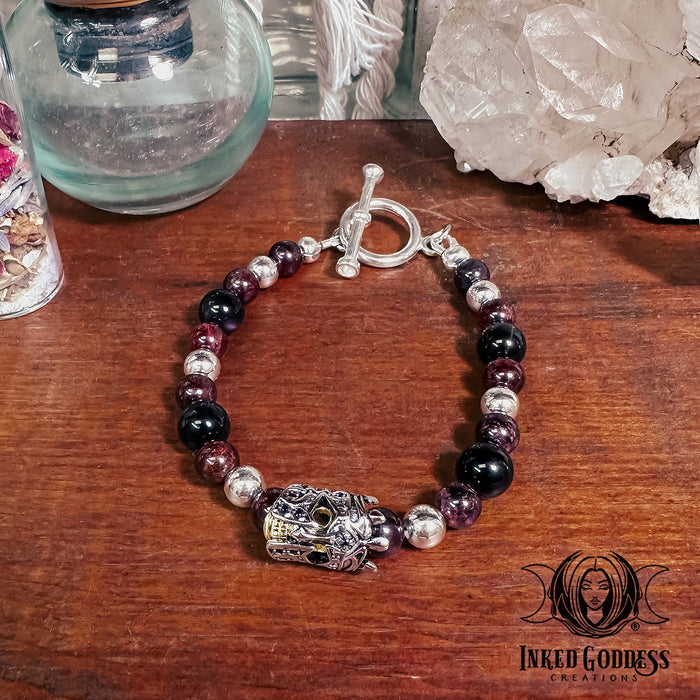 Take the Crown Sterling Silver Gemstone Bracelet- Handmade by Colin, One-of-a-Kind
Take on everyday challenges with grace with the Take the Crown Sterling Silver Gemstone Bracelet, exclusive to Inked Goddess Creations.
This "Take the Crown" bracelet was created to help you take charge of your life and conquer anything you put your energy towards. This bracelet is made of Sterling Silver, Garnet, and Obsidian beads to tap into your stability and use it to take on any of life's challenges. Garnet helps you move forward with confidence and ambition. It resonates with the Root and Sacral Chakras, stirring passion in your life. Black Obsidian is a very powerful and creative stone. It increases self-control and releases imbalances and negative energies. Black obsidian is protective and provides support during change. The spacer beads, as well as the Warrior Mask charm, are both made of Sterling Silver, increasing perseverance, protecting against negative energy, and balancing emotion.
This gorgeous bracelet is one-of-a-kind, handmade by Colin, co-owner of Inked Goddess Creations. He began designing jewelry for himself based on the properties of gemstones and quickly decided to create energetic bracelets for the shop! Each bracelet's gemstones are researched to resonate with the energy Colin wanted the bracelet itself to have.
This bracelet measures 7.5" in diameter. This bracelet can not be adjusted to fit smaller or larger wrists.
Other items in the picture are for size reference only and are not included with the purchase.
Metaphysical properties of Inked Goddess Creations products are not guaranteed; I supply the tools, you supply the magick. Products should not be used in place of proper professional advice or treatment. If skin irritation occurs with body products, discontinue use immediately. Never leave a burning candle unattended. Internal use of herbs is not recommended, especially without having first consulted your doctor or a certified herbalist.