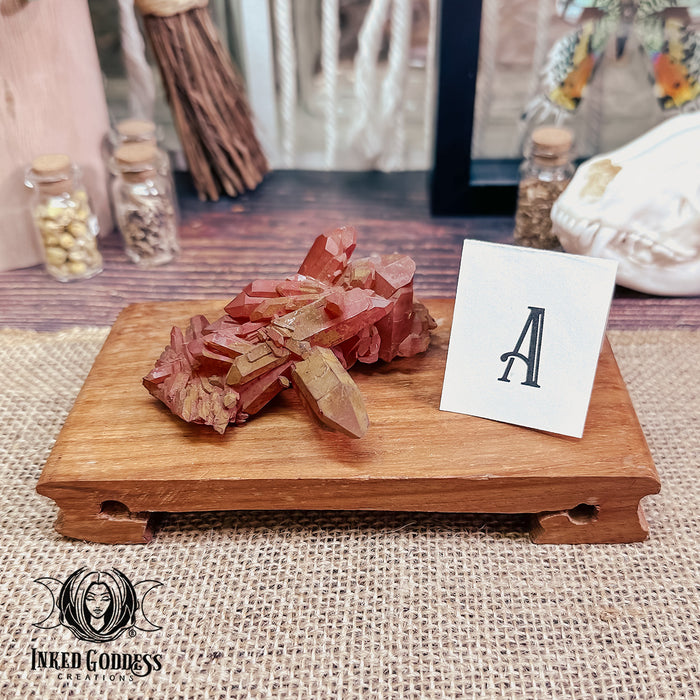 Tangerine Quartz Cluster for Fun and Joy
Open up the curiosity and wonder of your inner child with a Tangerine Quartz Cluster from Inked Goddess Creations.
Tangerine Quartz's natural fiery color helps to awaken your Sacral Chakra, which is your center for creativity, sexuality, and passion. It encourages you to be adventurous and find fun and positive energy everywhere you go. Tangerine Quartz is a motivating stone, helping you to accept your authentic self and share it with the world with confidence. Joy and happiness accompany Tangerine Quartz, as it helps you to be more playful and enjoy life more. Tangerine Quartz also burns away blockages keeping you from living your truth.
Tangerine Quartz was formed when Hematite was present with Clear Quartz, and the iron in the Hematite caused rust (oxidation) which was incorporated into the Quartz during its formation. Because of this, the strength of iron oxide adds to the 'master healer' of quartz to create a powerful gemstone.
These raw formations are known as clusters, which are very powerful for projecting energy outwards from each point of the crystal into all directions. They make amazing center pieces for your altar or sacred space.
Each purchase is for 1 Tangerine Quartz, of which we have the sizes listed as follows:
A measures 3" x 2.5" x 1.75" and weighs 4 oz. 
B measures 3" x 2" x 1.5" and weighs 4 oz.
C measures 5" x 3" x 2" and weighs 10 oz.
D measures 5" x 2.5" x 2.25" and weighs 11 oz.
E measures 4.5" x 3.75" x 2.5" and weighs 16 oz.
F measures 4.25" x 3" x 3" and weighs 2 lbs.
G measures 6" x 5.5" x 2.5" and weighs 2 lbs.
Other items in the picture are for size reference only and are not included with the purchase.
Metaphysical properties of Inked Goddess Creations products are not guaranteed; I supply the tools, you supply the magick. Products should not be used in place of proper professional advice or treatment. If skin irritation occurs with body products, discontinue use immediately. Never leave a burning candle unattended. Internal use of herbs is not recommended, especially without having first consulted your doctor or a certified herbalist.