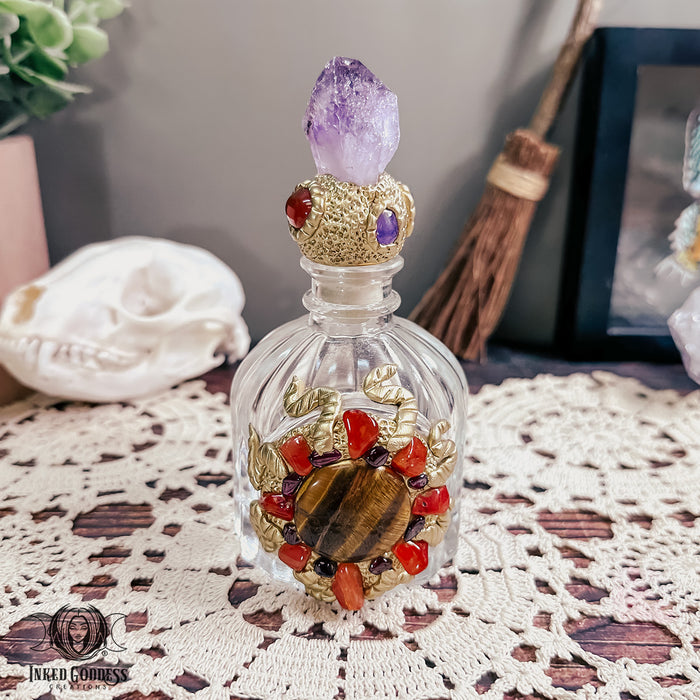 Tiger's Eye and Amethyst Glass Potion Bottle
Add spiritual, protected energy to your potions with this beautiful Tiger's Eye and Amethyst Glass Potion Bottle from Inked Goddess Creations.
Mix up some magick (and a little mystery!) with this enchanting Tiger's Eye and Amethyst Glass Potion Bottle. This eye-catching vessel will tantalize your witchy side and transport you to a realm of magick and wonder! Store your elixirs and potions safely inside and get ready for some wicked witchin'!
This bottle has a Tiger's Eye Sun with Carnelian and Garnet chips surrounding it. An Amethyst Point adorns the top with Amethyst and Carnelian chips around the neck.
Tiger's Eye is a stone of protection. It aids in focusing the mind and stabilizing mood swings. Tiger's Eye increases courage and self-confidence and releases tension. It resonates with the Sacral and Solar Plexus Chakras.
Amethyst is a powerful natural tranquilizer that relieves stress and strain, soothes irritability, balances mood swings, and dispels anger, rage, fear, and anxiety. It helps alleviate sadness and grief and dissolves negativity. Amethyst activates spiritual awareness, opens intuition, and enhances psychic abilities. It has strong healing and cleansing powers. It calms and stimulates the mind, helping you become more focused, enhancing memory, and improving motivation. Amethyst assists in remembering and understanding dreams and can relieve insomnia. It resonates with the Third Eye and Crown Chakras.
This order is for 1 Tiger's Eye and Amethyst Glass Potion Bottle which measures 5" x 2.65".
Other items in the picture are for size reference only and are not included with the purchase.
Metaphysical properties of Inked Goddess Creations products are not guaranteed; I supply the tools, you supply the magick. Products should not be used in place of proper professional advice or treatment. If skin irritation occurs with body products, discontinue use immediately. Never leave a burning candle unattended. Internal use of herbs is not recommended, especially without having first consulted your doctor or a certified herbalist.