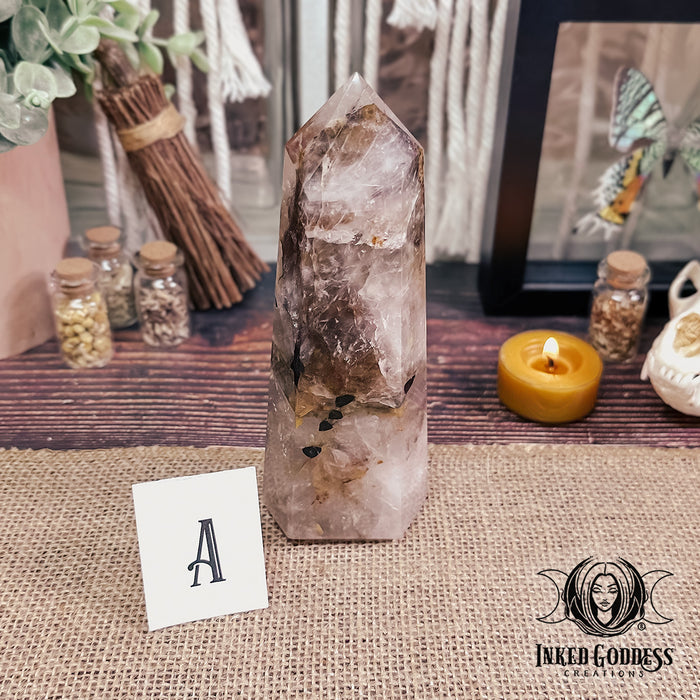 Tourmalinated Quartz with Inclusions Gemstone Tower for Balance
Create balanced energy in your sacred space with a Tourmalinated Quartz with Inclusions Gemstone Tower from Inked Goddess Creations.
Tourmalinated Quartz is made of Clear Quartz with bits of Black Tourmaline throughout. The cleansing and amplification properties of Clear Quartz combined with the grounding and protective properties of Black Tourmaline make Tourmalinated Quartz a perfect stone for balance and harmony. This stone can help bring together parts of yourself that have become disconnected and helps turn negative energy into positive energy.
These towers also contain inclusions of other minerals, which make them beautiful and unique specimens to add to your crystal collection. You could get lost gazing into these gemstones!
A gemstone tower is shaped with a point on one end and the opposite end flat, which directs energy down from the heavens and outward, filling your sacred space with positive energy. Generators can also amplify the energy of other gemstones around it.
Each order is for 1 Tourmalinated Quartz with Inclusions tower, of which we have the following specimens:
A measures 6.75" x 2" and weighs 1 lb. 
B measures 6.5" x 2.5" and weighs 1 lb. 5 oz. 
C measures 6.75" x 2.5" and weighs 1 lb. 5 oz. 
Other items in the picture are for size reference only and are not included with the purchase.
Metaphysical properties of Inked Goddess Creations products are not guaranteed; I supply the tools, you supply the magick. Products should not be used in place of proper professional advice or treatment. If skin irritation occurs with body products, discontinue use immediately. Never leave a burning candle unattended. Internal use of herbs is not recommended, especially without having first consulted your doctor or a certified herbalist.