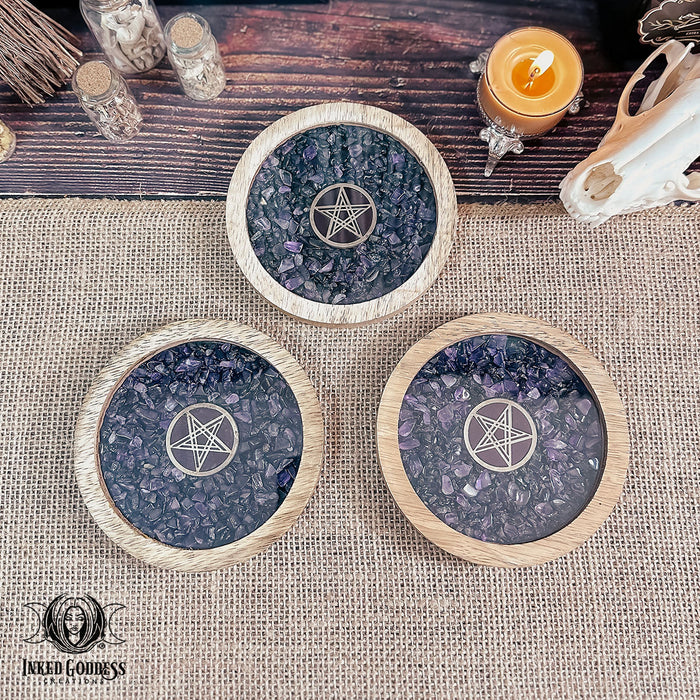 Tourmaline & Amethyst Pentacle Altar Tile
Enhance and amplify your magick with a Tourmaline and Amethyst Pentacle Altar Tile from Inked Goddess Creations.
These beautiful altar tiles are made with Black Tourmaline and Amethyst gemstone chips surrounding an inlaid pentacle. The exterior is made of wood.
Black Tourmaline is a highly protective stone which blocks negative energy and can prevent a psychic attack. It can cleanse and purify negative energy from a sacred space or a person's aura, and help lighten a person's vibrational energy if it becomes too dense. Because of these properties, Black Tourmaline is a perfect stone for empaths to wear.
Amethyst activates spiritual awareness, opens intuition and enhances psychic abilities. It has strong healing and cleansing powers. It calms and stimulates the mind, helping you become more focused, enhancing memory and improving motivation. Amethyst resonates with the Third Eye and Crown Chakras.
The Pentacle (or Pentagram) is a powerful ancient symbol that has been used by many belief systems. The pentacle is a five-pointed star within a circle. In the Wiccan tradition, the points represent the four elements – earth, fire, air, water, and the fifth point represents spirit. When using the pentagram or pentacle symbol in magick, it harnesses the power of the elements to strengthen one's spell work or intent. The pentacle also has a history of being a symbol used to ward off evil and to protect the wearer from evil.
Each order is for one Tourmaline and Amethyst Pentacle Altar Tile, which is 4" in diameter.
Other items in the picture are for size reference only and are not included with the purchase.
Metaphysical properties of Inked Goddess Creations products are not guaranteed; I supply the tools, you supply the magick. Products should not be used in place of proper professional advice or treatment. If skin irritation occurs with body products, discontinue use immediately. Never leave a burning candle unattended. Internal use of herbs is not recommended, especially without having first consulted your doctor or a certified herbalist.