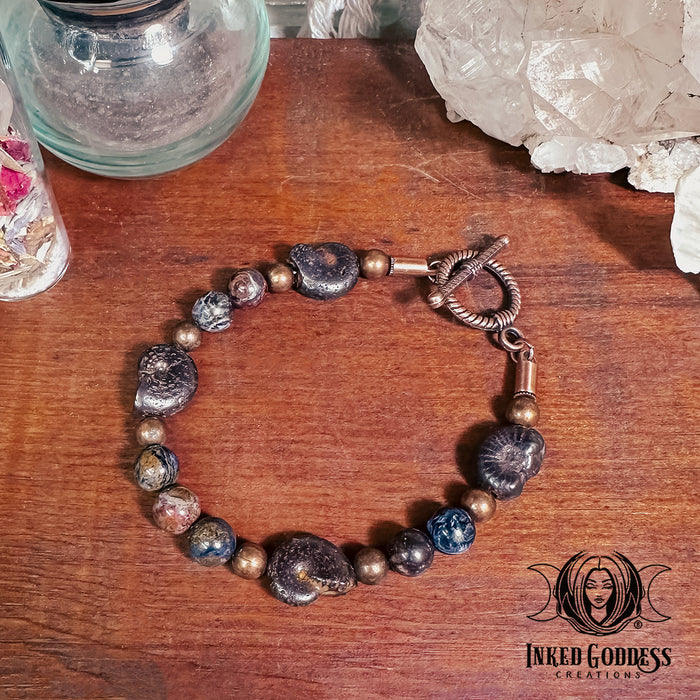 Watch Over You Gemstone Bracelet- Handmade by Colin, One-of-a-Kind
Create your own protective aura with the Watch Over You Gemstone Bracelet, exclusive to Inked Goddess Creations.
This "Watch Over You" bracelet was created to help transform negative energy into positive energy in the physical and spiritual realms. This bracelet is made of Ammonite, Pietersite, and Copper beads which, when combined, act as a protective guardian spirit. Ammonites are fossilized marine animals shaped like spirals, whose extinction coincided with the dinosaurs' extinction. As a metaphysical stone, Ammonite activates the third eye for inter-dimensional and astral travel. When placed on the third eye, Ammonite activates spiritual will, and your soul's path, and can help release past-life obstacles that are affecting your current incarnation. The spiral shape reminds us to honor the spiral of life, and can also take you deep into your own core, transforming negative energy into a positively flowing spiral. Pietersite is a powerful protection stone from natural elements, especially storms. It is a highly grounding and calming stone, helping to reduce stress in times of need. Copper is best known for its stabilizing energy that wards away negative entities and attracts positive change. It sends healing energy all throughout the body and lifts vibrations in both the spiritual and physical realms. 
This gorgeous bracelet is one-of-a-kind, handmade by Colin, co-owner of Inked Goddess Creations. He began designing jewelry for himself based on the properties of gemstones and quickly decided to create energetic bracelets for the shop! Each bracelet's gemstones are researched to resonate with the energy Colin wanted the bracelet itself to have.
This bracelet measures 7.75" in diameter. This bracelet can not be adjusted to fit smaller or larger wrists.
Other items in the picture are for size reference only and are not included with the purchase.
Metaphysical properties of Inked Goddess Creations products are not guaranteed; I supply the tools, you supply the magick. Products should not be used in place of proper professional advice or treatment. If skin irritation occurs with body products, discontinue use immediately. Never leave a burning candle unattended. Internal use of herbs is not recommended, especially without having first consulted your doctor or a certified herbalist.