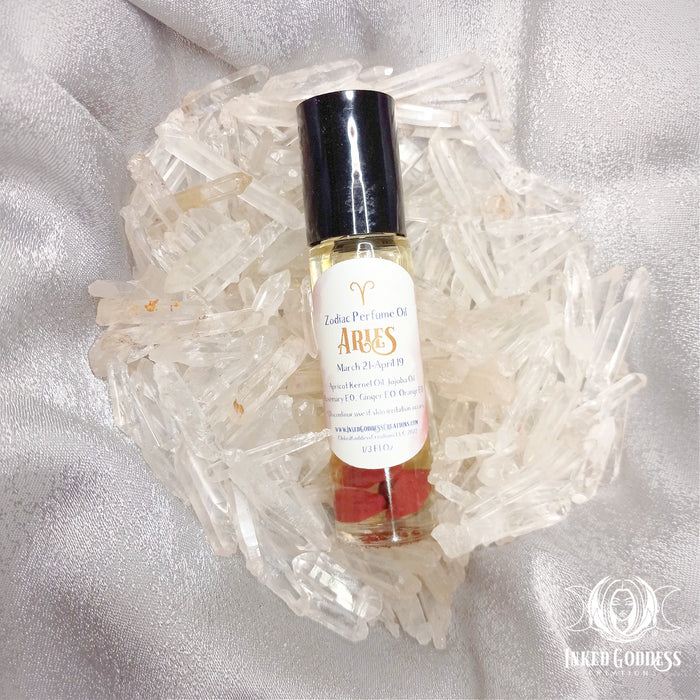 Zodiac Personal Power Oil for Astrological Magick
Save

Liquid error (snippets/product-badge line 32): Computation results in '-Infinity'

%
Unlock the energies associated with your astrological sign with the help of our Zodiac Personal Power Oils from Inked Goddess Creations.
At the moment you are born, the planets, sun, and moon are lined up in a way that leads to certain personality traits, strengths, weaknesses, attitudes, and more. Astrology, the study of how these celestial alignments affect humans, dives deep into how your personal zodiac signs (especially your sun sign, moon sign, and rising sign) can empower your life.
There are 12 zodiac signs (listed below with their dates), and 12 Zodiac Personal Power Oils from Inked Goddess Creations. These oils can be used to help you tap into the energies of your zodiac sign. Once you connect to this powerful energy flow that has been passed down directly to you from the stars, anything is possible for you.
All 12 of these oils were designed after extensive research into gemstones, essential oils, and even colors that highly resonate with each zodiac sign. These perfume oils are blended with a base of apricot kernel and jojoba oils, and essential oils in an easy-to-apply 1/3 oz roller bottle, with corresponding crystals inside. The essential oils and gemstones were chosen based on the metaphysical properties that would help to empower each sign the most.
A list of our Zodiac Personal Power Oils and their contents are below:
Aries- March 21-April 19; A blend of Rosemary, Ginger, and Orange with Red Jasper chips included.
Taurus- April 20-May 20; A blend of Jasmine, Cedarwood, and Patchouli with Rose Quartz chips included.

Gemini- May 21-June 20; A blend of Honeysuckle, Bergamot, and Grapefruit with Quartz chips included.
Cancer- June 21-July 22; A blend of Lavender, Chamomile, and Lily with Moonstone chips included.

Leo- July 23-August 22; A blend of Lemon, Ginger, and Peppermint with Tiger's Eye chips included.
Virgo- August 23- September 22; A blend of Lavender, Sandalwood, and Patchouli with Carnelian chips included.
Libra- September 23- October 22; A blend of Frankincense, Honeysuckle, and Rose with Lapis Lazuli chips included.
Scorpio- October 23- November 21; A blend of Jasmine, Sage, and Sandalwood with Malachite chips included.
Sagittarius- November 22- December 21; A blend of Geranium, Ylang Ylang, and Cinnamon with Sodalite chips included.
Capricorn- December 22- January 19; A blend of Patchouli, Sandalwood, and Eucalyptus with Garnet chips included.
Aquarius- January 20- February 18; A blend of Chamomile, Orange, and Jasmine with Amethyst chips included.
Pisces- February 19- March 20; A blend of Gardenia and Clove with Fluorite chips included.
Each order is for 1 Oil, in your choice of sign. No specific instructions come with the oils; unlock your personal magick to use them as you feel. Please allow for natural variations in gemstone colors and shapes from what is pictured here. Please note that the dates for the signs were labeled based on the general consensus among many different resources, but may differ slightly by a day or two around some cusps. Substitutions will not be made on gemstones.
Other items in the picture are for size reference only and are not included with the purchase.
Metaphysical properties of Inked Goddess Creations products are not guaranteed; I supply the tools, you supply the magick. Products should not be used in place of proper professional advice or treatment. If skin irritation occurs with body products, discontinue use immediately. Never leave a burning candle unattended. Internal use of herbs is not recommended, especially without having first consulted your doctor or a certified herbalist.
Zodiac Cancer perfume
Not a scent I would have normally chosen but love it. The oil is light and absorbs well and the scent lasts longer than expected.
Something just for me.
I like it. The perfume wasn't too strong. I felt very feminine when I tried it. Going to wear it on those special dates.
Zodiac Personal Power Oils
I had gotten the Gemini oil. It's a very nice oil and it absorbs well. I'm on the fence about it. I do like it but it is a sweeter fragrance than I normally wear. However I do think it will work great for many projects that I do.