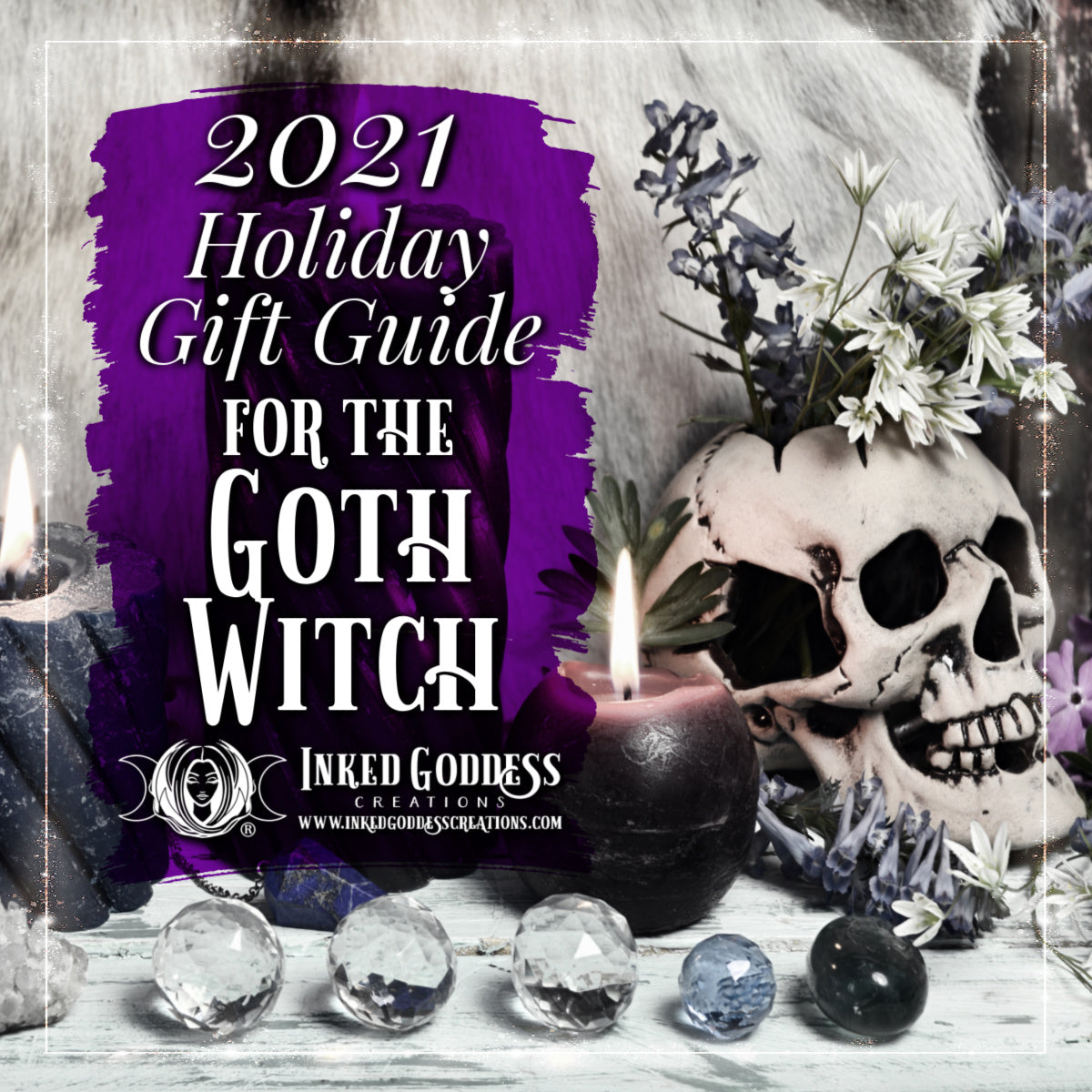 2021 Holiday Gift Guide for the Goth Witch
The love of a dark, witchy aesthetic lives within each witch. But the goth witch takes that love and shares it with the world! If you are holiday shopping for that goth witch in your life, we've chosen some truly unique items that will make their day delightfully a little darker. 
Spirit Board Altar Cloth with Purple & Black Glitter Planchette Altar Plate
Spirit boards are not just for Samhain (Halloween, for you muggles out there reading this). The goth witch often decorates with them, incorporates them into their daily magickal practice, and even wears them! Our Spirit Board Altar Cloth with Purple and Black Glitter Planchette is a unique addition to any goth witch's sacred space. The planchette can be used as a small offering plate, and the cloth itself can adorn a divination altar or even be hung on the wall!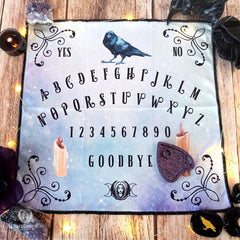 Adorn your sacred space with this beautiful Spirit Board Altar Cloth, exclusive to Inked Goddess...
"We are the Weirdos, Mister" Tumbler Cup
Words uttered by the supreme goth witch herself, Nancy Downs, in the movie The Craft, this tumbler is sure to delight any goth witch! This tumbler comes with the famous quote and pentacle sunglasses to portray Nancy's witchy aesthetic. Most witches resonate with this quote so much that it has become iconic within the witchy community. We ARE the weirdos, and we're damn proud of it! 
Coffin Gemstone Altar Tiles
Altar tile are used to display offerings for your deities, as a workspace while performing magick, as a candle plate, and so much more. So, of course having a coffin-shaped altar tile would delight any goth witch. These Coffin Gemstone Altar Tiles are made from solid gemstone- your choice of Labradorite for magick, or Obsidian for protection. These are definitely a unique gift that any goth witch would approve. 
Wicked Witch Kit
It's no mystery that goth witches like dark things. They definitely would appreciate having some darker supplies in their witchy cabinet. That's where the Wicked Witch Kit makes a perfect gift! It comes with darker herbs, a black cat carved gemstone, some graveyard dirt, coffin nails, and a Wicked Witch votive candle. This gift ticks both boxes of something unique and functional for the goth witch!
Raven Onyx Gemstone Statue
Ravens are symbols of mystery and magick and carry messages from the beyond. They are powerful animals in witchcraft alone, but for goth witches, they also symbolize the darker aspect of witchcraft that many witches shy away from, but the goth witch embraces. These little Raven statues are carved from solid Onyx gemstone, which is great for protection, power, and strength. Your favorite goth witch can display this statue on their altar to add even more magickal energy to their sacred space!
Inked Goddess Creations Gift Card
If you love the goth witch in your life but choosing a present for them just weirds you out, then an Inked Goddess Creations Gift Card is the way to go! That way, your favorite goth witch can choose supplies or decor items themselves that truly fit their beliefs and practices!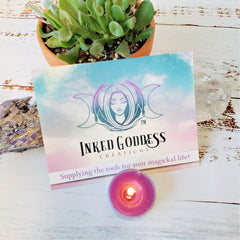 Shopping for someone else but not sure what to give them? Give them the gift...