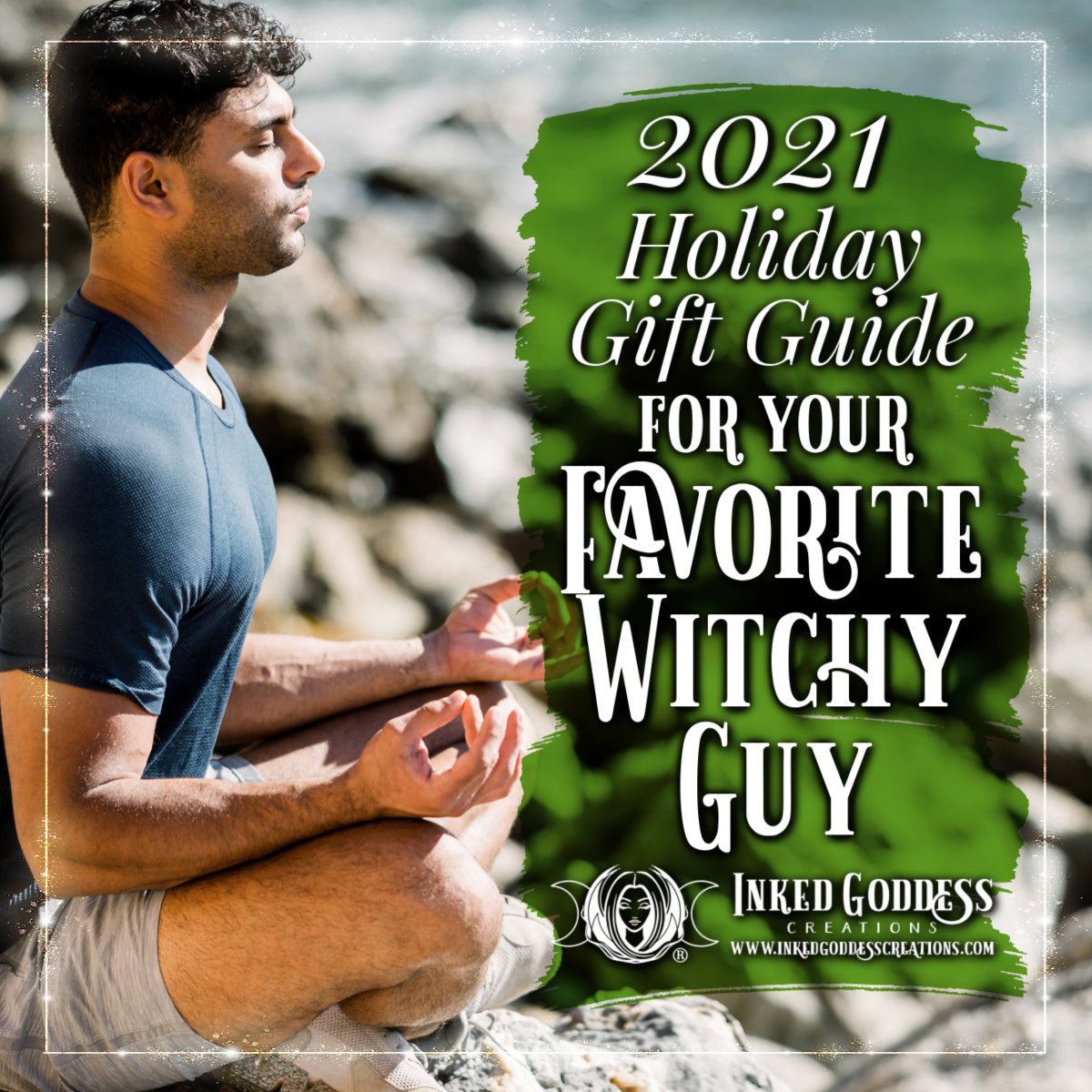 2021 Holiday Gift Guide for Your Favorite Witchy Guy
We're all about the power of the Goddess here at Inked Goddess Creations, but that doesn't mean we lack great gifts for the guy in your life. To help you complete your holiday shopping with ease, check out these unique gifts that witchy guys will love.
Divine Masculine Altar Cloth
Our altar cloth collection is one of our most popular here at IGC, and we have a gorgeous Divine Masculine Altar Cloth perfect for the guy in your life. This 12-inch square cloth was designed by Morgan herself and depicts the Sun and energy of the Divine Masculine. This altar cloth is excellent for connecting with male deities and the energies of strength, action, and motivation.
Gemstone Rune Set with Witch's Sight Bag
Does your guy love runes? Check out our gemstone rune sets, available in Carnelian, Amethyst, Yellow Aventurine, and Clear Quartz. Norse in origin, runes contain 25 stones in a set (24 letters and a blank stone). It is believed that the runic symbols were handed down by Odin – chief Norse god himself – and the word "rune" means "whisper" or "secret wisdom." They are a popular tool of divination and come in their own handy bag for easy transport.
Yellow Jade Horned God Etched Palm Stone
Help your magickal guy remember how powerful he is with this beautiful, exclusive item. The palm stone is meant to be carried around to boost strength and motivation. In Wicca and some forms of Neopaganism, the Horned God is the masculine counterpart to the Triple Goddess. He's associated with the wilderness, hunting, nature, sexuality, and nature's life cycle. Yellow Jade is great for motivation and connecting with the Sun's Divine Masculine energy!
Divine Masculine Votive Candle, Pack of 3
Invoke the Divine Masculine energy to open yourself to the gods and their powers with the help of this specially blended candle. It's deep red and contains a blend of Frankincense, Sandalwood, and Musk oils. Use it to represent the god on your altar, increase strength, motivation, and action, or connect with the Sun. They're perfect for anyone wanting to connect with their inner Divine Masculine.
Tri-Colored Calcite for Divine Masculine Energy
These specimens are stunning. They are a combination of orange/red, black, and white Calcite, known as Apache Calcite, from Mexico. Calcite itself is a powerful cleanser and amplifier of energy. Black Calcite has been known to relieve depression, anxiety, and heartbreak. Orange Calcite helps to balance emotions, and Red Calcite can balance our willpower. Finally, White Calcite improve memory and supports healing. Altogether, these stones emit a strong, serene Divine Masculine vibration to help your guy take action in his life.
Divine Masculine Herbal Blend with Shiva Eye Agate
Use this blend of sun herbs as incense, offerings to your deities, or even in a pre-ritual bath. This blend will help your witchy guy invoke the energies of strength, motivation, and action. Inside, you'll find Chamomile, Sage leaf, Rosemary, Galangal Root, and other solar herbs. This is not for internal consumption, but it does make a wonderful bath tea when used in the included organza bag. As a bonus, this blend comes with a Shiva Eye Agate. Named after the Hindu God, Shiva, this stone is extremely protective and is used to ward off the negative or evil intentions of others.
Buddha Wisdom Divine Masculine Card Deck
Every witch loves an insightful card pull in the mornings or when you need some guidance. These Buddha Wisdom Cards are great for your witchy guy, as they resonate with divine masculine energy while providing some amazing insight and wisdom to carry through your day. And they are on sale! Yes, please!!
Protection Oil to Protect from Negative Energy
Do you have a protective witchy guy? Look no further than our exclusive Protection Oil. Blended in-house and then charged on Morgan's altar for extra power, this blend contains Frankincense, Juniper, and Black Pepper oils in an Apricot Kernel oil base. Juniper Berry, Star Anise, and Angelica herbs float throughout. Your guy can wear this oil, use it to dress candles, anoint objects, or protect his home from negative energies.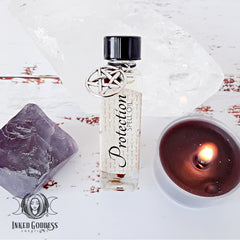 Increase the protection energy in your life with Protection Spell Oil from Inked Goddess Creations....
Inked Goddess Creations Gift Card
Maybe you were scrolling through our website and some other amazing divine masculine products caught your attention, and now you have no idea what your witchy guy would like- that's where an Inked Goddess Creations Gift Card comes in super handy! Let your favorite witch choose the items he wants for his own practice!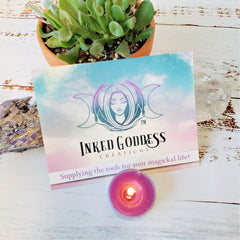 Shopping for someone else but not sure what to give them? Give them the gift...