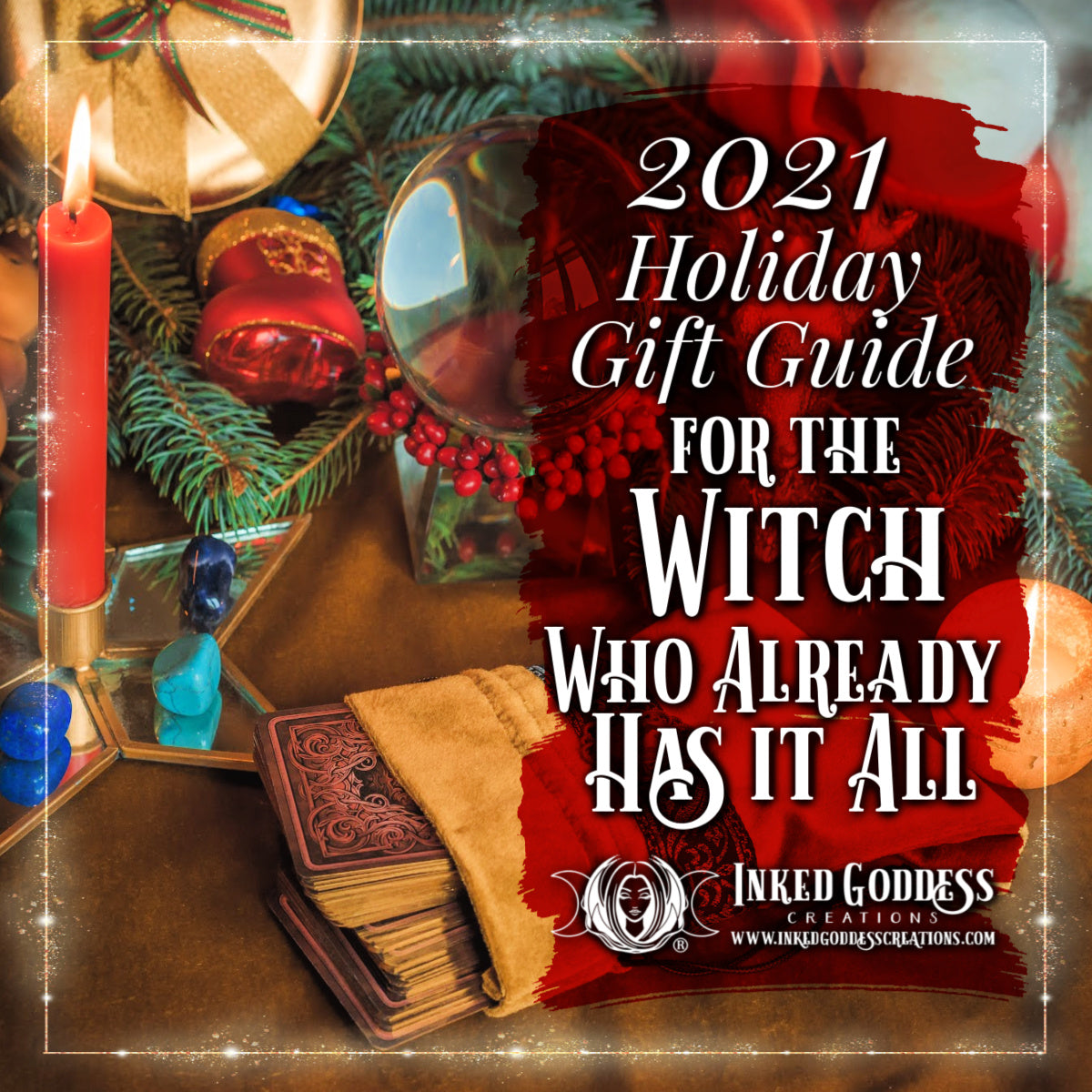 2021 Holiday Gift Guide for the Witch Who Already Has it All
Have a witch in your life that you want something special for this holiday season but it seems like they already have every witchy supply under the sun and moon? Then look no further, as we have chosen some awesomely unique witchy tools and products that are sure to make any witch cackle with delight. 
2022 Busy Witch Monthly Date Planner with Stickers
This planner is a must-have for busy witches everywhere. It's small, easy to carry, cuts right to the chase to help a witch set monthly intentions, visualize those intentions, and keep their witchy dates straight. It is a monthly planner, meaning it has one double-page month calendar, and then a few pages each month for setting intentions, creating a vision board for the month, and reflecting at the end of each month. There is also a yearly lunar calendar included, as well as a page on mindfulness and daily magick. This planner is spiral-bound and comes with a cute set of magickal stickers that your witch can add to their vision board, book of shadows, journals, and more!
The Eclectic Witch Card Deck
There is so much witchy information out there that sometimes it's hard for a witch to keep everything straight. That's where The Eclectic Witch Card Deck comes in super handy. It's small enough to keep on an altar, or many witches place these cards in their Book of Shadows, where they always have the information they need. This original starter deck comes with 20 cards that include eight moon phases, five elements, Divine Feminine, Divine Masculine, two color magick cards, mindfulness, a morning affirmation, and a card on the bell altar tool, all inside of a velvet bag. Here's a head's up now- there are plenty of expansions for this deck, so your favorite witch can add cards on just about anything to their starter deck- chakras, daily magick, each sabbat, seasonal magick, and so much more, so many witches end up with a hobby of collecting these Eclectic Witch Cards. 
Witchy Tools Socks
How absolutely adorable are these socks? Purple in color (many witches' favorite!) with black witchy tools all over, these socks can be slipped into a witch's Yule stocking for a comforting delight during the winter. If your favorite witch has been out of the broom closet for what seems like forever, or if they are still living in secret amongst the muggles, these socks are a unique treat for them to embrace their witchy ways and add a pop of divine, spiritual color to their outfit!
Witchy Affirmation and Simple Spell Cards
Witches have tarot decks. Witches have oracle decks. But does your witch have a deck that helps them practice magick each day with a powerful affirmation and simple spell? Unless they already have the Witchy Affirmation and Simple Spell Deck, then the answer is no (beause it's the only one of its kind)! This deck has beautiful artwork that accompanies daily affirmations with simple spells that your witch can say outloud to attract positive energy to them. They can use these cards similarly to an oracle deck and do a daily card pull to see the energy for the day. Or, if there is a spell or intention they are currently working on, they can pull the corresponding card and use it in their ritual or set it on their altar. Each deck contains 24 affirmation cards!
Filthy Witch Handmade Soap Bar
Witches need to pamper themselves. They spend all day infusing magick into their life, dealing with their feelings and everyone else's, restraining themselves when they want to turn someone into a toad, manifesting amazingness for themselves- you know, being a badass witch. Maybe they need a daily cleanse to wash off the negativity, or a special bar of soap they use before rituals. Either way, the Filthy Witch Handmade Soap Bar is definitely for them! This bar is a smoky blend of amber with woodsy notes, that evokes a feeling of a Full Moon ritual in the forest. It has a charcoal ribbon running through it for extra cleansing, and is handmade with all natural ingredients by a small business- it doesn't get much more perfect than that!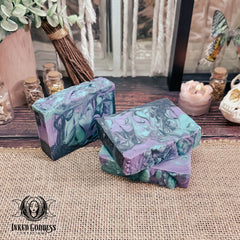 Embrace a bit of the dark side with a bar of Filthy Witch Handmade Soap created exclusively for...
Witchy Sh*t Cotton Bag
Every witch has witchy sh*t they carry around with them. So, why not give them a literal Witchy Sh*t Cotton Bag to put all of it in so nothing gets lost? This bag makes another great stocking stuffer (like the socks above), or you could even purchase the bag and then mosy around the tumbled gemstone or carved gemstone categories here and find some awesome gemstones to put inside of the bag before giving it to them! Either way, this bag is great for the witch who has everything but needs something to hold it all!
Inked Goddess Creations Gift Card
Still having trouble nailing something down because you *think* your favorite witch has some of this stuff already? You can't go wrong with an Inked Goddess Creations Gift Card. That way, you are covered for a gift and they can pick out what they want!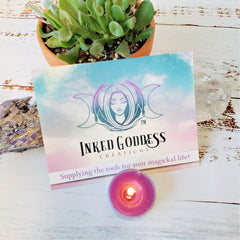 Shopping for someone else but not sure what to give them? Give them the gift...