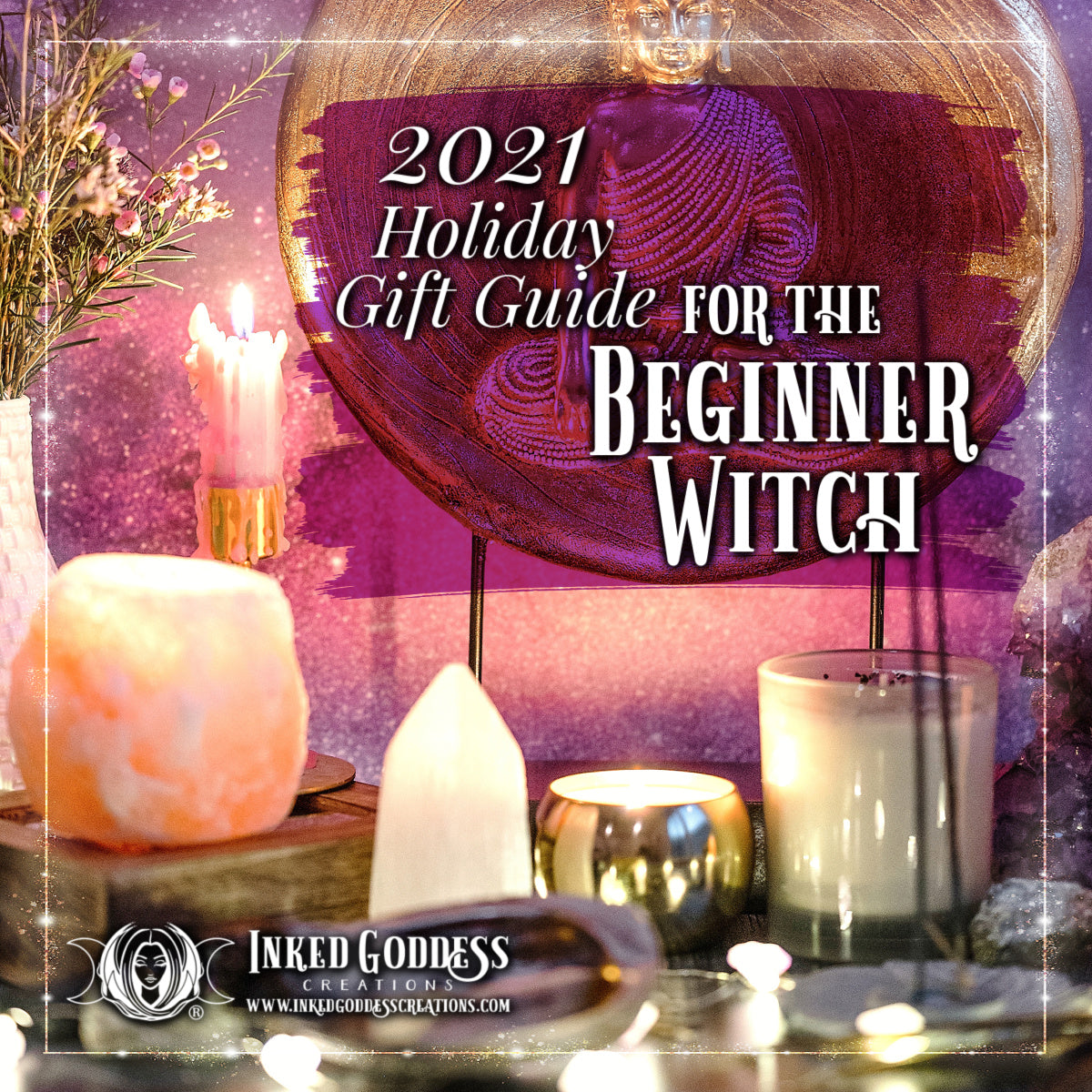 2021 Holiday Gift Guide for the Beginner Witch
When a person realizes they are a witch, it can be a truly empowering moment. Then, the reality of just how vast witchcraft knowledge and practice can be sets in, and a beginner witch can easily become overwhelmed. We've compiled a list of beginner-friendly supplies that help you support your favorite beginner witch this holiday season!
Wee Witches- My First Altar
Don't let the name of this kit fool you- half of the witches who buy the My First Altar Wee Witches box are adult beginner witches! This set comes with everything you need to begin your altar, including an exclusive Elemental Altar Cloth, a gemstone tree (Earth), feather (Air), Tealight Candle (Fire), Abalone Shell (Water) and a small Goddess figure (Spirit), and also includes an Agate Altar Tile! Instructions are included on how to set up your altar, so this kit is complete and ready-to-go for your beginner witch.
Zodiac Personal Power Kits
Many beginner witches don't know where to start when working with energy or even supplies. Our Zodiac Personal Power Kits are a great way to introduce them to candle magick, crystal magick, and personal power magick all at once! You can start out by grabbing the kit in their zodiac sign, and then they can begin working with their own sign's energy to empower their life and help them unlock their magick! 
The Eclectic Witch Card Deck
This deck of informations cards was designed to be a reference deck for all things witchy. The Original Starter Deck contains basic information each witch needs when they begin their practice, including moon phases, elements, Divine Feminine and Divine Masculine energy, and more! There are expansion packs for the deck that include Sabbats, daily magick, planetary magick, and more, but the Original Starter Deck is definitely an amazing gift for the beginner witch in your life to get them started!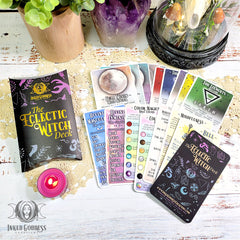 Add to your witchy knowledge with The Eclectic Witch Deck exclusive to Inked Goddess Creations....
Pagan Wood & Glass Light Box with Changeable Images
Setting up their sacred space is one of the first things a new witch wants to do. This is the place they will study, dive into witchcraft, practice magick, and just be themselves. That's where this Pagan Wood & Glass Light Box makes the perfect gift this holiday season. With three interchangable images, a beginner witch can pick the mood they want to create in their sacred space while adding some soft light to work by. Each lightbox comes with a Pentacle, a Raven, and the Triple Goddess image. 
Beginning Herb Set
Herbs can be used to make incense, dress candles, make mojo bags and so much more! Many witches need to start their witchy herb cabinet, and our Beginning Herb Set is the best place to start! This set contains basic herbs that many witches use in their spells and rituals, all in small bags labeled with the metaphysical properties. This set makes herbal magick a bit easier for your beginner witch!
Sacred Temple Tin Candle for Raising Vibrations
We're focusing on the witch's sacred space again with this product pick. The Sacred Temple Candle is a blend of Nag Champa, Frankincense, and Myrrh to help raise the positive vibrations in an area. It is pretty important for a sacred space to have positive energy, so that's why we chose this candle for beginner witches. Just light and let it cleanse the room of negative energy and fill the room with positive energy! 
Gemstone Chip Jars
Just about every witch out there loves crystals. Dipping your toe into crystal magick is an easy practice for a beginner witch, but many of them don't know what gemstones they'll resonate with until they really dive in. These Gemstone Chip Jars are great for the beginner witch to help them begin identifying gemstones with their metaphysical properties. With over 10 gemstone types to choose from, these little bottles make cute stocking stuffers and give your beginner witch a great start in crystal magick!
Inked Goddess Creations Box
Our monthly subscription box is unlike any other out there. We jam pack each box with products that fit a theme- most of them exclusive to Inked Goddess Creations. You can choose to send your beginner witch a one-time box (if ordering before November 28th, that will be December's "The Element of Earth" box, which ships December 3rd), or you can start a gift subscription for them for 3 or 6 months! Just be sure to put your witch's information in for the shipping at checkout, and we'll take care of the rest! (Be sure you are purchasing the Inked Goddess Creations Box for them, not Inked Spirit. Inked Spirit is an online membership community, which would also be AMAZING for your beginner witch if they want to join!)
Explore More: IGC Subscriptions
Inked Goddess Creations Gift Card
Still not sure what supplies your beginner witch has already invested in? Then an Inked Goddess Creations Gift Card is the way to go! That way, your beginner witch can explore the site themselves and see what calls out to them!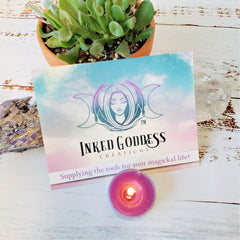 Shopping for someone else but not sure what to give them? Give them the gift...