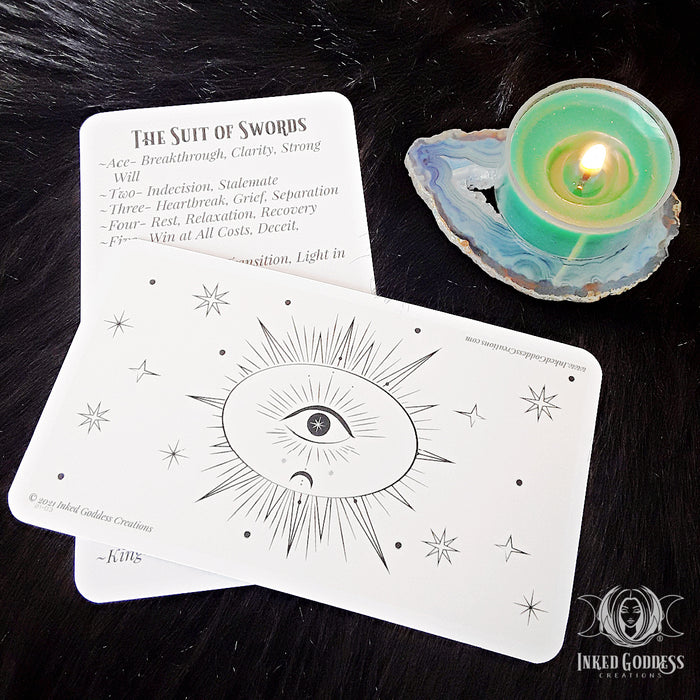 Color Your Own Tarot- Suit of Swords
Customize and start your own tarot deck with this exclusively designed Color Your Own Tarot- Suit of Swords from Inked Goddess Creations.
The Suit of Swords in tarot deals with the mind and intellect. Cards in the suit of swords indicate change, action, and oftentimes, conflict. The suit of swords resonates with the element of Air, which is associated with constant movement, wisdom, grand thoughts or ideas, and power. Sword cards have very forceful energy, meaning action needs to be taken now! But as swords deal with intellect, make sure your actions are deliberate and you have a strategy in place before taking action.
This deck was featured in our Element of Air Inked Goddess Creations Box in March, 2021. The simplistic designs are open for you to color them if you wish, or leave them as-is for a modern deck. These were designed by Morgan, the owner of Inked Goddess Creations! Each Inked Goddess Creations Box in our elemental series for 2021 will contain one suit of the tarot so you can collect them all for a complete deck.
Each order is for (1) Suit of Swords, which contains 15 cards- 14 suit cards and an information card so you can learn simple card meanings as you color them. These cards measure 4.75" x 2.75".
Other items in the picture are for size reference only and are not included with the purchase.
Metaphysical properties of Inked Goddess Creations products are not guaranteed; I supply the tools, you supply the magick. Products should not be used in place of proper professional advice or treatment. If skin irritation occurs with body products, discontinue use immediately. Never leave a burning candle unattended. Internal use of herbs is not recommended, especially without having first consulted your doctor or a certified herbalist.
Great finish and artwork
These cards shuffle super well and the artwork is so cute.
Unique tarot cards!
I ordered the swords & wands sets to complete my set. Beautiful, unique tarot cards!
Love love love!!
Such beautiful designs and feel. A perfect addition to my ever growing tarot collection!!
Color your own tarot cards
I've never worked with tarot before and this was a fun way to get to know the suit of swords
Amazing
I'm absolutely amazed at these cards they are a little on the thin side paper wise my I love the feel of the back of the cards. Coloring pencils work well I just used and art finishing spray so they wont smudge