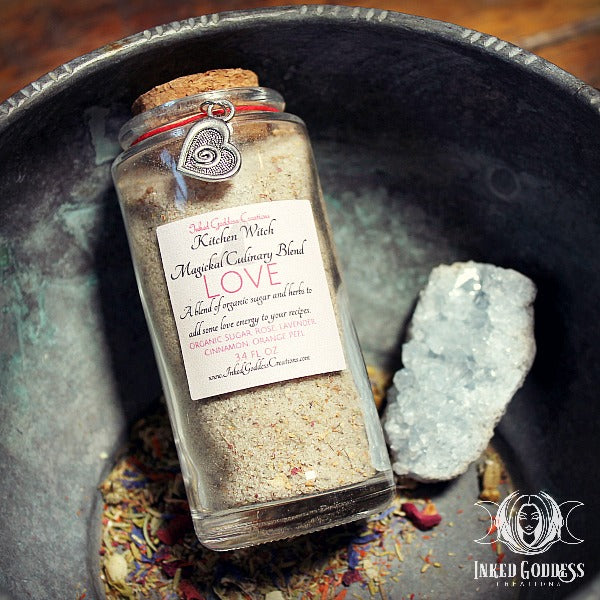 Kitchen Witch Magickal Culinary Blends
Save

Liquid error (snippets/product-badge line 32): Computation results in '-Infinity'

%
Stir some magick into your recipes with the Kitchen Witch Magickal Culinary Blends from Inked Goddess Creations.
Each herbal blend has been specially formulated with herbs to suit each intent. The herbs are ground down to almost a powder, and then hand-mixed into the salt or organic sugar (depending on the blend). Once the blends are mixed together and packaged, they are then charged on my altar for an extra positive magickal energy. These blends are made to be added to your own recipes to add a particular energy to whatever it is your Kitchen Witch heart is cooking up!
I have been using these blends in my own personal Kitchen Witchery cooking for years now, and wanted to make them available to my customers!
There are now 6 blends to choose from: Love, Healing, Money, Protection, Grounding, and Psychic.
Love- A blend of Organic Sugar, Rose, Lavender, Orange Peel, and Cinnamon to add a little sweetness and love energy to your baking or cooking. Can also be used to sweeten tea, sprinkled on breakfast items, and so much more!
Healing- A blend of Sea Salt, Rosemary, Calendula, Thyme, and Garlic to add some healing energy to your cooking. This blend goes GREAT in homemade chicken soup, when you have sick loved ones, and complements chicken dishes quite well.
Money- A blend of Organic Sugar, Chamomile, Cloves, Ginger, and Nutmeg, to sweeten the prosperity energy in your life. Can be added to baking and cooking dishes, used to sweeten tea, or sprinkled on breakfast items. This blend also makes an AMAZING cider, when brewed with warm apple juice or cider (or even Mead, for a more adult drink!).
Protection- A blend of Sea Salt, Hawaiian Black Salt***, Sage, Dill, and Black Pepper, to add cleansing and protection energies to your recipes. This blend complements poultry and fish dishes quite well, as well as vegetable dishes (especially roasted root vegetables!).
Newly Added August 2020:
Grounding- A blend of Sea Salt, Hawaiian Red Alaea Salt, Onion, Paprika, and Cayenne Pepper, to open your Root Chakra and ground your energy back to Earth. This blend is not super-spicy and just has a small kick with the Cayenne. This blend goes good on just about anything- eggs, meat, potatoes, roasted vegetables (especially root vegetables for extra grounding energy), seafood, mashed avocado, rice... the list goes on.
Psychic- A blend of Organic Sugar, Cornflower, Lemon Peel, Peppermint, and Star Anise, to open your Third Eye and aid in divination, meditation, and increase your psychic abilities. The anise in this blend is not overpowering, so even those who dislike anise (like Morgan, owner of Inked Goddess Creations), can use this blend! It can be sprinkled into tea, added to cookies, etc.
Each blend comes in a large, thick glass corked bottle, which holds 3.4 oz of the blend. Hanging from the bottle is a small charm and a color-coordinated hemp string. The bottle can be reused after your blend is gone.
***Please Note: The Hawaiian Black Salt is culinary grade, made from solar evaporated sea salt from the Hawaiian island of Molokai, that has been coated with activated coconut shell charcoal to get the black coloring to it. DO NOT USE if you are allergic to coconuts! When you purchase this blend, you are saying you have read this note and accept full responsibility for its possible side effects, releasing Inked Goddess Creations of any liability.
Other items in the picture are for size reference only and are not included with the purchase.
Metaphysical properties of Inked Goddess Creations products are not guaranteed; I supply the tools, you supply the magick. Products should not be used in place of proper professional advice or treatment. If skin irritation occurs with body products, discontinue use immediately. Never leave a burning candle unattended. Internal use of herbs is not recommended, especially without having first consulted your doctor or a certified herbalist.
Love
All good is made with love!!
I gave this to my daughter ! She has used it on chicken, beef, and vegetables. A pinch goes a long way.
Love it
I enjoy putting in my food when I cook.
Loved them so much, I had to buy the rest!
NECESSARY for a kitchen witch!
Kitchen Witch culinary blends
I chose money and protection. I've had house guests the past few days and, I've sprinkled some in my dishes.
KITCHEN GOODIES
I LOVE THE HERBS AND SPICES. KEPT TWO FOR MYSELF AND A JAR, THE OTHERS ARE CHRISTMAS GIFTS AND MY GILRFRINEDS ARE GOING TO LOVE THEM. SO EXCITED TO GIVE IT TO THEM