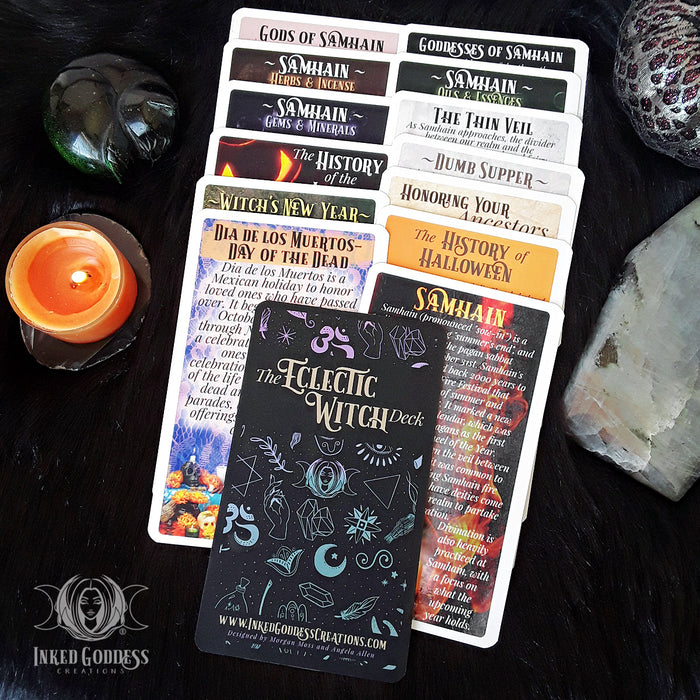 Samhain Expansion Pack for the The Eclectic Witch Card Deck
***PLEASE READ- This is the SAME Samhain Expansion pack first launched in 2019. If you already have a Samhain Expansion pack from us, IT IS THIS PACK. We will NOT be accepting returns on these because you already ordered this pack in the last year and didn't fully read this listing.***
Add to your Eclectic Witch Card Deck with all things Halloween with the Samhain Expansion Pack, exclusive to Inked Goddess Creations.
This informational deck of cards is researched and designed by Inked Goddess Creations with magickal knowledge that all pertains to Samhain and Halloween. This expansion pack contains 13 cards:
Samhain
Goddesses of Samhain
Gods of Samhain
Samhain Herbs
Samhain Gemstones
Samhain Oils
Witch's New Year
The Thin Veil
Honoring Your Ancestors
Dumb Supper
History of Halloween
History of Jack o'lantern
Dia de los Muertos
You can keep this deck near your altar for reference when you are performing spells or rituals, or paste the cards into your book of shadows as you create your own pages.
This deck is professionally printed in full color, with a soft touch coating on them for a truly unique, elegant, witchy informational deck.
Each order is for 1 Samhain Eclectic Witch Card Deck. Deck measures approximately 2.75" wide by 4.75" tall, and is exclusive to Inked Goddess Creations.
Other items in the picture are for size reference only and are not included with the purchase.
Metaphysical properties of Inked Goddess Creations products are not guaranteed; I supply the tools, you supply the magick. Products should not be used in place of proper professional advice or treatment. If skin irritation occurs with body products, discontinue use immediately. Never leave a burning candle unattended. Internal use of herbs is not recommended, especially without having first consulted your doctor or a certified herbalist.
Samhain Oracle deck cards
I'm loving all the cards so far! They are very informative.
Cards for my favorite time of year!
This is one of my favorite expansions and covers everything I need to know for this time of year. A must have for everyone!
Samhain Expansion 2019
I'm obsessed with the Sabbat expansions and this is still (in 2021) one of my all time favorites 🧡🖤🧡🖤
Samhain eclectic witch pack
Beautiful, informative, and easy to store. I love the Sabbat expansion packs!
Samhain 2019 cards
Great quality cards about Samhain. Very informative and handy to have as a quick reference to anything pertaining to Samhain / Halloween. The Goddesses, Gods, Herbs & Incense, Gems & Minerals, and Oils & Essences cards of Samhain are awesome to have if you forget and need a ingredient or deity in your Samhain rituals and spellwork. I dig it! :)
Expansion Pack
Absolutely Love this Very Informative