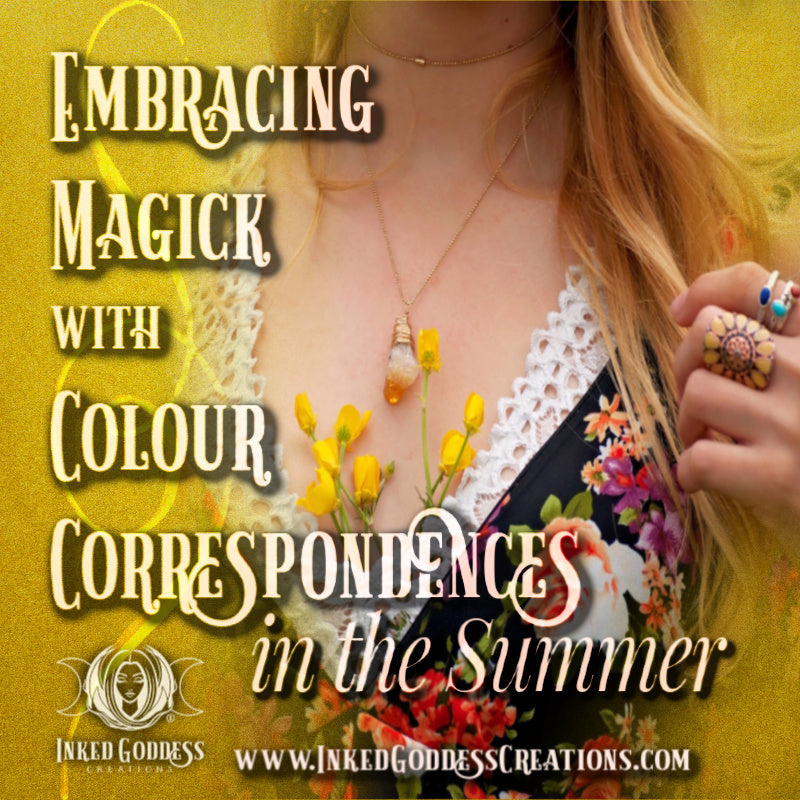 Embracing Magick with Colour Correspondences in the Summer
Today's post comes from Sarah, the Itty Bitty Celtic Witch. We are super excited to have her guest posting on The Inked Grimoire, so a huge thank you to Sarah for sharing your post with us!
To start off, I just want to say a magickal thank you to Morgan, it's so exciting to be visiting the lovely Inked Goddess Creations blog today!
Now, I do suppose the best start to this post would be to say hello and introduce myself, I'm Sarah, also known as the Itty Bitty Celtic Witch. I'm a green witch who at this moment is absolutely delighted for some warm weather, seedlings, and green leaves on trees! I'm also a Leo so I definitely have a soft spot for warm, sunny days :)
With so much warm sunshine happening, I'm extra excited to share this blog post about embracing magick with summertime colour correspondences today!
Why Work With Colour Correspondences in The Summer?
Colour correspondences are a brilliant way to connect with the myriad of magickal energies that burst to life under summer's sunshine.
When the wheel turns towards summer, the natural realms explode with buds, blossoms, fruits, leaves, and flowers which the bees happily buzz around.
Working with colour correspondences in the summer then becomes an opportunity to deepen your connection to the seasonal summertime energy by bringing awareness to all the colours in nature that are emerging around you.
Magickal Colour Correspondences For Summer
Summer has a lot of different colours depending on where you live! There might be vibrant greens in the trees or soft yellows of wild prairie grasses. So first and foremost when looking for colour correspondence inspiration, look to the nature that surrounds you. This can help you connect to the magick in your local natural area as well.
To get you started on your natural summertime colour magick explorations, this post highlights a few of the colours which shout summer as well as the magickal energy they can weave into your spell.
~Green~
There's nothing that says quite like summer (at least in my area) like green after a long winter! While there are a few evergreen trees who courageously remain green year round, summer is the true expression of this vibrant colour.
In summer, green is the colour of life returning after the earth slumbers beneath the ice. It is the colour of leaves stretching out towards the sun's rays and grass covering the earthy brown soil.
Working with green energy as a colour correspondence draws upon this wealth of vibrant energy. It can help to infuse spells with growth, with vitality, and with the seasonal abundance that comes along with fields of crops as they grow nourishing vegetables and grains.
~Yellow or Gold~
Fiery and brilliant, yellow or gold is the life-giving colour of the summer sunshine. When the earth turns to face the sun fully it is blessed with the nourishing fire that enables nature to thrive.
It is the hopeful colour of day when the morning sunrise awakens us after night. It is a colour which radiates this hopeful promise of a fresh start and new opportunities.
Incorporating yellow or gold into your colour magick weaves in nourishing and hopeful positivity to your spellwork. Reminiscent of the sun's rays it can infuse your spell with an inspiring burst of energy!
~Blue~
Refreshing and uplifting, blue is the colour of the ocean's waves. It is the colour of a soothing visit to the beach in the summer and dipping your toes in the cooling waters amid the summer heat.
Weaving blue into your summertime spells can help to create balance in your spellwork. While the bright yellow of the sun weaves in hopeful passion and fiery positivity, the soothing cool of blue can refresh and nourish. Just as a plant needs water to truly thrive in the summer's sunlight, 'watering' your spell with blue can add energy that nourishes your workings.
~Wild Floral Colours~
One of the most beautiful parts of summer is the wild array of flowers which grow everywhere from fields to gardens and parks!
When working with summertime colour magick, let this myriad of colours inspire your spellwork. If you grow flowers in your garden, collecting fallen petals of red, pink, purple, blue, yellow, white, and every mix of colours in between is another magickal way to blend nature with colour correspondences in your spellwork. These flowers are all part of summer and so to are the colours they delightful show off.
What About Weaving in Multiple Summer Colours?
Magick certainly doesn't fit inside the proverbial 'box' and neither should you feel that your colour magick workings have to as well. Let spirit and the natural world inspire you to weave in any and every colour that speaks to your soul!
Wishing you a most lovely and colourful summer full of magickal workings!
If you'd like to come say hi, you can find Sarah blogging about magick and witchy goodness over at - https://sarahfawnempey.com/ or on Insta @ittybittycelticwitch