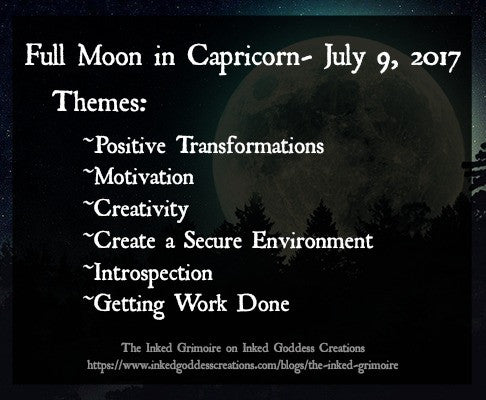 Full Moon in Capricorn- July 9, 2017
This Full Moon in the Earth sign Capricorn brings intense energies into our lives, and encourages us to allow positive transformation to occur. It's time to get organized and find ways to be more practical and efficient. Having clear goals, morals, and determination sets us up for success during this time! Though it won't be all work and no play, as there are other planetary movements supporting this powerful full moon. Inspiration comes from Neptune, Ruler of Pisces, the planet of intuition, dreams, and spirituality to help us see things in a new light.
Pluto conjuncts this moon which will stir up some emotional intensity. Pluto also becomes opposite Cancer sun. There is a tendency for harshness from both of these aspects, causing control issues, pickiness, and other concerns of our Ego. By knowing this, we can consciously take action to release what is no longer useful to us by challenging our attachments and realizing what triggers our sensitivity. In dealing with people in our daily life, we should remember to be patient and kind to ourselves and to others.
Capricorns have a great work ethic, and can use this skill in creative ways like cooking, studying, and decorating. Changing or creating a more secure environment for ourselves is important and can help clear out old energies and make us feel refreshed!  The Capricorn energy can cause us to feel introverted during this period, but that doesn't mean we need to stay indoors. Make the most of this full moon and clear your mind by spending some quality time with nature, and ground yourself with your bare feet under this earthy energy!
One of the many helpful things about astrology is that it reveals to us certain patterns that the cosmos are creating in our lives. By being aware of these influences we can feel more prepared for wha'ts to come, while still keeping an open mind to how things will turn out. Try to find a balance in between the highs and lows in life, and set your strong positive intentions for the future. Have a Happy Full Moon!
- Juliana M. Fanucchi
Author Bio:
Juliana uses astrology to understand how the planets can affect us on a mental, emotional, and spiritual level. Raised as a Nichiren Buddhist, she studies other metaphysical interests like numerology, music, tarot, and gemstones. She received her 200 hour yoga certification in December 2016. She currently lives in Tucson, Arizona. You can follow her on Instagram- instagram.com/whooliana.