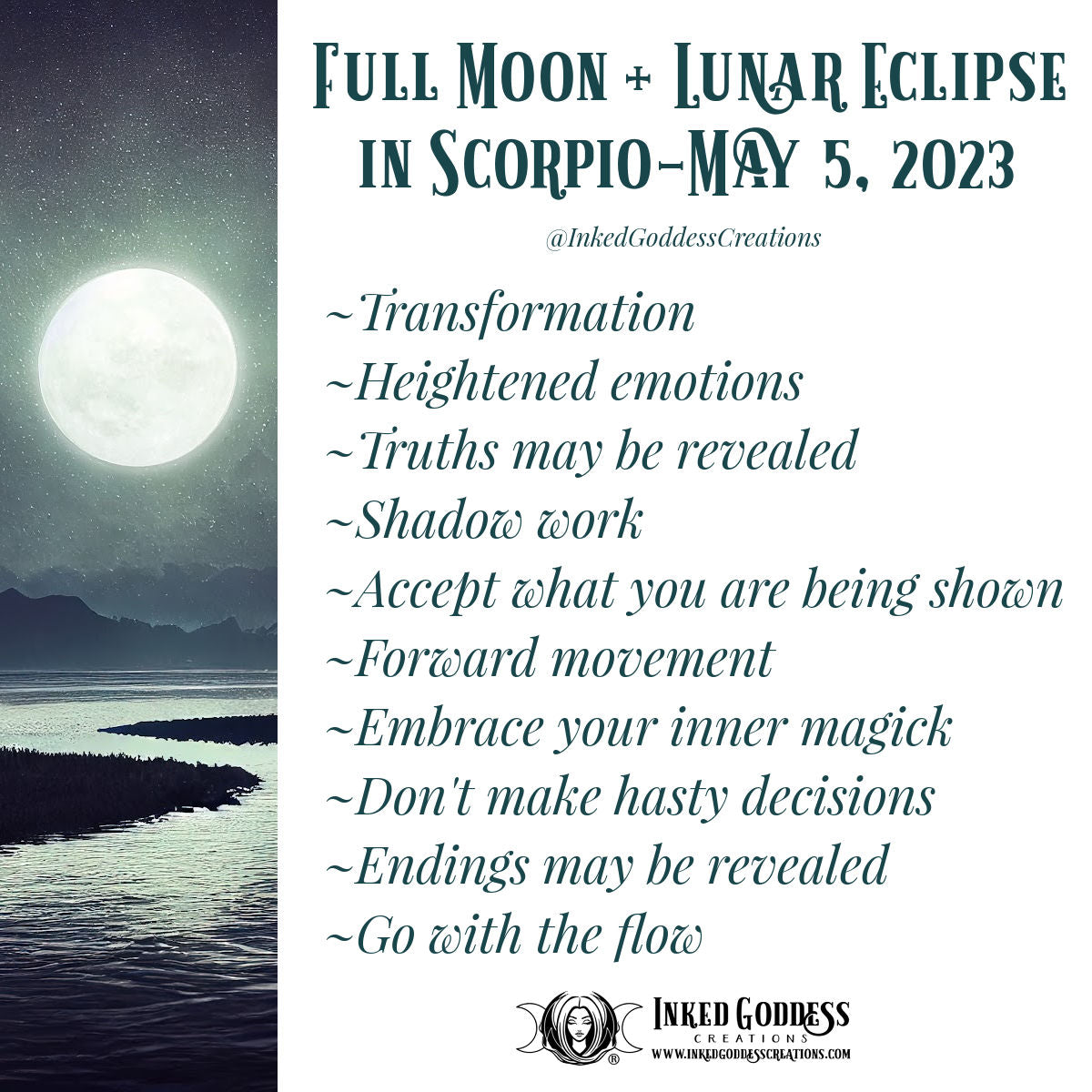 Full Moon + Lunar Eclipse in Scorpio- May 5, 2023
The Full Moon in Scorpio arrives on May 5, 2023, and is accompanied by a lunar eclipse. While eclipses tend to shake up the energy a bit, this lunar eclipse's focus will be more on revealing truths, whether you are prepared for them or not. Paired with the Full Moon in Scorpio's energy, this could be an amazing time for transformation for you if you are willing to see and accept the information that is being given to you. Know that energy moves forward during an eclipse, and this energy is nudging you in the direction best suited for your higher self. Trust in this to make that change or transformation a bit easier for you. 
Heightened emotions are a side effect of this Full Moon in Scorpio, so allow yourself to feel them in order to gain insight into what they are truly telling you. If you feel the urge to do some shadow work to dive down into these feelings and see where they are rooted, this Full Moon with lunar eclipse fully supports that- and you. Scorpio's energy reminds you that you are pure magick, divine energy, and a beautiful spiritual being, flaws and all. Embrace that to really make the most of this powerful energy. 
While this Full Moon will be powerful in illuminating truths and choices for you, because of the unpredictable eclipse energy, know that making hasty decisions may not work out well. Sit with the information for a little while and see how it feels once heightened emotions subside a bit. Take a look at the past two years of your life and see what needs to come to an end for you to move forward, as this eclipse's energy began with eclipses in November of 2021. You are coming full circle in some area of your life, and this full circle is part of your divine plan. Trust in what you are being shown and what you feel you need to release with the upcoming waning moon. The more you go with the flow right now, the less chaotic the energy will be.
Full Moon Blessings,
Morgan