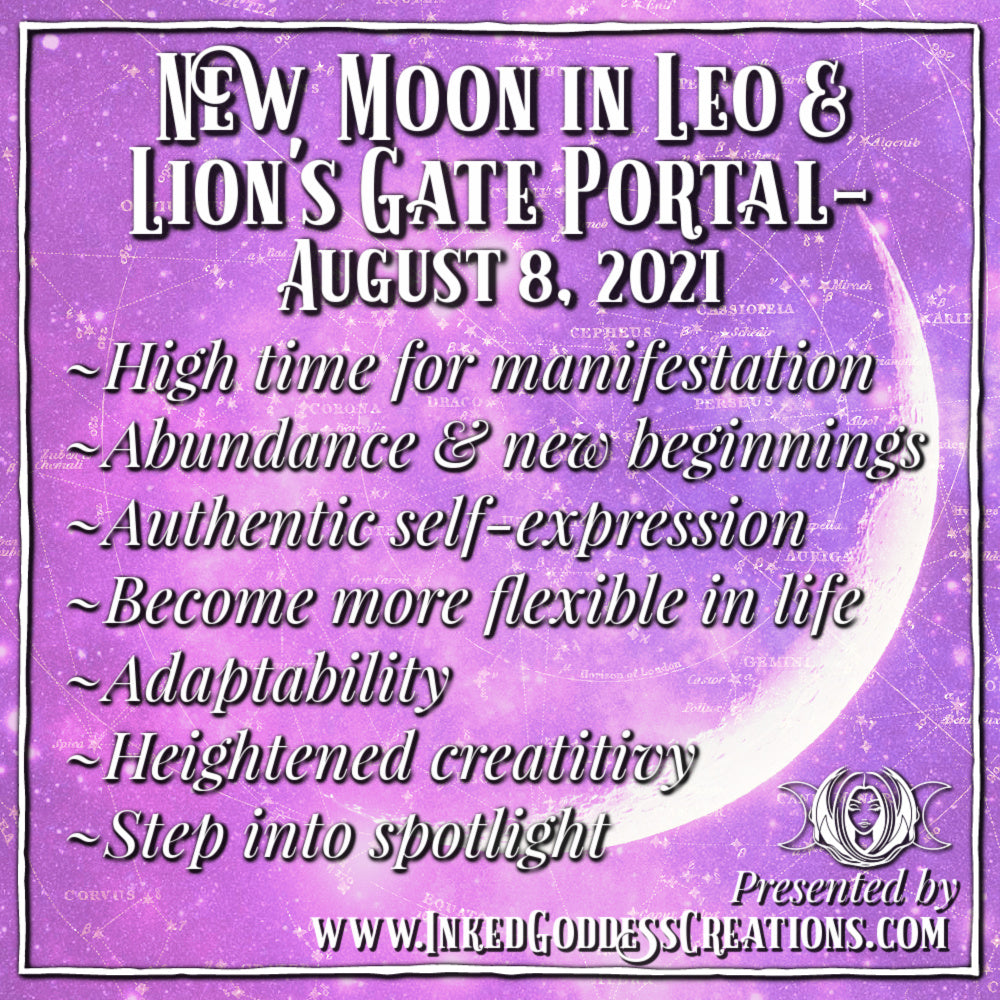 New Moon in Leo & Lion's Gate Portal- August 8, 2021
August 8th is the empowering New Moon in the fire sign of Leo. The last New Moon we experienced was in Cancer, which put us all on a path of getting out of our comfort zones. With this New Moon, we are likely to begin to see more results from the intentions and goals set in the month of July!
Also taking place on August 8th is the annual Lion's Gate Portal. The date of 8/08/21 is significant because the combination of both Sun and Moon in Leo, along with the brightest star in our sky (after our Sun), Sirius, being visible during this time. In astrological and metaphysical communities, Sirius is referred to as the 'Spiritual Sun' due to the ancient belief in its powerful ability to shed light on your true, spiritual self. These factors point to this being an especially lucky time for attracting an abundance of new beginnings, wealth, relationships, and opportunities for authentic self-expression!
This New Moon in Leo is square to planet Uranus in Taurus. You may sense the impending changes heading your way, and feel excited and eager but also anxious for what's to come. Your ego could be inflated due to the heavy Leo aspects, which may cause you to act impulsively and without enough consideration of others. Notice if the Universe is interrupting your usual way of doing things, as it may be guiding you to become more flexible and adaptable in that area of your life. The New Moon in Leo encourages you to evolve by embracing open-mindedness, unleashing creativity, and bravely stepping even more out of your comfort zone and into your own spotlight.
 
- Juliana M. Fanucchi
Author Bio:
Juliana began studying astrology at a young age.  She believes that through understanding how the planets affect us, we can learn how to use their energies to better ourselves and our lives.  Juliana studies other metaphysical subjects including numerology, tarot, gemstones, and practices Nicherin Buddhism.  In 2016, she earned her 200 hour Yoga Teacher Certification. She currently resides in Tucson, Arizona.