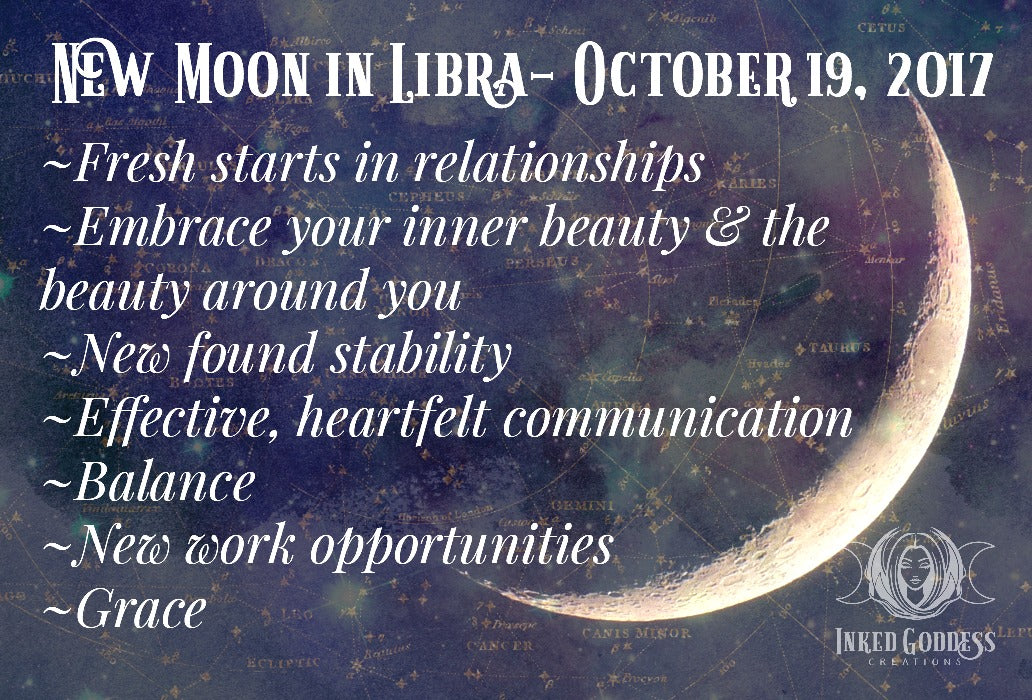 New Moon in Libra- October 19, 2017
This New Moon is ruled by the planet Venus. Venus is about beauty, grace, communication and all around good vibes! This is the New Moon for fresh starts in all our one on one relationships.The next two weeks will present opportunities to bond with others by starting to have more honest and open conversations. So the issues which are being addressed by all of us at this time are about freedom. This is all good news because the last Full Moon we experienced was in the fire sign of Aries. Many of us experienced the dark side of Aries and were forced to deal with the aftermath of sudden, destructive events. New Moon in Libra helps us to readjust and find our stability again in a way that benefits everyone.  
Libra is represented by the symbol of the scales. Balance between ourselves and others. Power is to be shared equally, in order to balance the scales of justice. This will be especially helpful in our work lives as well. If you've been wanting to gain a higher position at work or are faced with a new job opportunity now is the time to to move forward. Using your social skills and charm, like our fellow Libras so easily demonstrate, allows us to find the best ways to achieve our goals. Other planets will be having a strong affect on this new moon as well. Jupiter's recent arrival into Scorpio means that secrets will be revealed, so if you've been hiding anything now is the time to be upfront about your intentions. Romance, soft music, gentle touch, dim lighting and tactful words will set the mood for honest and heartfelt exchanges. 
Libra is a sign that has a good eye for beauty in others and their environment. Taking some time to redecorate your home would be a great way to feel more at ease and find peace of mind. Having an easy going get together with friends and neighbors can create a space for people to relax and enjoy themselves.Try your best to not be too high-strung or picky about the details, and instead learn to go with the flow. Create a peaceful space in your home or in nature to meditate with gemstones like Peridot and Tourmaline. Rose quartz is another precious gem associated with Libra to encourage self-love and acceptance. Or if you prefer the use of herbs, using Bergamont, Elderberry and Thyme will all help to ground yourself under this airy Libra influence. Set New Moon intentions for what you want most, and look forward to new opportunities coming your way! I hope everyone finds helpful ways to cope and heal from the chaos around us, so that we may continue to have hope for a brighter future.  
Be well! xx

-Juliana M. Fanucchi
Author Bio:
Juliana uses astrology to understand how the planets can affect us on a mental, emotional, and spiritual level. Raised as a Nichiren Buddhist, she studies other metaphysical interests like numerology, music, tarot, and gemstones. She received her 200 hour yoga certification in December 2016. She currently lives in Tucson, Arizona. You can follow her on Instagram- instagram.com/whooliana.