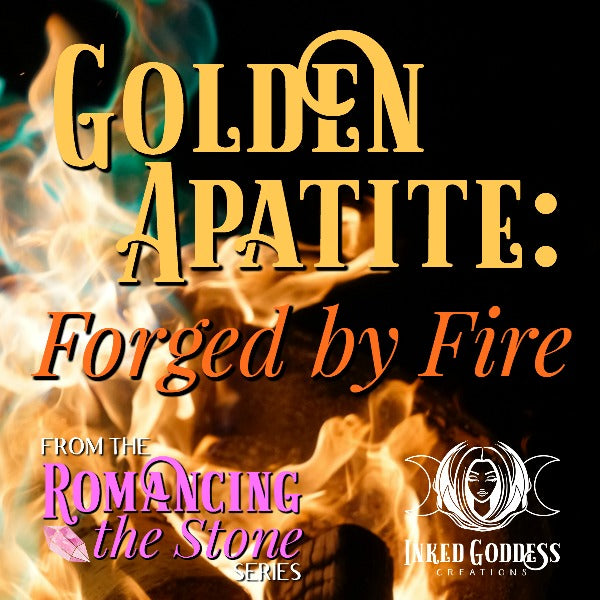 Romancing the Stone- Golden Apatite: Forged by Fire
If there was ever a stone that could be said to have harnessed the power of the sun itself, it is surely Golden Apatite. When we think of the sun and its fire, we tend to think of passion, of the masculine energy, and the sheer power of solar energy over us and our planet. Golden apatite is associated with our masculine side. Meditating with this stone is great for visualizing goals and manifestations. 
First, think about your big picture goals. Then allow your mind to consider the steps you might take to reach those goals. For example, my goal is to become a Registered Veterinary Technician. In order to do that I need to pass national and state testing. To qualify for those tests, I need to attend and graduate from an accredited program. Right now, I'm in the first semester, and need to stay focused on my studies and absorb information. Use this stone to reinvigorate your passions for those goals as well! I love animals and strive to be a good ambassador for them. Meditating in this way can open up career paths and reinvigorate ideas that may have become stagnant.
Although the substance itself is common, to be able to find gold gem quality apatite is rare! Apatite in general is an element naturally found in bones and teeth (appetite!).  Therefore, this crystal makes a great gift for those who work with animals.  Due to the golden color, it can also be given as a talisman to remind the wearer to "look on the bright side" and help reduce stress.  If given as jewelry, the owner must take care to use and store this stone gently.  It is fairly brittle and can scratch easily. 
Do you have a piece of Golden Apatite?  What does it mean to you?
Author Bio: 
JessNamaste works to bring love and light to those around her.  This series, "Romancing the Stone", is her first time sharing her knowledge and experience with the metaphysical world. JessNamaste has always spoken the language of the earth, crystals and stones.  We hope her knowledge will bring you not only information, but inspiration as well!  If you want to get to know her more through her experiences, or send her a message directly, please visit JessNamaste.