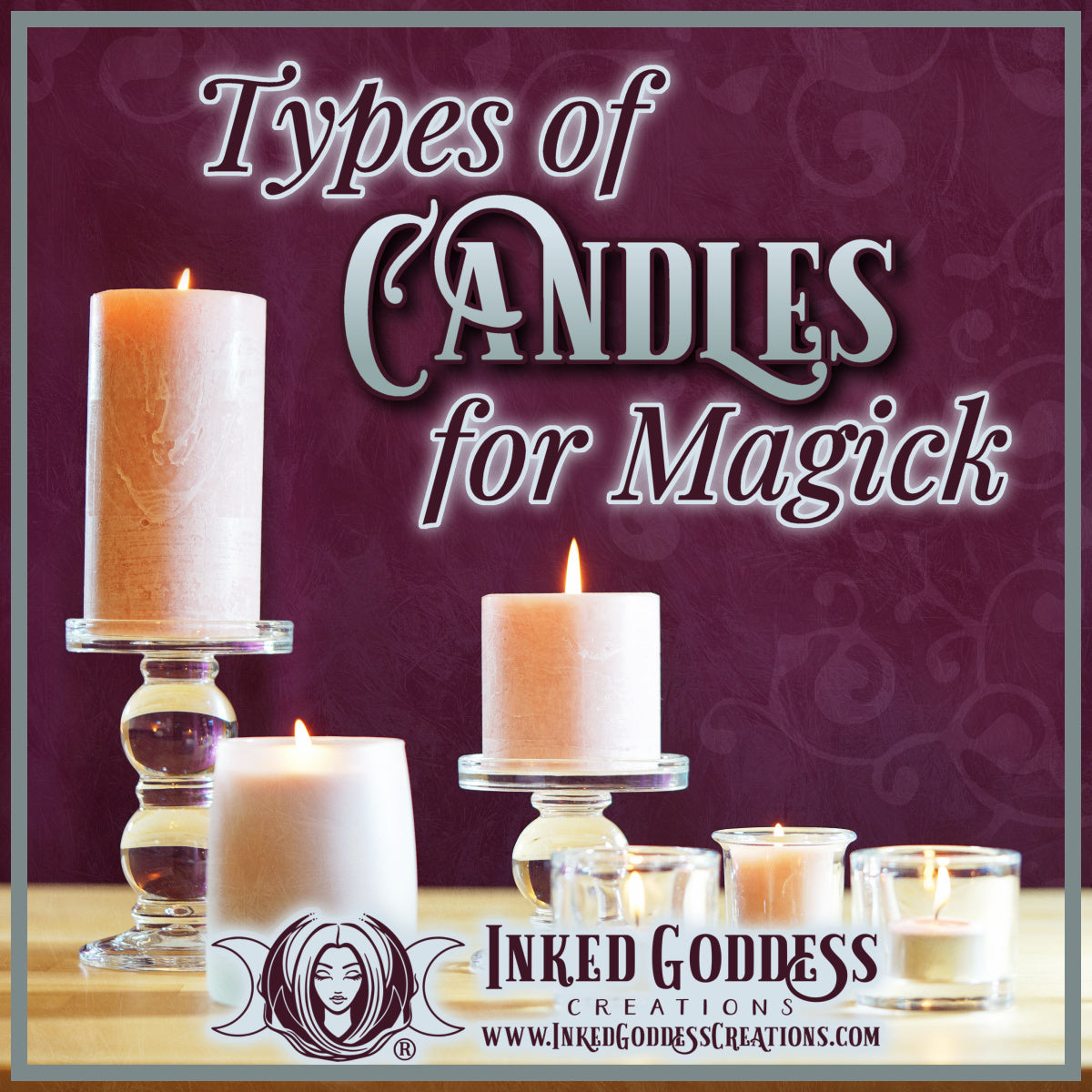 Types of Candles for Magick
Candles are a central feature of most witches' magickal practice, and there are a variety of sizes and shapes you can use for your spellwork. Interested in learning more about the types of candles for magick? Keep reading.
Birthday Candles for Fast Spells
Birthday spells are perfect for quick spells or when you don't have much time. They may burn up to 20-30 minutes (sometimes shorter), and you can use the entire candle during the entire working without leftovers.
Floating Candles for Bath Rituals and Beyond
Floating candles are great for bath rituals or any ritual in which you want to combine the elements of fire and water. The burn duration varies depending on the size of the candle, but there's a lot of flexibility with this kind of candle. You can even carve them into a shape to amplify your magick during your spell.
Chime & Tealight Candles for Small Spells
For small spells, chime and tealight candles are perfect. You can dress them with oil and herbs, and they'll burn for 2-4 hours. You can also allow them to burn for a while after your spell to continue the magick. Try dressing the underside of your tealight candle by removing it from its tin holder and placing herbs and oils beneath it. It makes the spellwork a little safer since the flammable materials are under the wax.
Votive & Taper Candles for Medium Spells
For medium-sized spells that will take a bit longer, votive and taper candles are convenient. They'll burn for 6-10 hours. Carve sigils or words into these candles before dressing them to enhance your practice. These candles are also great for carromancy practice since they'll provide you with a lot of wax.
Carved & Shaped Candles
Burn time varies based on the size and shape of these candles, but they can be used for specific spells. A heart-shaped candle, for example, is perfect for self-love magick. A candle shaped like a crystal can aid in crystal magick. You can use your imagination for the other shapes that might be helpful for different spells.
Pillar, 7-Day & Jar Candles for Big Spells
For big spells you'd like to continue working on for several days, try pillar, 7-Day, or jar candles. These will burn for 12 hours to several days and are perfect for spells in which you relight your candle multiple times. For instance, I love to burn the same candle for a prosperity spell for an entire week when I'm working on a large project for work.
No matter which type of candle you select, remember you're the magick!