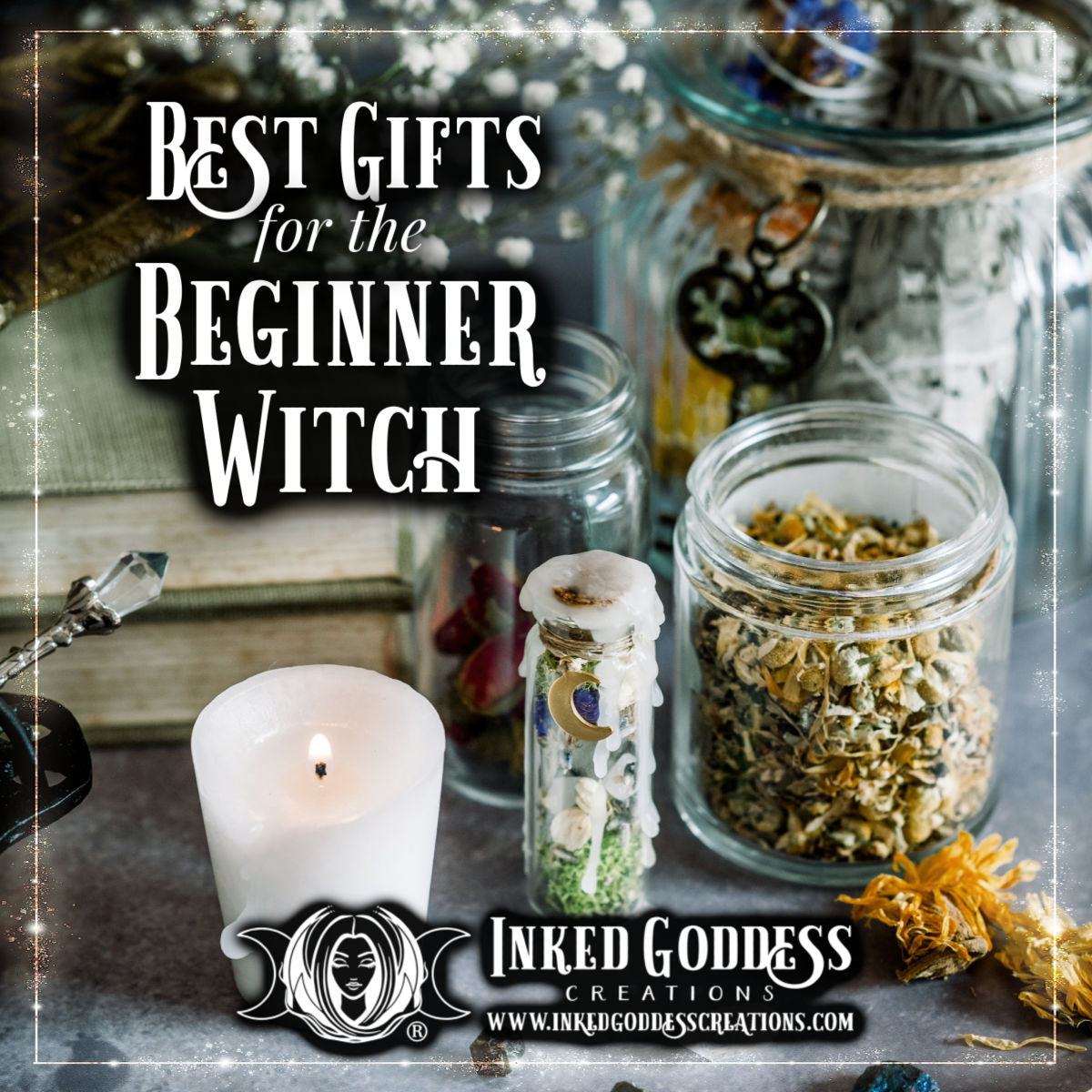 Best Gifts for the Beginner Witch
Whether you're shopping for the holidays or your favorite witch has a birthday coming up, we've got great recommendations for the best gifts for the beginner witch. As you read and when you find your way to the shop, be sure to think about the basics. Beginner witches love simple and powerful gifts. Here are some of our top recommendations. 
Elemental Altar Cloth for the Beginner Witch
Simple yet elegant, the Elemental Altar Cloth is perfect for the beginner witch. The purple symbol in the middle is our custom design representing the 5 elements: a tree for Earth, a cloud for Air, a flame for Fire, a wave for Water, and a Triquetra for Spirit.
Using a compass or compass app, find North and place the tree in that direction on your altar. The other elements will line up correctly, making this an elegant and valuable altar decoration. 
Best Card Deck for the Beginner Witch
When we start our magickal practice, we often don't know where to turn for information. The Eclectic Witch Deck is perfect for the beginner witch. It contains 20 cards, including:
8 Moon Phase cards
5 Western Element cards
Divine Feminine & Divine Masculine cards
2 Color Magick cards
Mindfulness card
Morgan's Personal Morning Elemental Affirmation card
Bell Altar Tool card
The deck is shipped inside a beautiful gold foil pillow box and printed in full color. 
Best Herb Set for the Beginner Witch
Every herb cabinet, whether for metaphysical, aromatherapy, or witchy purposes, needs to start somewhere. This Beginning Herb Set from Inked Goddess Creations is the perfect set for a beginner or a great way to add to your existing herb cabinet.
This set includes:
Lavender
Chamomile
Jasmine
Mugwort
Sea Salt
Black Salt
Small Sage Wand
Best Witchy Box for the Beginner Witch
Create your very own witchy supply box with the Build Your Own Inked Goddess Creations Box! Customize a toolkit of 6 total items to fill your box. This is the perfect gift for the beginner witch! We add new items to this listing mid-month each month with new box items, so the available customizations are ever-changing.  
Best Digital Gifts for the Beginner Witch
One of the best ways to help your favorite beginner witch curate their library is through our fantastic Book of Shadows Pages offerings. Here's just a sample of what we have available:
These downloadable Book of Shadows Pages are also great for out-of-town friends and family. 
Explore More: Digital Products
So now, the most challenging question to answer is, what's your favorite gift for the beginner witch?