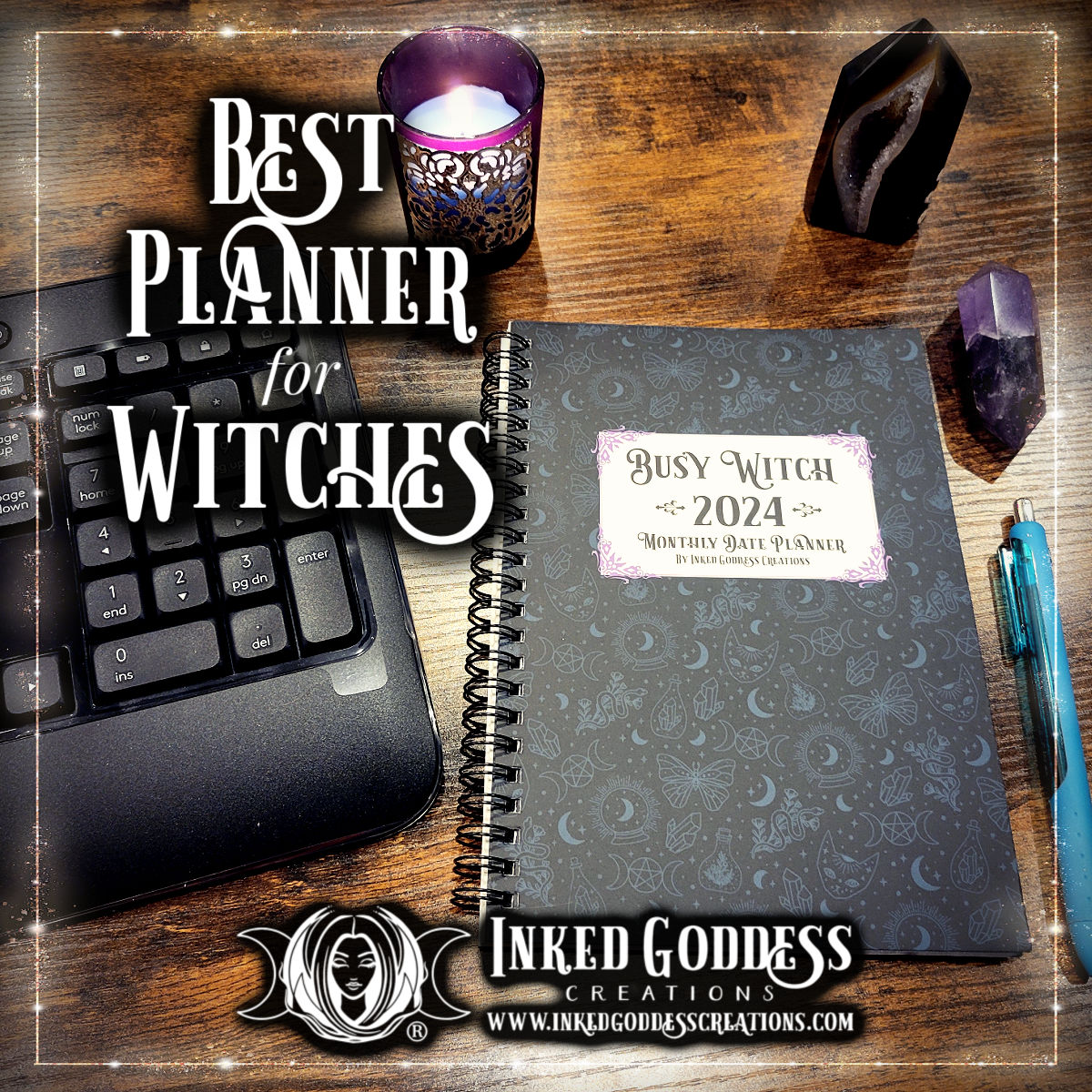 Best Planner for Witches
Are you looking to stay organized and magickal at the same time? The Busy Witch Monthly Date Planner is perfect for you and even better for 2024. Keep reading for more insider information about this exclusive product!
Monthly Date Planner for Witches
The 2024 Busy Witch Monthly Date Planner contains 80 workable pages to help you record your goals each month, reflect how your month went, and give you resources to help you practice busy witch magick, like astrological correspondences, astrological seasons, and moon phases.
Each month, the planner contains:
An intention-setting page
2 pages for a mini Visionary Magick Board to scrapbook or bullet journal
A 2-sheet monthly calendar
1 page to reflect on how the month went.
On the monthly calendar pages, you'll also find: 
Sabbat dates
Full Moon phases
New Moon phases
Planetary retrograde dates
Zodiac seasons (New for 2024!)
And US holidays
Best Portable Planner for Witches
The Busy Witch Monthly Planner is also incredible portable, making it easy to take your magick on the go. The planner is the perfect size to put in your purse, backpack, or laptop bag to keep it with you. It's spiral-bound, so you can easily fold the pages back for writing.
Its durable soft cover keeps it lightweight for carrying anywhere with you. With motivational quotes, cute graphics, and an attached sticker sheet with over 50 stickers included, this planner will brighten any busy witch's year!
Magickal Planner for Witches
This magickal planner also includes the following pages at the beginning:
Stickers for your vision boards- Who doesn't love stickers?!?!
Pages for you to set your goals and intentions for 2024
Daily Magick information for each day of the week
Sabbat information
Lunar Phases information
Planetary Magick information, and
Astrological Correspondences
You'll love this super-portable and inspiring magickal planner!
Click below to see pictures of the inside of the planner.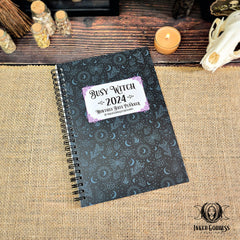 Stay organized and magickal with the 2024 Busy Witch Monthly Date Planner from Inked Goddess...