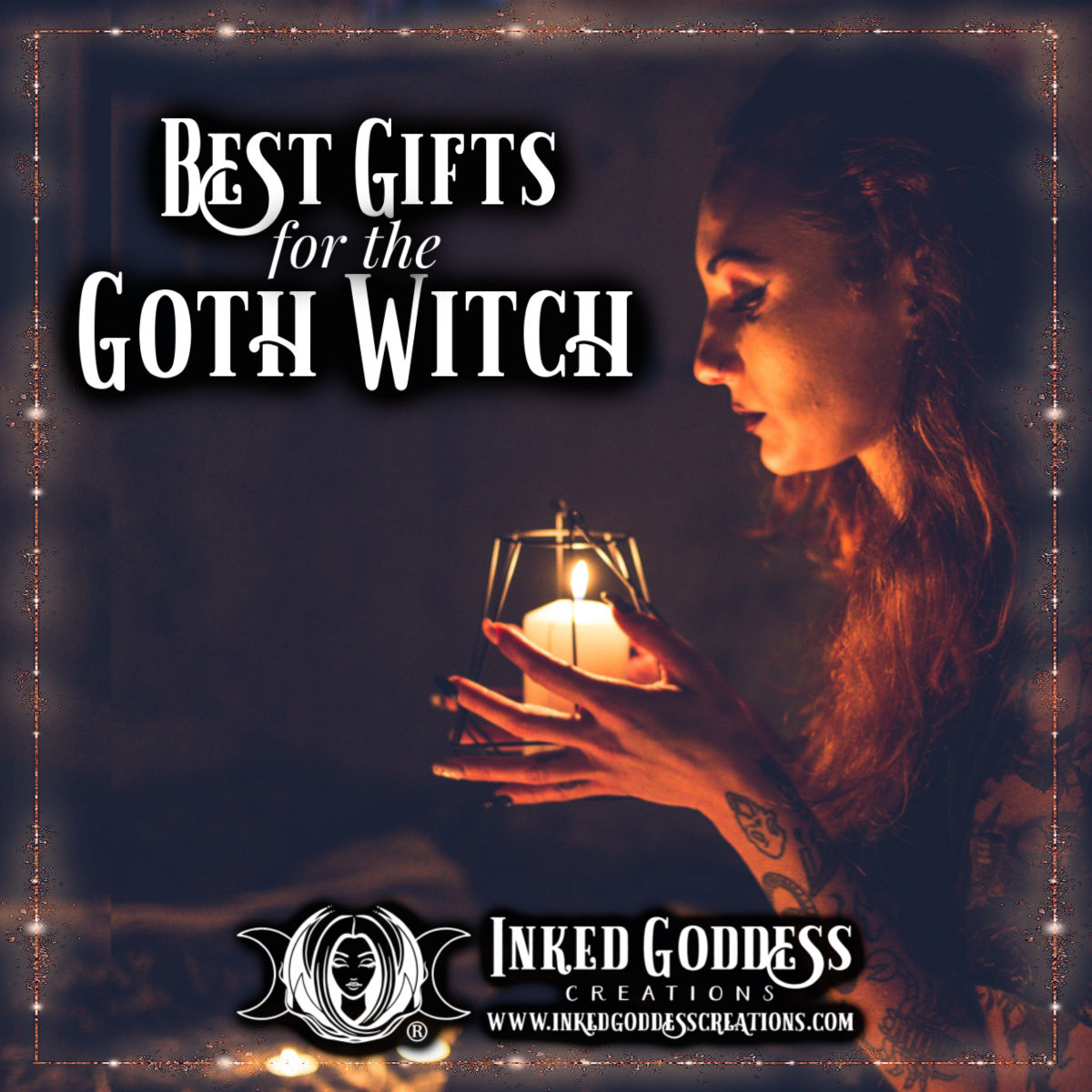 Best Gifts for the Goth Witch
Are you searching for the perfect gift for the Goth Witch in your life? Maybe you're the Goth Witch and looking to treat yourself! Either way, we've got some great gifting suggestions for you. Here are some of our favorite products for Goth Witches.
Best Protection Spell Kit for the Goth Witch
Goth witches will love our entire Dirty Witch line, an Inked Goddess Creations exclusive. But the Oh Hell No! Spell Kit for Protection is the best spell kit for the Goth Witch in your life. The spell kits in our Dirty Witch line help you create a spell bag that you can carry with you or place where it's needed most! And yes, instructions are now included with our spell kits! The Oh Hell No! Spell Kit contains:
Witch Be Gone tealight
Witch Be Gone Perfume Oil (full-sized)
Oh Hell No! Herb Blend: Angelica, Motherwort, Blessed Thistle, Mistletoe, Horehound
Smoky Quartz tumbled gemstone
Satin bag to make your spell bag
Spell instructions on a mini scroll
All packaged inside our magickal tubes, ready for gift giving. 
Best Banishing Kit for Goth Witches
Our Eco-friendly Dirty Witch Coffin Spell Kit for Banishing is a crowd favorite. Banish your fears, bad habits, or even people with the help of this kit! Coffin spells are often used for banishing rituals, whether you are banishing fears, bad habits, things that no longer serve you, or toxic people from your life. This kit includes:
1 small papier mâché coffin
Twine
3 wooden skull pieces
1 beeswax black candle
Parchment
Coffin Spell Herb Blend in a biodegradable plastic baggie
Spell instructions
And because everything is eco-friendly, you can bury your coffin and say good riddance to those bad habits…or people. We don't judge! 
Best Altar Cloth for the Goth Witch
The Dark Goddess Altar Cloth is another IGC exclusive, and it's sure to bring some mystical joy to your Goth Witch's altar space. Like all our altar cloths, Morgan, owner of Inked Goddess Creations, designed this one. It includes many symbols of various dark goddesses found in different belief paths, including keys, skulls, ravens, snakes, moths, lanterns, and more. It was designed to honor the Dark Goddess in whatever form she takes in your life.
The Dark Goddess is known by many names, many of which your favorite Goth Witch is likely to know: Baba Yaga, Cailleach, Cerridwen, Hecate, Hel, Kali, Lilith, the Morrigan, Persephone, Sekhmet, and beyond!
Best Dark Witch Kit for the Goth Witch
Every witch needs some *fun* items in their witchy cabinet for when they need it most. Filled with a little bit of everything, the Dark Witch Kit is sure to delight your goth witch loved one!
The Dark Witch Kit from Inked Goddess Creations has the tools you'll use when your dark side needs to play.
The Dark Witch Kit includes:
Wicked Witch Votive, black in color, blended with Patchouli, Cedarwood, Frankincense, Clove and Rue oils
1 bag of

 

Graveyard Dirt

 

for Bindings, Tricking Enemies and Curses
1 pack of

 

5 Coffin Nails

 

with information page
6 bags of herbs (1 of each):

Boneset- Used to Curse an Enemy
Cinquefoil (Five Finger Grass)-

 

Cause Discomfort
Mandrake Root-

 

Commanding and Compelling
Poke Root-

 

Cause Anxiety and Frustration
Queen Anne's Lace-

 

Hexing, and Can be Used as a Substitute for Poison Hemlock in Spells
Wormwood-

 

Wrath, Revenge, Calls Spirits

3 Snake Vertebrae

 

for Protection, Commanding, or Compelling Magick
1 Jar of Obsidian Shards for Protection, Mirror Spells, or Physical Discomfort
1 Vial of Black Matches

 

with striking plate on side
1 Glass Jar

 

for Banishing Spells
Best Goddess Gifts for Goth Witches
Whether your favorite Goth Witch wants to commune with Lilith or Aphrodite, our Goddess line is full of unique gifts. For a ready-to-gift present, choose one of our Goddess Sets, which include an Altar Card about the Goddess with her image on one side and her attributes on the other, a votive jar candle, Goddess perfume oil, Goddess mist, and Goddess coin that represents the Goddess and her energy.
Choose from Lilith, Dark Goddess of Sexuality and Feminine Power; Rhiannon, the Celtic Goddess of Horses, Inspiration, the Moon, and Transformation; Bast, the Egyptian Cat Goddess of Protection, Sensuality, and Feminine Power; and more.
Which gift will you choose for the Goth Witch in your life?