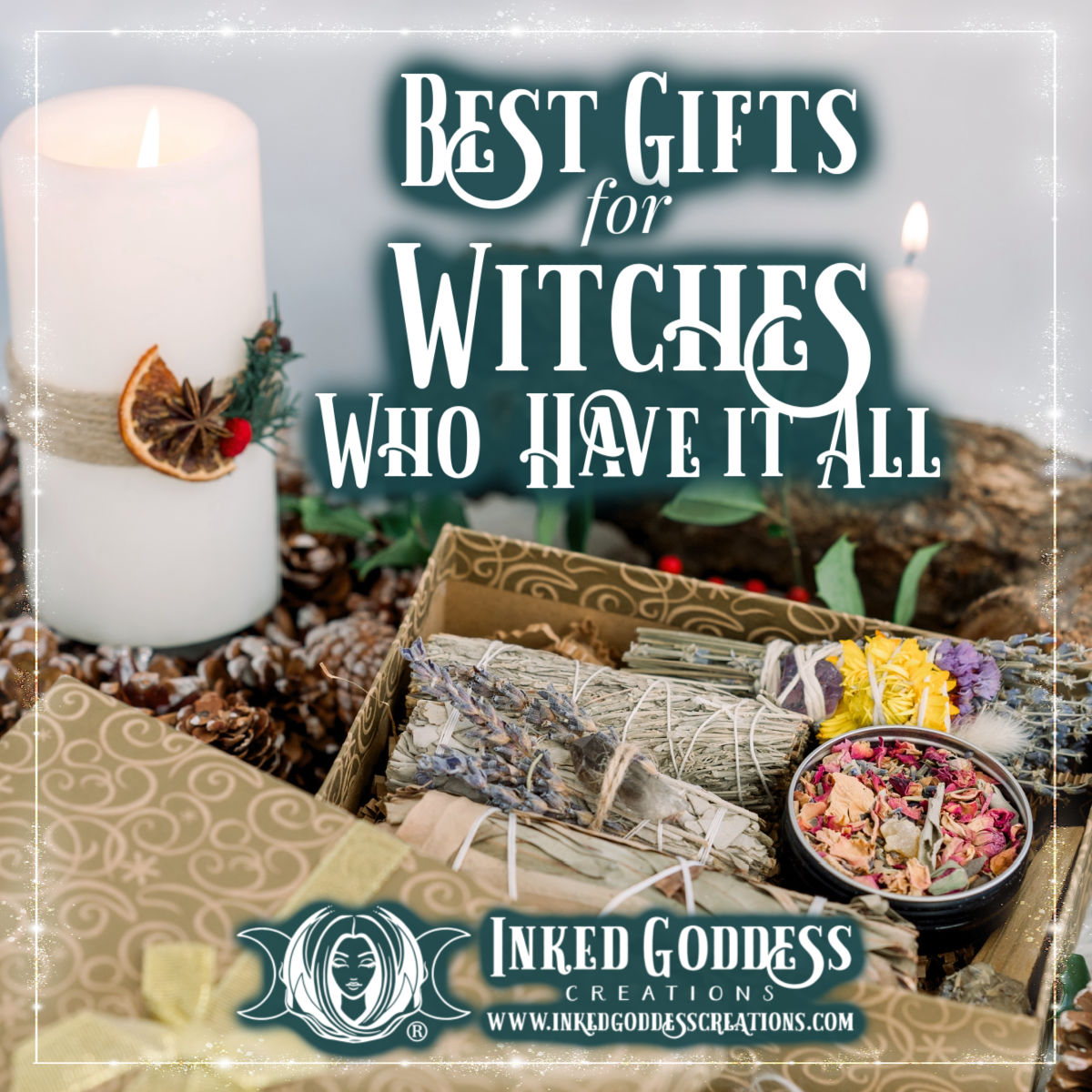 Best Gifts for Witches Who Have It All
Are you shopping for the witch who has it all? Lucky for you, Inked Goddess Creations has a huge collection of exclusive, unique magickal items for witches of every experience level. So, if the witch in your life seems to have all the things, here are a few ideas for you.
Happy shopping! 
2024 Busy Witch Monthly Date Planner
This is the best gift for the witch who wants to stay organized and magickal on-the-go. The Busy Witch Monthly Date Planner was created for busy witches and contains all the monthly magick they're likely to need in everyday life and work.
Each month, the planner contains:
An intention-setting page
2 pages for a mini Visionary Magick Board to scrapbook or bullet journal
A 2-sheet monthly calendar, which also includes:

Sabbat dates
Full Moon phases
New Moon phases
Planetary retrograde dates
Zodiac seasons
US holidays

1 page to reflect on how the month went. 
Mystical Messages Oracle Deck for Witches
Easily receive messages from your divine energy source with the Mystical Messages Oracle Deck, exclusive to Inked Goddess Creations. This deck was created in-house at IGC and was a passion project for Morgan, our owner. She wanted to create a deck for busy witches that had the exact meaning of the card printed on the deck, without the need to refer back and forth to a massive guidebook. She feels she completely succeeded with the Mystical Messages Oracle Deck.
This 25-card deck conveys straightforward energetic messages from your higher self, your guides, or your divine energy source. Included in the custom velvet bag is the deck and an 8-page booklet that gives overall instructions for the deck with custom three-card layouts created specifically for use with these cards. 
Witchy Subscription Box- One Time Gift Option
Have magick delivered directly to your witch with our Inked Goddess Creations Box. While you can definitely choose to purchase your favorite witch a 3-month or 6-month subscription, which will send them a box each month for that length of time, many people choose our One Time Box Purchase option, which sends just this month's current box to your witchy loved one. 
The Inked Goddess Creations Box has become a trusted source of fun, witchy supplies for many witches for over 7 years now. Each month is a different theme, and the items inside the box are carefully curated and made to fit that month's theme. Many of the items are exclusive to Inked Goddess Creations, and as the box is made by witches for witches, you know it contains items your witch will actually use in their magickal practice.
To see this month's theme and sneak peeks, head to our Inked Goddess Creations Box page! 
Kitchen Witch Herb and Spice Blends
Stir some magick into your recipes with our Kitchen Witch Magickal Culinary Blends. Each herbal blend has been specially formulated with herbs to suit each intent. The herbs are ground down to almost a powder, and then hand-mixed into salt or organic sugar – depending on the blend. Once the blends are mixed and packaged, they are charged on Morgan's altar for extra positive magickal energy. These blends are made to be added to your own recipes to add a specific energy to whatever it is your Kitchen Witch heart is cooking up!
There are six blends to choose from:
Love
Healing
Money
Protection
Grounding
Psychic
Each blend comes in a large, thick glass corked bottle, which holds 3.4 oz of the blend. Hanging from the bottle is a small charm and a color-coordinated hemp string. The bottle can be reused after your blend is finished! 
Crystal Subscription Box for Witches
Witches love crystals – it's a universal fact! That's one of the things that makes our Inked Crystals Subscription perfect for the witch who has it all. Easily explore gemstones from all over the world from the comfort of your own home with the Inked Crystals subscription. Each month, the Inked Crystals Box provides you with 1 unique gemstone specimen acquired from the Tucson Gem Show, 1 corresponding book of shadows page, and 1 Eclectic Witch Card.
Specimens are a surprise each month and were hand-selected from vendors all over the world for their metaphysical properties, beauty, and rarity. There will be a mixture of freeform specimens and carved gemstones from month-to-month, so this subscription adds variety, intrigue, and functionality to your personal gemstone collection.