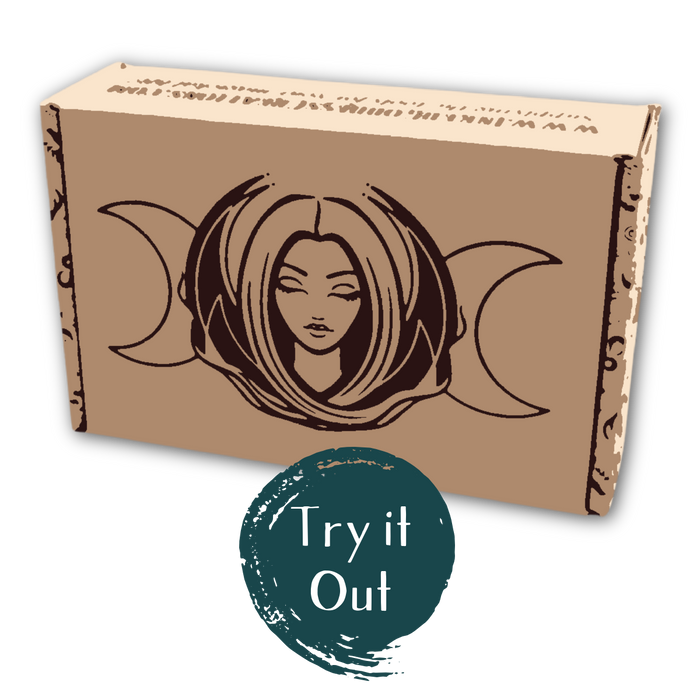 Inked Goddess Creations Box- Monthly Subscription
Save

Liquid error (snippets/product-badge line 32): Computation results in '-Infinity'

%
This listing starts your subscription with October's box, which will ship on October 5th!
October's theme is Ancestor Magick!
Have magick delivered directly to your door each month with the Inked Goddess Creations Box.
Your Inked Goddess Creations Box will come packed with supplies that resonate with the energy and theme for that month.
The box each month will contain:
A beautifully scented handmade candle, exclusive to Inked Goddess Creations
A DIY- A kit, activity, meditation focus, affirmation, or altar set up for you to do (we want you making magick!)
Exclusive Eclectic Witch Card Expansion Packs that fit the month's theme!
Additional products to fit the theme of the month. Items will be a mixture of full-sized and sample-size, and could include Mists, Oils, Altar Items, Herbs, Gemstones, Divination Items, Booklets, Art Cards, Potion Bottles, Jewelry, Incense, Decor Items, Spell and Ritual Tools, Witchcraft Items and more!
Information cards to help add detail to the contents of your box each month, so you know exactly why the items were made or selected for you!
The boxes will not only contain many exclusive Inked Goddess Creations products which will not be available for purchase in the store until after that month's box has been shipped, but also exclusive box items that will NOT be for sale after the subscription box is sold out! We are also very big on working with other small businesses, artists and local businesses to bring you unique products that have amazing energy. We aren't simply a monthly witchcraft supply box; we want the Inked Goddess Creations Box to engage your mind, body, and soul to help inspire you to release the magick within you!
You can see our past boxes here, which are no longer available for sale, but gives you a great idea of what to expect with the Inked Goddess Creations Box!
If purchasing this as a gift for someone, please note that we are unable to include gift messages with the order, due to our packing and shipping process.
If you have ANY questions about ordering or our subscription box, please email us or see our FAQ page (scroll down to the Inked Goddess Creations Box section) before ordering!
This listing is for a monthly recurring subscription. You will be sent a box every month, and automatically charged $35 every month until the subscription is cancelled. Please see below for details and terms! If you only want this month's theme, PLEASE purchase the One-Time Purchase box!!!
Shipping is FREE for the current month's Inked Goddess Creations Box!
Orders placed on or before the 1st of each month will apply to the upcoming box, which mails out around the 5th of the month. Orders placed after the 1st of each month will apply to the following month's box. (For example, orders placed on or before July 1st will be for the boxes shipped on July 5th. Orders placed after July 1st will apply to the August box.)
2023 Inked Goddess Creations Box Ordering & Shipping Schedule:
| | | |
| --- | --- | --- |
| Month's Box | Order By Date | Ship Date |
| January  | December 28, 2022 | January 3, 2023 |
| February  | January 28, 2023 | February 3, 2023 |
| March | February 28, 2023 | March 3, 2023 |
| April | March 28, 2023 | April 3, 2023 |
| May | April 28, 2023 | May 3, 2023 |
| June | May 28, 2023 | June 5, 2023 |
| July | July 1, 2023 | July 5, 2023 |
| August | August 1, 2023 | August 7, 2023 |
| September | September 1, 2023 | September 5, 2023 |
| October | October 1, 2023 | October 5, 2023 |
| November | November 1, 2023 | November 6, 2023 |
| December | December 1, 2023 | December 5, 2023 |
This listing is to pay for a Monthly Subscription plan. There are also options in the store to purchase a 3 month plan and a 6 month plan. This Monthly Subscription Plan will renew on the 28th of each month, and you will automatically be charged the $35 each month with the payment option you have on file until you cancel the subscription plan. The box will automatically be mailed out to you around the 3rd of the following month. To cancel or change your subscription, you can simply log into your account here at Inked Goddess Creations and make changes there. Subscription boxes and their contents are non-returnable/non-refundable. By purchasing this listing, you are agreeing to the subscription terms stated here.
The Inked Goddess Creations® Box is a monthly box full of surprise magickal goodies, delivered directly to your door. Each month, you are guaranteed at least 3 full-sized products and multiple samples which all fit into the month's theme. Inked Goddess Creations Box® subscriptions come in a month-to-month subscription for $35 per month, a 3 month pre-pay subscription for $99, or a 6 month pre-pay subscription for $189. We recently added a one-time purchase option to send as a gift or to try a month with no commitment.
Favorite subscription!
I've tried several subscription boxes, but Inked Goddess is the absolute best. The quality of the items and the focus on what you actually use in your craft simply cannot compare to any other subscription out there.
Every box is relevant to the month/season, the cards build into a lovely portable BOS, and the quality of the tools is amazing. I hope this box never ends.
Newbie
I'm happy with my first package of my subscription, I'm very excited the incense smell amazing.🤩
My favorite subscription!
I've tried a few witchy subscription boxes and this one is absolutely the best. I swear, they get better every month. You can just tell how much care and attention that goes into every theme. Thank you!
love the monthly boxes
I love getting the monthly boxes. This past box I had broken items and I was immediately sent new items. I will continue to be a loyal customer. They answer their emails promptly and handle the situation without hassle. Thanks IGC
Continually get broken items
First let me say that I truly do love getting my boxes but lately it seems that there are broken items in every one of them. In the August box, all the vials of herbs were completely shattered. The boxes before that, the fossilized tooth was broken, the diffuser was broken and in a separate order I received on 8/15, the lotus meditation bracelet I ordered was broken, the material used to string it together had broken and it was holding together by one single strand. I recommend Inked Goddess to everyone I know because I love what it stands for and with the exception of the last few months everything has been fine.