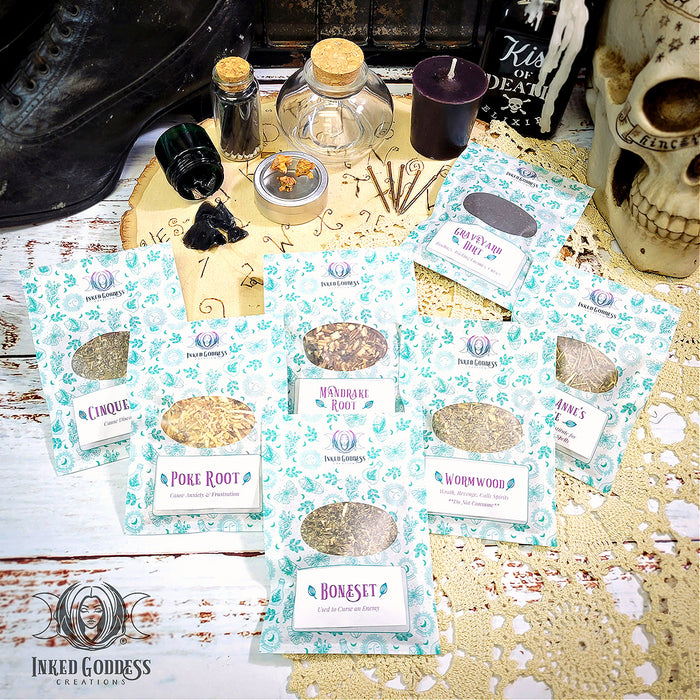 Dark Witch Kit for Banishings & Hexes- Dirty Witch
The Dark Witch Kit from Inked Goddess Creations has the tools you'll use when your dark side needs to play.
The Dark Witch Kit includes:
Wicked Witch Votive, black in color, blended with Patchouli, Cedarwood, Frankincense, Clove and Rue oils
1 bag of Graveyard Dirt for Bindings, Tricking Enemies and Curses
1 pack of 5 Coffin Nails with information page
6 bags of herbs (1 of each):

Boneset- Used to Curse an Enemy
Cinquefoil (Five Finger Grass)- Cause Discomfort
Mandrake Root- Commanding and Compelling
Poke Root- Cause Anxiety and Frustration
Queen Anne's Lace- Hexing, and Can be Used as a Substitute for Poison Hemlock in Spells
Wormwood- Wrath, Revenge, Calls Spirits

3 Snake Vertebrae for Protection, Commanding, or Compelling Magick
1 Jar of Obsidian Shards for Protection, Mirror Spells, or Physical Discomfort
1 Vial of Black Matches with striking plate on side
1 Glass Jar for Banishing Spells
Each bag is labeled with the herb name and contains the metaphysical properties of the herb, making it easy to create incense or spell powders for your needed intent. 
With the exception of the information page about the Coffin Nails, there is no spell or other instructions with this set. Magick is a balance of light and dark, and there are times when the dark side needs attention. Please practice safe hex, though, and remember that life is a circle!
For legal reasons, we have to say that this item is sold as a curio only. Inked Goddess Creations can not be held liable for consequences, physical and metaphysical, associated with use of this kit. Please do not consume the herbs.
Other items in the picture are for size reference only and are not included with the purchase.
Metaphysical properties of Inked Goddess Creations products are not guaranteed; I supply the tools, you supply the magick. Products should not be used in place of proper professional advice or treatment. If skin irritation occurs with body products, discontinue use immediately. Never leave a burning candle unattended. Internal use of herbs is not recommended, especially without having first consulted your doctor or a certified herbalist.