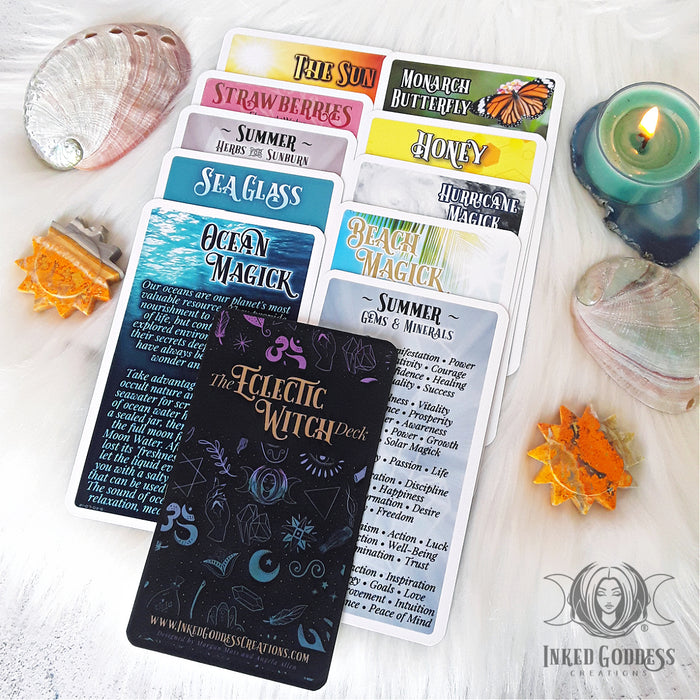 2021 Summer Magick Expansion Pack for the The Eclectic Witch Card Deck
Add the heat of summer to your Eclectic Witch Card Deck with the Summer Magick Expansion Pack, exclusive to Inked Goddess Creations.
This informational deck of cards is researched and designed by Inked Goddess Creations with magickal knowledge that all pertains to Summer. This expansion pack contains 10 cards:
Beach Magick

Monarch Butterfly
Gemstones for Summer
Honey
Hurricane Magick
Ocean Magick
Sea Glass
Strawberries
Sunburn Herbs
The Sun
You can keep this deck near your altar for reference when you are performing spells or rituals, or paste the cards into your book of shadows as you create your own pages.
This deck is professionally printed in full color, with a soft-touch coating on them for a truly unique, elegant, witchy informational deck.
Each order is for 1 Summer Magick Eclectic Witch Card Deck. Deck measures approximately 2.75" wide by 4.75" tall, and is exclusive to Inked Goddess Creations.
Other items in the picture are for size reference only and are not included with the purchase.
Metaphysical properties of Inked Goddess Creations products are not guaranteed; I supply the tools, you supply the magick. Products should not be used in place of proper professional advice or treatment. If skin irritation occurs with body products, discontinue use immediately. Never leave a burning candle unattended. Internal use of herbs is not recommended, especially without having first consulted your doctor or a certified herbalist.
Summer Magick card deck
Informative and I really like the vibrant, summer colors of the cards too. :)
Summer Majick Expansion Pak!!!!!
Let me say...I JUST LOVE THESE CARDS!! I have been a practicing WiTcH 🧹🪄 for my re than 35 yrs...I do travel...from beach to boyfriend's place and always take ALL of my Eclectic WiTcH cards with me!! So much easier than carrying a satchel of Tombs & Grimoirs!! Thank you Morgan!! What a great idea of beautiful reference cards!!!
Summer Magick expansion pack
Great set, informative and beautiful
Expansion pack
Another wonderful addition to my collection!