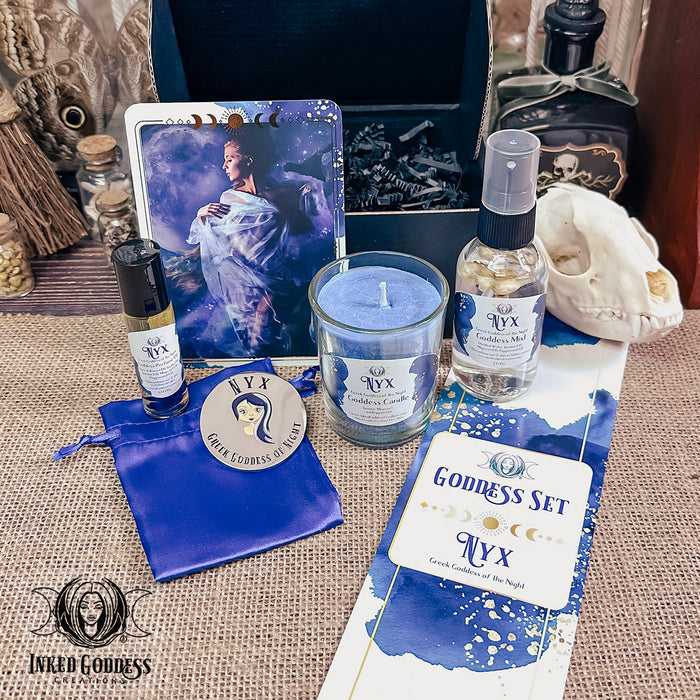 Nyx Goddess Set, Greek Goddess of the Night
Connect to the energies of the night with this Nyx Goddess Set from Inked Goddess Creations.
Nyx is the Greek Goddess of Night who resonates with the energies of darkness, stars, the moon, intuition, and personal power. She can help with dream magick, shadow working, and connecting more with your inner intuition and psychic abilities. Call upon Nyx's energy when you are shadow working and need help diving further down into the dark recesses of yourself, or when you wish to resonate more with the darkness of night.
Nyx's signature blend is Jasmine, Mugwort, and Peppermint, which can be found throughout all of her items here.
These Goddess Sets were revamped to resonate even more with each Goddess's energy! A soft-touch coated altar card with gold foil is now included, as well as a Goddess Coin talisman for each deity. On the front side of the coin and altar card are the Goddess's image, and on the backside are the attributes of each Goddess. These Goddess Sets were put together to honor each Goddess and help one align with the Goddess's energy. Each Goddess has her own signature blend here at Inked Goddess Creations, one that was heavily researched to resonate with the Goddess.
Each Goddess Set contains:
Altar Card about your Goddess with her image on one side and her attributes on the other
Goddess Mist
Goddess Coin that represents your Goddess and her energy.
These Goddess Sets come packed in a box and wrapped with a paper band, making them a great gift for the Goddess in your life!
Other items in the picture are for size reference only and are not included with the purchase.
Metaphysical properties of Inked Goddess Creations products are not guaranteed; I supply the tools, you supply the magick. Products should not be used in place of proper professional advice or treatment. If skin irritation occurs with body products, discontinue use immediately. Never leave a burning candle unattended. Internal use of herbs is not recommended, especially without having first consulted your doctor or a certified herbalist.
She one of my favorites
I was super excited for this tribute to this goddess. She is one of my favorites. The blends of smells are amazing. Thank you for creating this. Can't wait to see what other goddesses become available.