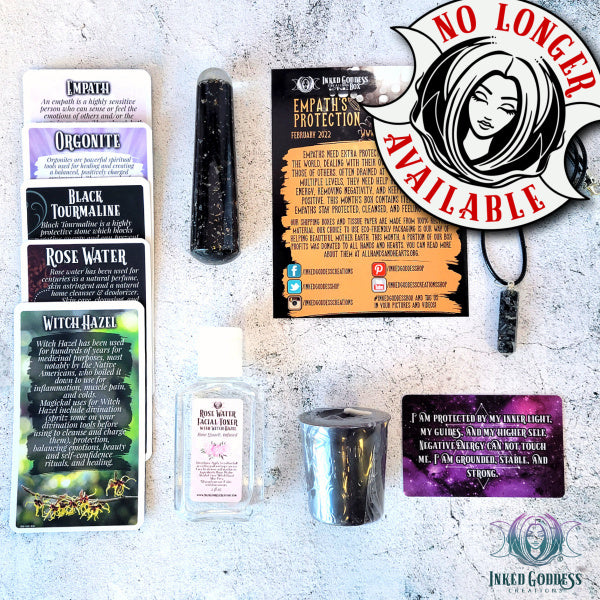 February 2022 Inked Goddess Creations Box: Empath's Protection
Empaths need extra protection as they navigate the world, dealing with their own emotions as well as those of others. Often drained at the end of the day on multiple levels, they need help replenishing their energy, removing negativity, and keeping their energy positive. February 2022's "Empath's Protection" Inked Goddess Creations Box contains items to help empaths stay protected, cleansed, and feeling positive.
Black Tourmaline Orgonite Wand
Black Tourmaline Orgonite Necklace
Rose Water Facial Toner with Witch Hazel*
Positive Affirmation Wallet Card*
Empath Votive Candle*
"Empath's Protection" 

Eclectic Witch Card Deck Expansion Pack*
* Inked Goddess Creations® Exclusive Product
About Our Box:
The Inked Goddess Creations® Box (formerly Magick Mail®) is a monthly box full of surprise magickal goodies delivered directly to your door. Each month, you are guaranteed at least 3 full-sized products and multiple samples which all fit into the month's theme.
IGC Box subscriptions come in a month-to-month subscription for $35 per month, a 3-month pre-pay subscription for $99, or 6-month pre-pay subscription for $189. We've also added options for Canadian and international orders!
A portion of our profits are donated each month to select charities that are close to our hearts.
About Our Packaging:
Our shipping boxes and tissue paper are made from 100% recycled material. Our choice to use eco-friendly packaging is our way of helping beautiful Mother Earth.