May 2023 Inked Goddess Creations Box: Crystals of Lost Lands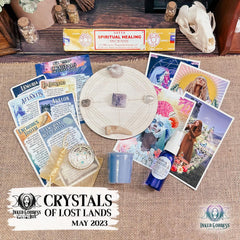 **This is a ONE-TIME box purchase. This listing WILL NOT start an Inked Goddess Creations...
Take a journey to ancient lands, lost to time and space, but not to those who seek their magick. Tap into their energy, their knowledge...their crystals. May 2023's "Crystals of Lost Lands" Inked Goddess Creations Box has been over a year in the making so that the energy was just right to help transport you to another world.
Lost Lands Altar Art Cards*
Wooden Crystal Grid Board*
Fluorite Gemstone Pyramid
"Crystals of Lost Lands" Eclectic Witch Card Deck Expansion Pack*
~ Atlantis Items ~
Atlantis Mist*
Enchodus Tooth
~ Avalon Items ~
Avalon Votive Candle*
Gemstone Apple
~ El Dorado Items ~
Gold Dorado Coin*
Raw Pyrite
~ Lemuria Items ~
Spiritual Healing Incense
Lemurian Blue Calcite
* Inked Goddess Creations® Exclusive Product
About Our Box:
The Inked Goddess Creations® Box (formerly Magick Mail®) is a monthly box full of surprise magickal goodies delivered directly to your door. Each month, you are guaranteed at least 3 full-sized products and multiple samples which all fit into the month's theme.
IGC Box subscriptions come in a month-to-month subscription for $35 per month, a 3-month pre-pay subscription for $99, or 6-month pre-pay subscription for $189. We've also added options for Canadian and international orders!
A portion of our profits are donated each month to select charities that are close to our hearts.
About Our Packaging:
Our shipping boxes and tissue paper are made from 100% recycled material. Our choice to use eco-friendly packaging is our way of helping beautiful Mother Earth.