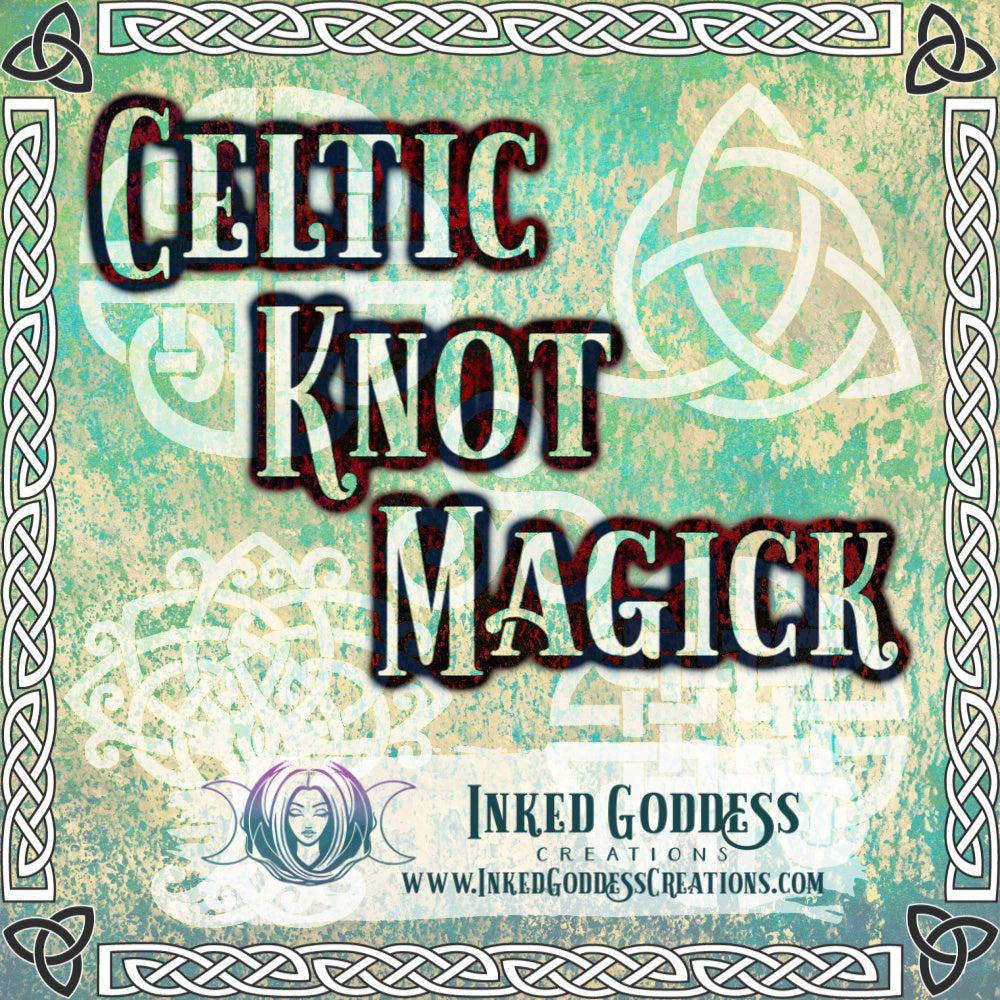 Celtic Knot Magick
Celtic knots have a natural magick. Even people who don't consider themselves witches are drawn to their graceful, intricate designs. Celtic knots can be found in historical locations across Ireland and Scotland, and date back to 600 BCE. Today, we can use these ancient symbols to infuse our homes, altars, and spells with Old World magick. 
Celtic knots have their origins in both the Roman Empire and Byzantine Constantinople. The use of knots in designs is one of humankind's oldest traditions, and each knot has its own symbolism. To use a knot in your magick, decide first on our focus. Then, create your knot by drawing, painting, or knitting it, or even by carving it into a candle to use in ritual. Here are the most common Celtic knot patterns, with suggestions on how to use them.
Trinity Knot or Triquetra
The Trinity Knot is a symbol seen everywhere, across modern pop culture and in ancient religious contexts. One of the most well-known pop-culture representations happens to be on the cover of the Halliwell Sisters' Book of Shadows. Who hasn't lusted after that book at least once? 
In religious and spiritual contexts, the Trinity Knot represents the thematic representation of the triad in Celtic spirituality – the wisdom of three. Also called the Triquetra, which simply means "three-cornered" in Latin, the knot represents three parts of a whole. This could be the elements of Heaven, Earth, and the Underworld, or for Celtic converts to Christianity, the Trinity knot came to stand for the Father, Son, and Holy Spirit. Some people also interpret this knot to represent the maiden, mother, and crone. Use this knot in any practice where balance, harmony, and wholeness is essential.
Tree of Life
This knot represents the Tree of Life, a central symbol in Celtic magick and spirituality. The branches reach to the heavens, and the roots reach far down into the Earth, and they also stretch to touch one another to create a continuous pattern. Without a beginning or an end, the knot represents that everything in life and nature is constant and never-ending. Use this knot as a reminder of the seasonal cycles of the Earth. It can also help remind you to keep everything in perspective as you seek balance and peace in your own life or those of others.
Dara Knot
The Dara Knot specifically honors the Oak. Its name, Dara, comes from the word "doire," which is Gaelic for "Oak." The highly detailed knot represents the intricate roots of the tree. It symbolizes strength, power, leadership, and wisdom. Use this knot when you seek inner knowing, inspiration, or personal strength in good or hard times. It may also be useful to keep one near your workspace.
Triskelion or Triskele
The Triskelion is yet another three-sided, or in this case, three-legged design. This knot focuses on the competition with oneself and personal progress. Triskelion is a Greek word that means "three-legged," and it's the perfect name for this knot, which looks like three legs connected at their tops, running in a circle. 
Sometimes the knot appears as three legs in a cycle, but the most common form of the Triskelion is three spirals connected at the center. Like the Trinity Knot, the Triskelion can symbolize any entity or symbol with three parts: mind, spirit, body; past, present, future; maiden, mother, crone; and so forth. It's also the symbol of progress, nature's cycles, action, and revolution. Add this knot design to your practice when casting prosperity spells, where action and progress are essential. You can also use it as a reminder of the continual cycles of life.
Shield Knot
The Shield Knot can be found across Europe. The Norse version is based on a solar cross design with rigid lines and sharp corners in the center. In other parts of Europe, particularly in predominantly Jewish locations and those occupied by Ancient Romans, a version of this knot, called Solomon's Knot, guards against demons. The Celtic version can be simple or intricate, but all have the same goal – to protect and ward against those that would harm. Use this knot to protect your space, Book of Shadows, or altar. Ancient Mesopotamians used their version to invoke the four corners, so you could similarly use this knot in your own practice. 
Some of the original meanings of each Celtic knot were lost to time. The information we have access to these days comes from what historians can infer based on oral tradition and early texts. Remember, the magick is within you, so as long as you use these knots with intention, they may prove to be one of your favorite magickal tools!
Sources:
https://www.gaelicmatters.com/celtic-knot-symbols.html
https://www.ancient-symbols.com/celtic-knots.html
https://www.claddaghdesign.com/history/the-meaning-of-celtic-knots/
https://www.whats-your-sign.com/celtic-knots.html
http://symboldictionary.net/?p=146
https://irelandtravelguides.com/celtic-symbols-and-their-meanings/