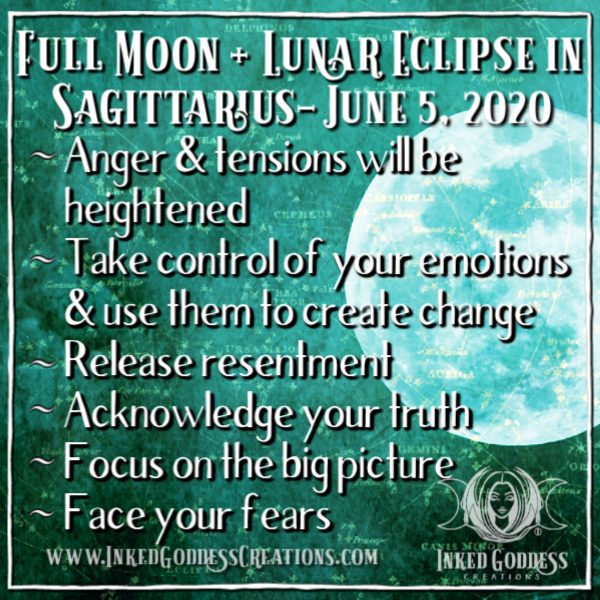 Full Moon + Lunar Eclipse in Sagittarius - June 5, 2020
The Full Moon + Lunar Eclipse arrives June 5th, marking the first of three lunar eclipses of this year! A Lunar Eclipse in the fire sign Sagittarius will not go unnoticed. Inner tension and frustration will make it difficult to stay calm, especially since you will collectively share this energy with others. However, you are always given an opportunity to use strong emotions as a motivation to create significant changes in your life! 


This Full Moon in Sagittarius is square Mars, the warrior planet, which is what amplifies the feelings of anger. It's important to pay attention to your reactions right now. Real growth can be made by having the courage to take charge of your emotions and see how they have affected you, especially in your relationships.  Have you been comprising something of importance to you for the sake of someone else's comfort?  Any built-up resentment could be released within the next two weeks. The more you acknowledge your truth, the less chance there is of creating conflict and chaos.

Sagittarius has the gift of always seeing the bigger picture. This makes it easier to stay focused on important goals and not get caught up in the details. Sometimes you are forced to face your fears head-on. This is necessary under this Full Moon as you will gain a deeper respect for yourself. With exerting so much energy, you could feel noticeably drained during this time. Practice letting go of anger through exercise, music, or any form of healthy emotional expression. When you directly face your obstacles, you can feel a deeper sense of accomplishment and freedom!

Wishing you an empowering Full Moon + Lunar Eclipse in Sagittarius! 
-Juliana M. Fanucchi
Author Bio:
Juliana began studying astrology at a young age.  She believes that through understanding how the planets affect us, we can learn how to use their energies to better ourselves and our lives.  Juliana studies other metaphysical subjects including numerology, tarot, gemstones, and practices Nicherin Buddhism.  In 2016, she earned her 200 hour Yoga Teacher Certification. She currently resides in Tucson, Arizona.