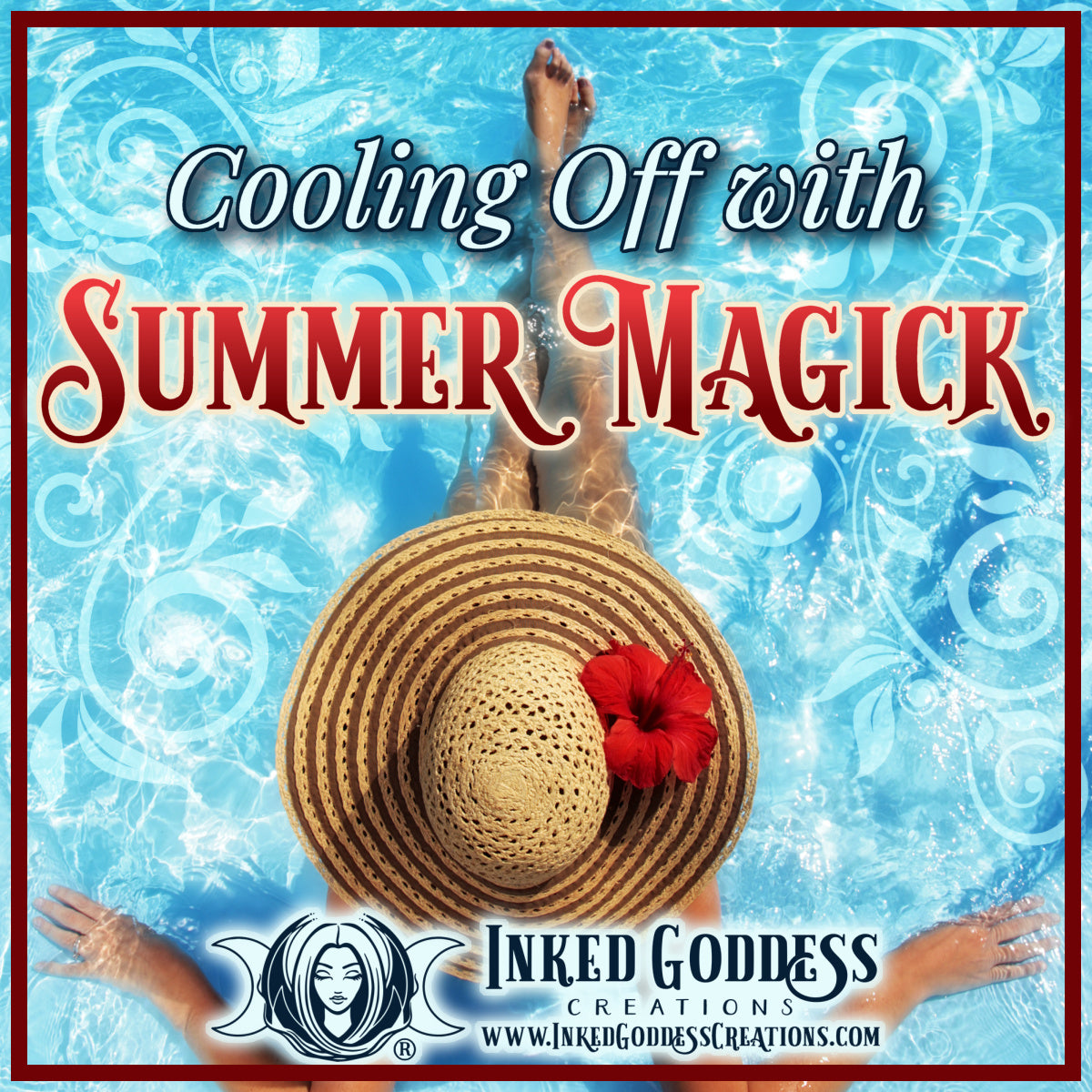 Cooling Off with Summer Magick
Y'all, it's hot! When Morgan and I were talking about the idea for this blog, she said if I wanted to share her advice for summer, it's this: In Arizona, just don't move. Ever. I'm in Texas, so this feels very aligned, but just because we're in the sultry, sunny, humid (or dry) days of summer doesn't mean we can't get our magick on. Here are a few ideas for cooler summer magickal practices.
Sea & Beach Magick
Sea and beach magick are perfect for summer, especially if you travel to the beach for vacation. You don't need fancy supplies or rituals to practice beach magick, though. Draw a word, symbol, or sigil in the sand near the waterline with your finger. As the tide comes in, the water will wash it away and carry your intentions out into the world. Also, save some beach sand or empty shells in a sealed jar to practice beach magick after vacation.
Try using seawater for scrying! Bring some home from the beach in a sealed jar and then charge it under the full moon for extra-potent moon water. When it's no longer "fresh," just uncap the jar, and allow the water to evaporate. You'll be left with a salty mineral mixture to use in your workings.
Kitchen Magick
A hot kitchen isn't pleasant during summer. So, spend this time experimenting with different salad ingredients and indulging in juicy fresh fruit. Add edible flowers to your recipes, and fruits like berries, watermelon, and citrus are perfect in summertime. Try avocado-centered recipes, a Caprese salad, or smoked salmon at your meals to keep from turning the stove on!
Herbal Magick
If you spend time outdoors and acquire a pesky sunburn, try the following herbs to ease your discomfort while you heal. Just be sure to dilute essential oils and see a doctor for blistering (2nd degree) burns.
For heat

Aloe vera
Black tea
Apple cider vinegar
Calendula
Rose

For pain

Aloe vera
Chamomile
Apple cider vinegar
Basil
Helichrysum
Lavender
Oregano

For dryness

Aloe vera
Coconut oil
Honey

For inflammation
For insomnia

Chamomile
Rose
Lavender
Valerian
Ice Magick
Don't forget about your ice magick practices in summer. You can "freeze" a spell gone wrong from doing any more damage by placing any candle or spell remnants into a plastic bowl, covering it with water, and freezing it. Or, to stop your intentions, write them on a piece of paper and freeze it. You can also use the same technique to "freeze" your enemies from performing magick against you by putting their names in ice or in the back of your freezer.
Which of these will you try?