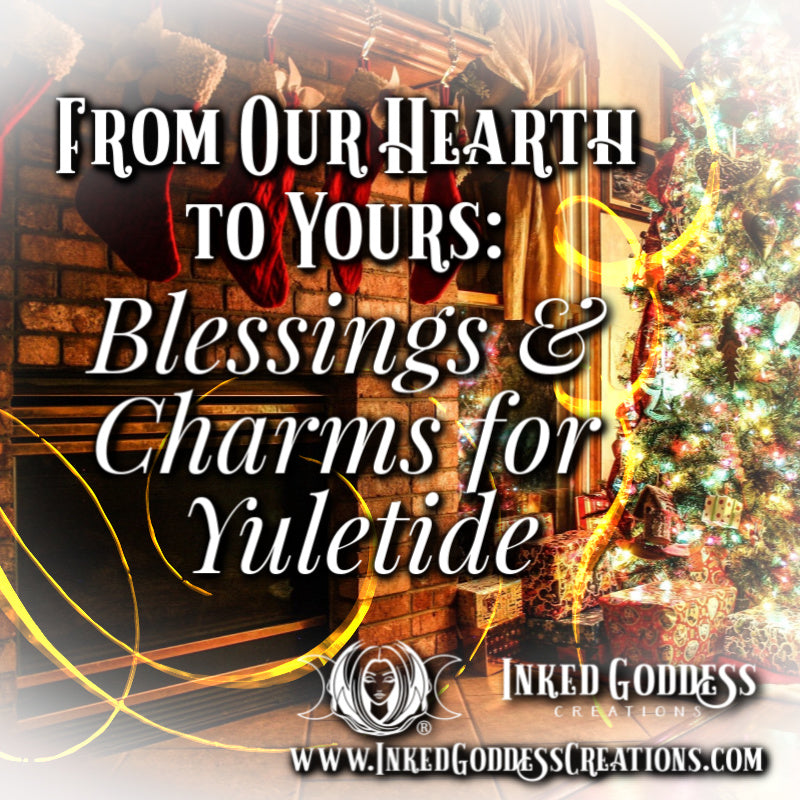 From Our Hearth To Yours: Blessings and Charms for Yuletide
Holly berries, evergreens, candles, and Yule logs. Yes, it's that time of year again – Yule and Christmas time. Although Christmas has many of the same traditions as Yule, it's nice to bring some of the older traditions into your holiday season. 
Since we've written about Yuletide Traditions before (read the post here), we thought we'd offer you a curated collection of Yule blessings, altar ideas, and charms this year. 
Before we dive in, if you've never celebrated Yule, it falls on the winter solstice – around December 21 or 22 in the northern hemisphere – and is the longest night of the calendar year. With the solstice comes a gentle shift toward longer days and the promise of the upcoming growing season. Even if you live in an area where you can expect two or three more months of snow, the change from the darker period of the year is palpable. 
Yule Altar Ideas
If you like to change your altar with each new sabbat, consider decorating it with the colors of the season: red, green, white, and gold. Add sprigs of holly, pine, or mistletoe around a white candle. The candle represents the stronger sunlight in the coming months. Add gemstones in the season's colors at your altar, too, such as bloodstones, garnets, and snow quartz.  
Incense blends that include cinnamon, cedar, or pine will bring the Yule spirit to your sacred space. You can also place an evergreen wreath above or on your altar. Traditionally symbolizing the Wheel of Life, wreaths have decorated Yule tables and altars for centuries. 
Now is the time to display your oracle cards or statues of the mother goddesses on your altar: Freyja, Diana, Isis, Demeter, Gaia, and Bona-Dea are among the goddesses of the Yule time. The gods Odin, Apollo, Lugh, and Ra are perfect for your Yuletide altar as well.
Yule Sunrise Prayer
If you find yourself awake early on the day after Yule, this simple prayer is a magickal way to start the lighter part of the year: 
"The sun returns! The light returns!
The earth begins to warm once more!
The time of darkness has passed,
And a path of light begins the new day.
Welcome, welcome, the heat of the sun,
Blessing us all with its rays."
For more poems and prayers like this, follow this link to Learn Religion's "12 Pagan Prayers for Yule" post.
Yule Charm
So much of the season's festivities center on the kitchen, so this Yule Charm from The Goddess & The Green Man is perfect. It's also a great way to add magick to your kitchen without suspicious relatives realizing what it is if you're a witch still in the broom closet. 
You'll need one wooden spoon and a red, green, or gold ribbon for this charm. With the spoon in your right hand say, "Brightest blessing on this Yuletide Fare, give Love and Peace in equal share." Then, tie the ribbon around the neck of the spoon and make a little bow. While tying it, say, "With Yuletide warmth my hearth be blessed, that lifts the heart of kin and guest." 
Place your charm somewhere in your kitchen to bring blessings to you and yours during the season. You can also get a little creative with it and add sprigs of rosemary or cinnamon sticks under the ribbon.
Yule Potpourri
Some of the traditional herbs and spices that show up in holiday foods have powerful magickal correspondences. For example, cloves are associated with the sun, protection, and healing. Nutmeg is said to bring you good fortune, especially in "games of chance." Cardamom brings warmth to the body, gives you clarity, and is also a protective herb. Why not combine these and other herbs to diffuse their scents in your home? 
For this delicious potpourri, you'll need:
3 cups of water
4 tablespoons cardamom seeds
2 tablespoons whole cloves
3 cinnamon sticks
3 nutmeg berries
1 teaspoon ginger
Combine the ingredients in a pot and simmer on your stovetop on low for a few hours, adding water as needed. 
Yule is the time to look back on the year and what you've learned. Spend some time with your journal during this season, and don't be afraid to slow things down a bit. Remember, as you honor this season to also honor your body and soul with a bit of leisure time and reflection.