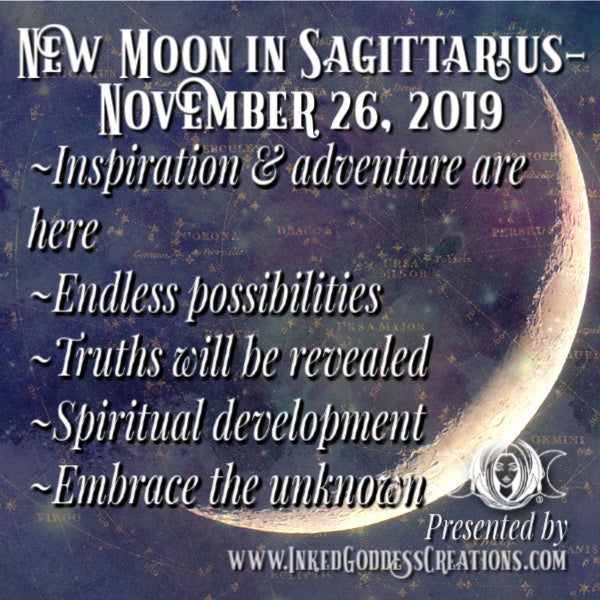 New Moon in Sagittarius- November 26, 2019
On November 26, the New Moon in fire sign Sagittarius begins a time of inspiration and adventure. Usually, when we think of Sagittarius, we think of extroverts, travelers, and risk-takers. We need people like this to remind us how big the world is and how many possibilities there are! However, being that this is a New Moon and not a Full Moon, much of this energy will be geared towards our more hidden selves. Learning about ourselves is one of the greatest journeys we can take!


Mercury Retrograde has ended, but there could still be some communication issues to clear up. Give yourself extra time and space to get things done. This is especially a good reminder since Sagittarius is always looking forward to the next adventure. Whether it's seeking out new ideas or new places, the world can seem limitless to the optimistic Sag! 

Another personality aspect of positive Sagittarius is their ability to have strong inner beliefs. This helps to keep the fire of inspiration alive. As a Sag myself I always look forward to winter. The long dark days help to quiet my mind and allow me to see the truth in my life and in myself. This New Moon is going to communicate your subconscious mind back to you and help your personal and spiritual development. Look forward to the unknown, and embrace all of the wonderful potential!

Wishing you a lucky New Moon in Sagittarius!

-Juliana M. Fanucchi
Author Bio:
Juliana began studying astrology at a young age.  She believes that through understanding how the planets affect us, we can learn how to use their energies to better ourselves and our lives.  Juliana studies other metaphysical subjects including numerology, tarot, gemstones, and practices Nicherin Buddhism.  In 2016, she earned her 200 hour Yoga Teacher Certification. She currently resides in Tucson, Arizona.