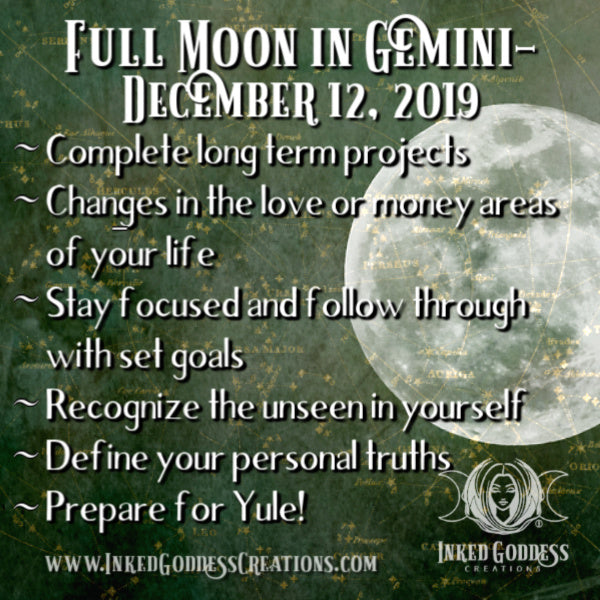 Full Cold Moon in Gemini- December 12, 2019
December 12, 2019 brings the final Full Moon phase of the current eclipse cycle which began with the July 2nd solar eclipse earlier this year! This means it is a crucial time to complete long term projects. This Full Moon is in the air sign of Gemini which is ruled by Mercury, the planet of communication. It's very likely that you'll receive a surprising message about someone you knew or at least thought you knew!


Arguably the strongest planetary aspect affecting this Full Moon is the triple conjunction of Venus, Saturn, and Pluto. This means that significant challenges in love and/or money will need your attention. You will be pushed to find a way to restore balance by making adjustments in your romantic and financial lives. Gemini tends to overthink and can spread themselves thin by trying to do too many things at once. It'll take some extra effort to stay focused on your main objectives. Luckily there are enough earth signs influencing this Full Moon to encourage us to follow through on our set goals!

Traditionally this Full Moon is referred to as the Full Cold Moon. It's a time of noticing how the long and dark nights have an effect on you and teach you to notice the unseen in yourself and the world around you. This can be seen as a preparation for the Winter Solstice, arriving on December 21st, when the night brings extra hours of darkness. But until then, use this Gemini Full Moon as a way to notice your own true thoughts and feelings. Allow them to light the way like stars towards your end-of-the-year healing and revelations.

Wishing you a thoughtful Full Cold Moon in Gemini!

-Juliana M. Fanucchi
Author Bio:
Juliana began studying astrology at a young age.  She believes that through understanding how the planets affect us, we can learn how to use their energies to better ourselves and our lives.  Juliana studies other metaphysical subjects including numerology, tarot, gemstones, and practices Nicherin Buddhism.  In 2016, she earned her 200 hour Yoga Teacher Certification. She currently resides in Tucson, Arizona.