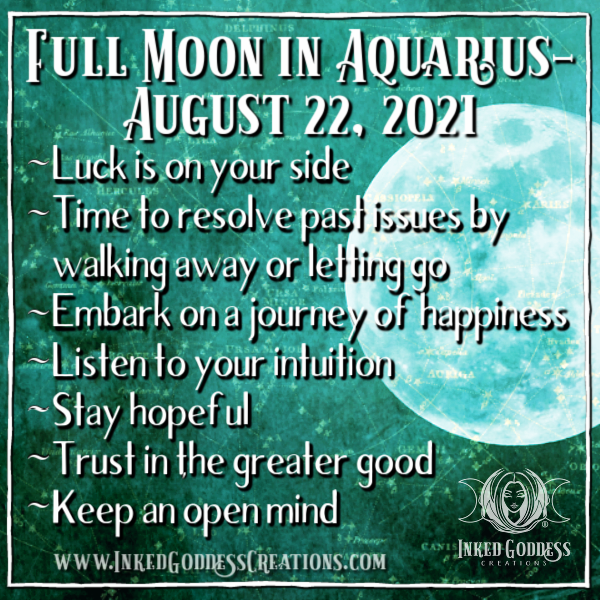 Full Moon in Aquarius- August 22, 2021
On August 22nd, we have the second Aquarius Full Moon of the year. Both Full Moons are working with the same energy. The first one on July 23rd shed light on something which needed to be resolved. This Full Moon will be helping you let go of or release a situation once and for all. Of course this does depend on the efforts you made to deal with and face the issue in the past month.
The Moon is conjunct Jupiter, which represents optimism, success, and good fortune. Luck is on your side when it comes to embarking on a new journey, cultural experiences, higher education, and career! Your instincts and intuition are stronger now, so you can connect with this Full Moon to get insight into which direction is best for your future happiness.
Jupiter's effect on the Aquarius Full Moon causes a desire for social welfare and justice. You may choose to use your generosity to get involved in a good cause, offering advice or guidance to a friend, or helping a stranger in need. A hopeful attitude allows you to make the best of any situation. With the Aquarius energy, you should be wary of the tendency to avoid your emotional needs by focusing on the needs of others. Keep an open mind about the possibilities that are available to you now. Turning to faith and trust in the greater good can provide wisdom and possibilities of a positive new chapter of your life. 
~Juliana M. Fanucchi
Author Bio:
Juliana began studying astrology at a young age.  She believes that through understanding how the planets affect us, we can learn how to use their energies to better ourselves and our lives.  Juliana studies other metaphysical subjects including numerology, tarot, gemstones, and practices Nicherin Buddhism.  In 2016, she earned her 200 hour Yoga Teacher Certification. She currently resides in Tucson, Arizona.