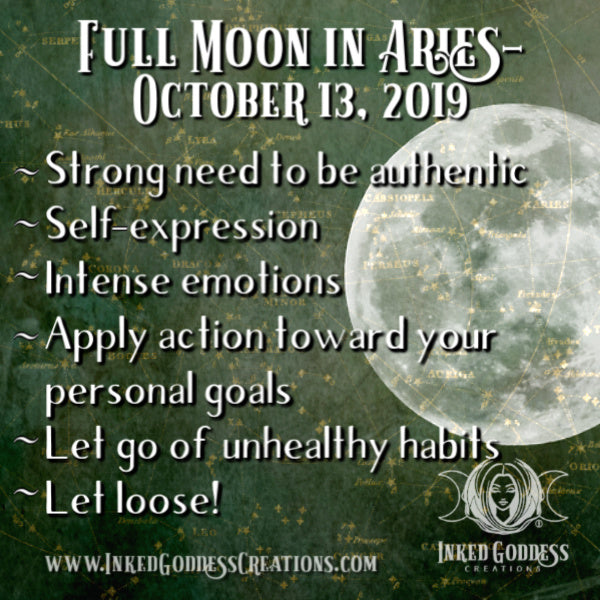 Full Moon in Aries- October 13, 2019
On October 13, the Full Moon in Aries brings a time of self-expression and assertiveness. The previous New Moon in Libra focused on finding a compromise in relationships. While this Full Moon does still affect our relationships, the need to be authentic will overpower the desire to find peace with others. 
This Full Moon will help to reveal the results of the goals we have set for ourselves.  Fire sign Aries is great at trusting their first instinct and taking action when the opportunity arises. You will feel your emotions more intensely now and have less patience in dealing with others. This could be a sign of repressed impulses, causing you to feel frustrated. You will have to find ways to release these emotions!

Along with letting go emotionally, you also have a chance to let go of old, unhealthy habits. Energetic Aries is a sign of action, so finding ways to stay active now would prove to be helpful. If you decide to go out with friends, find an activity that will help you let loose for a while. Just remember to try and make it enjoyable, not just for yourself, but for everyone!

Wishing you a powerful Full Moon in Aries!
 -Juliana M. Fanucchi
Author Bio:
Juliana began studying astrology at a young age.  She believes that through understanding how the planets affect us, we can learn how to use their energies to better ourselves and our lives.  Juliana studies other metaphysical subjects including numerology, tarot, gemstones, and practices Nicherin Buddhism.  In 2016, she earned her 200 hour Yoga Teacher Certification. She currently resides in Tucson, Arizona.