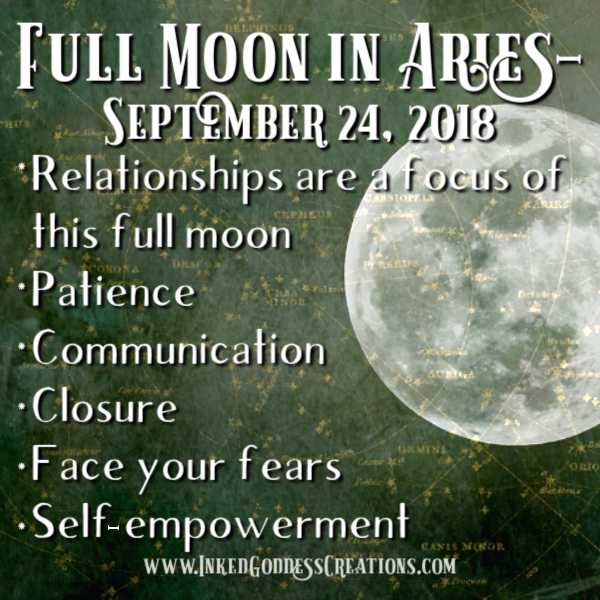 Full Moon in Aries- September 24, 2018
On September 24th, the moon becomes full in the fire sign of Aries. Aries is the sign of courage, quick to take action for oneself. 
Relationships are a focus of this full moon in Aries. Full moons often bring with them a certain amount of tension in a particular area in your life. Now is the time to decide whether a relationship is healthy or toxic, and make the right decision for the happiness of both parties. Extra effort to be patient should used now, as Aries tends to have a short fuse which can lead to arguments and frustration.  Be conscious of what you're saying and decide when to compete and when to compromise.
One of the benefits of this full moon is that we can come to a sense of closure in our relationships if we can learn to communicate effectively. We may feel like the pressure becomes too overwhelming at times, but I would encourage you to not give up and rise to the challenge! Astrologically speaking there are planetary formations that almost guarantee there will be some struggles to overcome. This is mainly because planets Saturn and Uranus are both positioned in a way that can cause people to either take risks, or become fearful and back down. Also, planet Chiron could bring up memories from the past that show us old wounds that need to be healed. The sooner we can deal with these issues head on, the sooner we will be able to move on with a new sense of liberation.
Thanks to this full moon being in passionate Aries, we will have plenty of courage to help us stay strong! Channel and use this energy to motivate you to take the best actions for your self-improvement. Stay present in each moment to assist you in making clear decisions, as this is a time of overcoming adversities. Look at this as a time to face your fears and become more self-empowered. Move slowly, and trust your gut feelings to gain valuable insight on your current situations. The universe will surely reward you with new and positive changes!  Wishing you a safe and happy full moon in Aries.


Best wishes- Juliana M. Fanucchi
Author Bio:
Juliana uses astrology to understand how the planets can affect us on a mental, emotional, and spiritual level. Raised as a Nichiren Buddhist, she studies other metaphysical interests like numerology, music, tarot, and gemstones. She received her 200 hour yoga certification in December 2016. She currently lives in Tucson, Arizona. You can follow her on Instagram- instagram.com/whooliana.