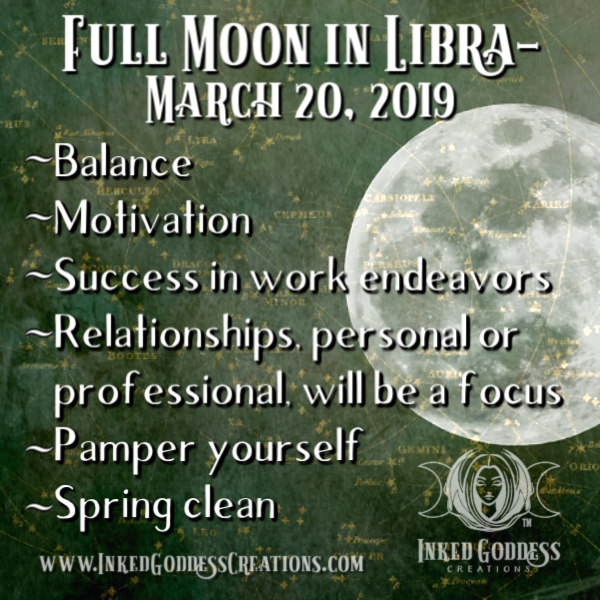 Full Moon in Libra- March 20, 2019
On March 20th, Libra Full Moon shows us how to create balance in our lives. Air sign Libra is represented by the scales of justice, showing the importance of fairness. Equality, especially in relationships, will be up for review under this full moon. You will notice if there is a lack of harmony and want to experience more peace. The desire for cooperation and harmony with others is a well known positive trait of Libra. You can benefit greatly by following Libra's example of seeing both sides of a situation or between two people. 
March 20 is also affected by the beginning of spring and the start of Aries season. Aries gives us the extra push we need to get motivated. In our work life, diplomacy will go a long way in our interactions with bosses or colleagues. If you've been looking for a new job or looking to move up in a position, any day following the full moon would be a good time to get started. The combination of Aries' impulsive nature and Libra's tactfulness are sure to set you up for a successful outcome!

Any partnerships you are involved in now will be a main focus, as Libra's symbiotic relationships can make life feel more fulfilling and rewarding. Whether you're single and looking, or currently in a committed relationship, it's helpful to find a common ground and learn to put differences aside. By creating a foundation of balance, we can focus on what's truly important. Libra is ruled by Venus, planet of love and beauty. Pamper yourself by updating your home, switching up your beauty routine, or just do some spring cleaning to feel calm and refreshed. 
Wishing you a harmonious Full Moon in Libra!
Be Kind and Be Well - Juliana M. Fanucchi